Women are known to wear their heart of their sleeve. They mean what they say. They do when they mean. Want to know what's going on in a girl's mind? You just have to pay attention to the way she acts around you. A little hint of jealousy, blushing cheeks, her gaze holding yours, being there for you always – these are just some cute gestures that reflect the feelings of a girl in love with you. All you've got to do is read the signs and pick up the hints.
Related Reading: 13 Signs A Girl Likes You But Is Playing Hard To Get
15 Actions That Show The Feelings Of A Girl In Love
When a girl falls in love, she cares deeply and is not afraid to show it. She may not shout from rooftops or parade her feelings out in the open, but the real feelings of a girl in love shine through the little things she does for you. How do you know a girl is falling in love with you? If you find yourself asking this question, then lookout for these signs.
She would inevitably do these 15 cute things to show you how much she loves you:
1. Becomes your cheerleader
How does a girl feel when in love? She will not be able to help but appreciate everything thing about you. Even those foolish things you do and those annoying quirks you can't seem to shake off. You may try to hide them from the world but she loves those things about you.
Not only will she adore your unique traits and habits but become your cheerleader, encouraging you to be yourself.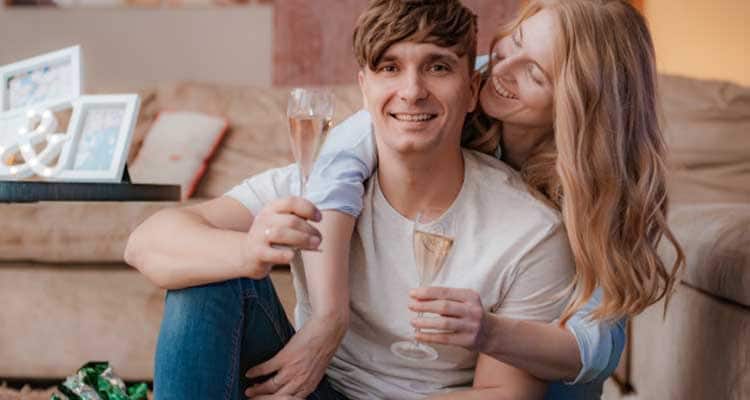 2. She lets her guard down in front of you
One of the unmistakable signs she is developing feelings is when she begins to let her guard down in front of you. She won't hesitate in removing her make-up in front of you or greeting you in a pair of comfy sweats. She shows you her silly side and acts like a kid. The reason why she's letting you in and showing her true self is that you are important to her.
3. Send you a flourish of cute texts
How do you know a woman loves you? Pay attention to the text messages she sends you. The tone of her messages changes from the customary 'Good morning' and 'how was your day' to more regular, intimate conversations that include pictures of her lunch or a selfie with a sloppy face showing how exhausted she feels. That's her trying to include you in every little detail of her day and deepen the connection.
Related reading: Where love dwells, jealousy follows?
4. Stands up for you
Want to know how does a girl feel when in love? For one, her mama bear instinct kicks in instantly. Even when you have the whole world against you, you'll find your girl standing with you and standing up for you. When that happens, know that you have found yourself that special someone who'll go to the ends of the earth for your happiness and well-being.
Related Reading: Single Vs. Dating – How Life Changes
5. Looks at you with puppy eyes
Feelings of a girl in love are best conveyed in the way she acts around you. If she no longer feels the need to hold it together and behave like a mature, responsible adult, you can count it among the signs she is developing feelings for you. You'll see her inner child who makes those oh-so-adorable puppy eyes at you to meet you to get her way. And it works.
Related reading: 10 Signs He Is Still In Love With His Ex
6. You get the stare when you dress up
You make her heart skip a beat and she thinks you're the most gorgeous man that ever lived. How do you know a woman loves you? Every time you are all dressed up, she will stop to stare. And will compliment you to let you know how handsome you look.  The way she does it will leave you feeling cherished and valued. These are the signs of true love from a woman.
7. Touches you
How do you know a girl is falling in love with you? Pay attention to her body language. If she instinctively tries to stay close to you and establish physical contact, it is a sign she's fallen head over heels in love.  
When we say physical contact, we don't mean creepily. She just randomly ruffles your hair, straightens your tie, and smoothens out the crumples on your shirt.
Awwww! Could she be any cuter!
8. She gives you lingering hugs
The feelings of a girl in love make her find comfort in being close to you. She holds on to you tightly when you hug and keeps you in her embrace a little longer than usual. That's because she doesn't like letting you go.
Related Reading: 10 Reasons He Suddenly Stopped Chasing You – Even When You Wanted Him To
9. Leaves gifts for you
A girl who's smitten wants to make her love interest feel special at every chance she gets. And leaving gifts for you is one way of showing how much you mean to her. These gifts may not be extravagant. A little note in your office bag, a book that you've been meaning to buy, merchandise from your favourite game or show, a framed photograph from your childhood. These are thoughtful gifts that always make you smile to yourself.
10. She apologises
Another one of those hard to miss manifestations of feelings of a girl in love is her readiness to accept her fault and apologise for it. A lot of women have an ego trip going and do not want to apologize even when they know they were wrong. But when a girl is truly, madly in love, she'll place her relationship above her ego. If she is wrong, she'll have no trouble in owning it up.
This means she really loves you and doesn't want a stupid fight to ruin anything.
11. She asks for your opinion about clothes
This is a rarity because women don't really think of men as experts in the field of fashion and usually turn to their girlfriends for advice on these matters. If you want to decipher how do you know a woman loves you, this is a surefire sign to look out for. She knows your expertise is the matter is limited but asks you anyway to involve you in all of her decisions.
Related reading: 15 differences between love and infatuation
12. Cooks for you
Or tries, at least. Even if her culinary skills so far entail making Maggi, coffee or boiling an egg, she will make an effort to cook you your favourite meal. Heck, she'll even call her mother (or yours) to ask for recipe and instructions. That's just feelings of a girl in love compelling her to show you she willing to do anything for you.
13. Send you songs
She listens to a soul-stirring song and finds it resonating with her feeling for you, and shares it with you instantly. She may not have said the L word yet. This is her way of letting you know how she feels without saying it explicitly.
14. Drunk texts you
How does a girl feel when in love? Even when her mind is all blurry and she cannot think straight, she still thinks of you. That's why she inundates your phones with a barrage of drunk texts, which often make little sense and are filled with typos.
If you are lucky, she might say "I love you" in that uninhibited state of mind.
15. Tells her BFF about you
If she gushes about you to her BFF, it can only mean one thing – the feelings of a girl in love are getting too strong to be contained. Her BFF is her confidante. If she's telling her how she feels about you, it means things are intense at her end.
Have that someone special in your life? About time you quit thinking about how do you know a woman loves you and start looking for these signs.