30's Singles Meetup In Ahemdabad
Here is your chance to meet up with interesting singles. Inviting all individuals between the age of 30 to 40 who are single (unmarried, divorced, separated, widowed) to attend our Singles Meetup in Ahemdabad. A fun-filled event to get to know interesting, like-minded singles for friendship and more. We shall spice up your conversations with introductions, ice-breaker activities over coffee and snacks. And who knows, what comes next.
Our anchor and master of the ceremony will facilitate your interactions in a cool, relaxed way, making it a memorable evening for you. Single men and women will have a chance to meet people in their local community who share the same interests.
Details Of The Singles Meetup In Ahemdabad
Date: Saturday, 7th December 2019
Time: 6 P.M. – 10 P.M.
Venue: Vanashree, Ahmedabad
Ticket Price: Rs 2,000  (Subject to the profile being approved. We will keep a balance of both men and women too and a maximum of 36 people.)
P.S.- We will screen the applicants before we accept them. We will make this forum clean, healthy and positive. 🙂 Do share this with others.
To know more about our Organizers click here
Please register yourself for the event
Once you register, we shall approve your profile and if approved, we shall send the payment link to you.
Update from our earlier event
Our last event, 40+ Singles meet-up held at Soul Square Cafe on October 12, 2019, was a huge success. The evening was filled with fun and laughter and amazing get-to-know-each-other games. Since then our participants created three WhatsApp groups and have kept on their friendship through movies, coffee and dinner.
It makes us very happy to see that a few people have started dating after the event. Our wishes are with them. The only thing we feel a tad sad about is those we couldn't accommodate as we were chock-a-bloc with bookings days before the event actually took place.
Check out these pictures from the event!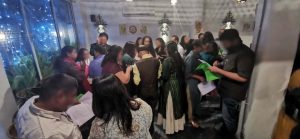 12 Struggles You Will Go Through if You Are Single During the Indian Wedding Season
I want to be 'Fraands with you'! 10 common mistakes men make while trying to impress women