Growing up on Bollywood as 90's kids helped us deal with our young 'love problems'. As we grew older the charm of Dilwale Dulhania Le Jayenge, Hum Dil De Chuke Sanam and Bombay never deterred, but we realized those epic Bollywood romances are too-good-to-be true in real life. We have more problems than parental oppositions and caste issues to deal with these days and romance is no more focused on simply getting hitched. So at this age and time where do we look to restore our faith in love? Well, Bollywood is still the answer my friends!


These 5 Hindi movies dealt with modern-day couple issues and showed us time and again that it's possible to get to that happily ever after even when life throws gazillion challenges at you.
Love Aaj Kal
When it comes to modern-day couple issues nobody deals with it better than Imtiaz Ali. Jai and Meera are in a happy relationship before they break up for career issues and move to different countries. During this time Jai becomes friends with an old fashioned romantic Veer who shares his personal love story with Harleen with him. Eventually, Jai fulfils his ambition, so does Meera, but they kept bumping onto each other for years, overcoming the distance, failures and heartbreaks till they realize the love that brought them together has never really changed.
Related reading: 10 Bollywood movies every couple should watch together
Hasee Toh Phasee
Nikhil is all set to marry his girlfriend Karishma when he falls for her younger sister Meeta. She is not conventionally beautiful like Karishma, instead she is a smart, quirky and geeky engineer and not the perfectly dolled-up, conventional lady-love one expects in Indian society. By interacting with Meeta on a close level Nikhil starts developing feeling for her which he realizes on the day of his wedding and so calls it off to get his true love.
Related reading: How Bollywood portrays sex on screen!
Dum Laga Ke Haisha
This movie also deals with the body image issue. Prem lives in Haridwar and runs a music shop. He is only a little educated, but his parents arranged his marriage with Sandhya, an educated woman. But Prem finds his new wife unattractive as she is overweight. After enduring insults and repulsion from her husband for her looks, Sandhya leaves him. But they found their way back to each other when they were compelled to take part in a couples' race where Prem has to carry Sandhya on his back to win.
Sanam Teri Kasam
Saru is a young librarian with traditional looks. Her parents keep looking for a suitable groom for her but she gets rejected for everyone thinks she doesn't look pretty. In desperation to end the troubles for her family she decides to get a makeover and ask help from her brooding neighbour Inder. But their friendship attracts gossip from the neighbourhood and as a result Saru is disowned by her family. It's then Inder stays by her side and falls in love with her. Even after he finds out that she has brain tumour and won't live long, he marries her and buries her just the way she wanted.
Hum Tum
This Indian version of 1989 rom-com When Harry Met Sally won our hearts many times. Karan and Rhea met on a plane and started off by fighting with each other. They fought, became friends, shared heartbreaks over several meetings and get-togethers for years till they finally realized their feelings for each other and ended up together.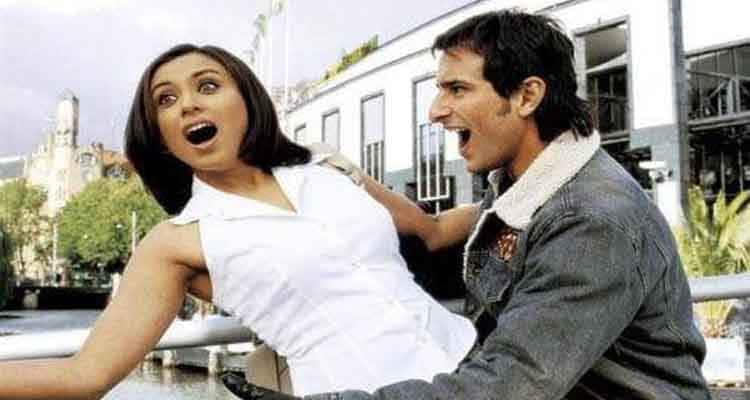 Which among these five is your most favourite Bollywood love story? Tell us in the comments below!
9 not-so-effective love lessons Bollywood films have taught us over the years