She's badass, she's cool and she doesn't give a damn! Kangana Ranaut is on a roll and how! She recently ruined IIFA – a big fat gathering of Bollywood kings, queens and wannabes – for three of its most powerful men and this September, she's all set to scorch the screen as a smooth-talking, smart aleck con-woman in Simran. It remains to be seen how the movie fares at the box office, but if the trailers are anything to go by, Kangana is sure to sizzle.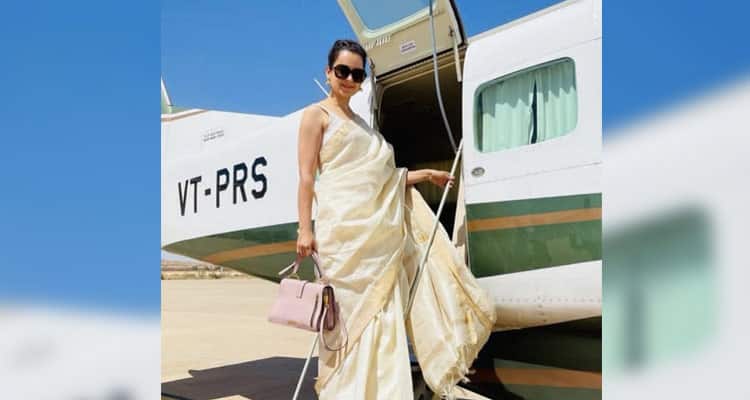 Who cannot love this obstinate, curly-locked woman who thinks and speaks straight from her heart? Kangana is the original rebel with a cause, a girl who lives by the rules she herself draws up. There are not many like her, in society or in egocentric, male dominated Bollywood, but that's just one of the reasons why she's so inspiring. Kangana is cut from a different cloth, a far cry from the coquettish, playing-by-the-rules heroines of filmdom. Here are a few lessons we women can learn from the irrepressible Ms Ranaut.
Own up to your actions
Ladies, it's okay to have bad relationships. The world knows that Hrithik Roshan and she were involved but the holier-than-thou Mr Roshan denied it while Kangana had no qualms in admitting to their liaison. What followed was a court case and mayhem but Kangs stood her ground. Every single legal notice he sent was answered by a notice of her own. It showed that this was not a woman who could be intimidated. In the end, it was the superstar with a powerful dad who had to bite the dust.
Speak your Mind
You might rub a few big names the wrong way, but you are right and you know it! Kangana didn't hesitate to call out Karan Johar on his own show but she did it so matter-of-factly that even the normally glib Kjo was tongue-tied. No prizes for guessing who won the Koffee hamper on and off the set!
Believe in your Talent
Sucking up to the powers-that-be can fetch you a project or two, but you can make a mark even by NOT belonging to a camp or pandering to egos. In an industry full of insiders, she is the proverbial outsider. It was a huge struggle, but the success and the failures are hers alone, aren't they? She marches to her own drumbeat and if it is out of tune to others, so be it! 
Be Unapologetic
Yes, we make mistakes. Yes, our dating history may have a few rotten eggs. No, our actions may not be to everyone's taste. But so what? We are who we are and there is no need to disown our past. Kangana's love life has had some serious mishaps in the form of the likes of Aditya Pancholi and Adhyayan Suman but for her, love means never having to say you are sorry! On the contrary, it has only made her stronger and the next man she dates would need to be someone really special to match up to the Queen!
Stand up. Speak Up
What's the worst thing they can do to a woman if she doesn't bow to their rules? They label her. What if she shows she doesn't give a damn about labels? They shut up. The simple rule: don't give a damn.
Simply put, Kangana is a woman who cannot be boxed. The more you tie her down, the more she flies. The more you put her down, the stronger she strikes back. She isn't affected by slander because she doesn't seek validation from anyone. Love yourself and the world loves you. Who cares what a few insecure men think about you?
Watch here! This super-fun Simran trailer.
Shashi Kapoor and his endless love for his wife Jennifer