We love famous people! From appreciating their work and following them on social media, television and newspapers, to sometimes wanting to lead a lifestyle like them, we have done it all. Hell, we would consider ourselves quite lucky to have even met them. So, when it comes to celebrity marriages we can't obviously keep our excitement hidden, right?
However in some cases, these dreamy beautiful weddings don't always last. The reasons are different, some quite mysterious and some messy and unpleasant. To be fair, it is never very pleasant when a power couple's relationship crashes and burns and here's my list of the eight most unpleasant relationship disasters:
1. Hrithik Roshan and Suzanne Khan
When the Bollywood hunk married his friend and his first love back in 2001, fans all over India cheered hard. For we all knew that Hrithik and Suzanne were made for each other. They looked good together, supported each other and had each other's back. They were always seen together. Their marriage made headlines as it was quite an affair. It was a traditional Indian wedding, flowers, rituals and yagnas – all with a touch of lavishness. However, the couple had to call it quits in 2014, they amicably parted and mutually divorced each other. No solid evidence has been found on why the couple split, but rumours of infidelity had begun to surface, not including the Kangana Ranaut debacle.
2. Anurag Kashyap and Kalki Koechlin
These actors became quite close during the production of Dev D in 2009. At interviews, they were quite open about their love for each other and seemed quite happy. In 2011, they got married – and everything seemed at peace until 2013 when they decided to part ways. Fans were disappointed when any proper news wasn't given out as to why it had to happen. However, Kalki opened up in an interview later on that Anurag had temper issues and she herself was not able to give time to the marriage as she was juggling hospital work, since her mother was admitted there, and was busy with shoots all the time.
3. Saif Ali Khan and Amrita Singh
This duo's relationship started with a mere fling. They had met at a party and apparently made out later. Saif, though twelve years younger to Amrita, hurriedly made a decision to marry her, much to the chagrin of his family members. Back then, they were quite into each other. Their wedding caused quite some stir in the industry and was considered a lavish, glamorous one. Photos that were released showed Amrita Singh dressed up quite like a royal bride, after all, it was a Nawab she was marrying. However, the spark didn't last that long because of Saif's extra marital affairs and his relationship with Rosa, an Italian dancer, which he publicly announced. In 2013, the couple divorced each other and the custody of their children was given to Amrita Singh.
4. Brad Pitt and Jennifer Aniston
How can one talk about celebrity divorce and not mention this couple? Even before the Mr. And Mrs. Smith movie happened, this was one of the golden couples of Hollywood. They had started dating in 1998. They tied the knot two years later in a quite expensive and pretty classy wedding that entertained two hundred guests, with choirs, exotic decorative flowers, bands etc. In 2005, Aniston and Pitt had a divorce that disappointed many fans but didn't come as a surprise as Pitt had already begun dating Jolie by then, which had caused complications in their marriage.
Read more: 3 exquisite, jewel-like Bollywood weddings to inspire your own
Read more: 7 bahanas to give next time when someone asks you when are you getting married
5. Farhan Akhtar and Adhuna Akhtar
The Zindagi Na Milegi Dobara (ZNMD) actor met Adhuna in 1997 at a club and, for him, it was love at first sight. After dating for three years, they got married in 2000. They were Bollywood's most stylish couple. They had two daughters between them and were always seen at events together. People close to them said they enjoyed adventures a lot and respected each other's personal space. Sounds blissful, right? The couple ended their marriage in 2016 on an amicable basis and continue to keep their children as their priority. As of now, no one properly knows why they split ways, as they were quite protective about their private life.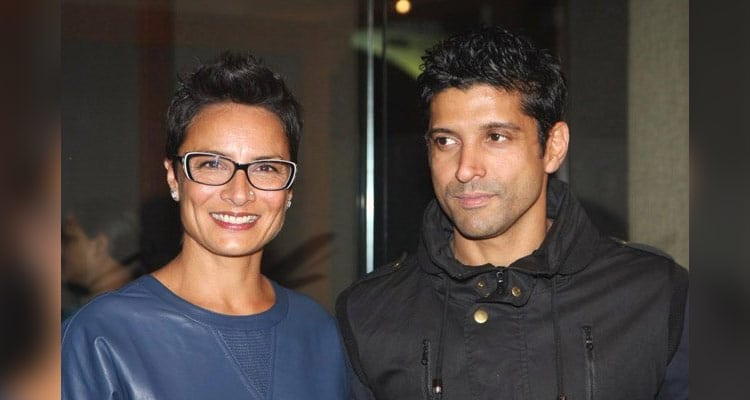 6. Malaika Arora and Arbaaz Khan
The two met in 1993, were smitten by each other and decided to get married in 1998 after five years of a sturdy relationship. Their wedding was held in a church where they said their vows to each other, in the evening they had a lavish nikah and a beautiful reception full of songs and parties. Overall, it was quite a wedding. But the couple parted their ways last year in May.. The divorce was mutual.
7. Lady Diana Spencer and Prince Charles of Wales
A whopping $110 million USD was spent on their wedding. One can only imagine how extravagant the wedding might have been. They met in 1977 and continued to get intrigued by each other. Around 1980, they got serious about their relationship and got married in 1981. They had 3,500 guests and a huge procession to the St. Paul's Cathedral. However, their love had begun to fade quite early and some other issues arose as well. They separated in 1995 and filed for a divorce in 1996. The troubles aggravated because there was infidelity on both sides. To part was the only wise decision after that.
Well, that's it for a few of the biggest celebrity divorces of all time. Makes you think that perhaps people should reconsider spending so much on their weddings since they tend to end up in a mess anyway. Or maybe I am just jealous because I wasn't invited to those weddings. Imagine all the biryani I could have eaten. Sigh!