In 2018 Ranveer Singh pushed the Khans of Bollywood aside to take on the crown of No.1 star of Bollywood along with Ranbir Kapoor. Ranveer's ascent up the ladder in the industry has been a steep climb but he has made it through sheer hard work. He has got as much attention for his roles as for his relationships. But the star has been always honest and forthcoming on his take on love for girlfriend-turned-wife Deepika Padukone.
Here are 7 Quotes on Love by Ranveer Sigh that would make you swoon over the star
1. "I love being in love. It is the best feeling in the world."
Ranveer Singh might be in the news recently for his grand marriage to Bollywood actress Deepika Padukone, however he has had his share of girlfriends and flings in the past. A self-confessed Casanova, Ranveer changed for the better when Deepika entered his life and became more mature with an emotional, long-lasting relationship with her. We're pretty sure when Deepika walked into his life his heart went, "Tune Maari Entriyaan!" much like his Gunday alias, Bikram!
2. "I come from a family where people are physically affectionate. Hugging and kissing comes naturally to me."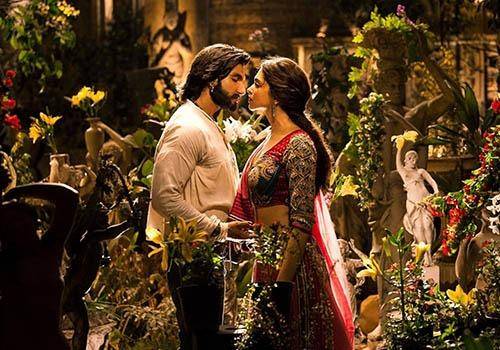 Very early when Ranveer and Deepika started dating and wanted to keep it all hush-hush, an image of them went viral, with Ranveer kissing Deepika on her cheeks and Deepika shying away. Even filmmaker and socialite Karan Johar mentioned it to Ranveer on an episode of his famous talk show Koffee With Karan featuring Ranveer and Ranbir Kapoor.
Ranveer clarified what was shown in the photograph was a gesture of his affection for Deepika, since he came from a naturally affectionate Sindhi household, who are quite similar to Punjabis in their mannerisms.
He also mentioned that he thought Deepika was "marriage material".
Few years down the line here we are – Ranveer and Deepika are happily married today and regarded as one of the power couples in the movie industry.
3. "You know there is so much talk about our chemistry. I've seen the line-up of what we've shot so far and it is mesmerizing when the two characters come together."
This is just one of Ranveer Singh's quotes on their sizzling chemistry on screen and how precious they are to each other. As fellow actors truly they light up the screen in the most magical way.
From Ram-Leela to Bajirao Mastani they have left all mesmerized.
4. "I knew she will be easy to work with, but you can't get your eyes off the screen when you are looking at her."
This is what beau Ranveer Singh had to say about Deepika, whom he adores. He has always maintained that she looks incomparable on screen and can't stop gushing about her.
5. "I find it very cool when girls hit on me because, for a long time, I was a fat kid. I became sexy at a later stage."
According to Ranveer, he was never blessed that much when it came to his appearance, though millions of women swooning over him will beg to differ now. His chiseled body, handsome face and sharp jawline make him the envy of many. He has jokingly stated that he finds it great to receive attention from women at a later stage in his life, post his entry into Bollywood. And when Deepika gave him attention rest became history.
6. "I am fiercely loyal and over possessive, but I am learning to control my possessiveness. I have become quite mature, though not as much as I would like to be, but have still improved tremendously. I can't hide my feelings, and it takes a lot of effort to be closed about things I feel for."
Being a Cancer zodiac sign, no wonder Ranveer is very sensitive and emotional, which is in sharp contrast to Deepika's grounded Capricorn demeanour.
He has mentioned several times that it was in fact, Deepika who kept him grounded, which led to his success in the film industry.
The duo are most well-known for their scorching on-screen chemistry in Sanjay Leela Bhansali's trilogy starting with Ram-Leela, Bajirao Mastani and finally concluding with Padmavaat.
7. "I knew Deepika Padukone was mother of my children 6 months into our relationship."
The Ranveer-Deepika pairing has received much praise and attention from both the media and their fans ever since the beginning of their relationship and it was evident that the duo shared immense love and admiration for each other, which only grew with time. This quote from Bollywood's new age love guru Ranveer Singh, at the India Today Conclave 2019, can surely be included in Ranveer's biography decades later. It shows how far-sighted he is and how his perception indeed hit the bull's eye in terms of accuracy when it came to envisioning a future life with Deepika.
֎
Is Mahie Gill Right in having a Live-In Relationship? Our Expert Answers