For better or for worse, in sickness and in health, may summarise your life of togetherness but to make a relationship work, it takes a lot of work. Feeling left out of each other's life, boredom may send your love life crashing into the earth. While the crazy-in-love honeymoon period of your relationship might be long gone, you can still retain the warmth of the relationship in these significant rituals couples do to keep the relationship alive.
Maintaining rituals seems mechanical, right? These are not rituals (you might imagine a tantric setting with gothic makeup), but I assure you they do not require incantation or the blood of a virgin. All it takes are these little gestures, which go a long way.
1. Pillow talk:
You don't have to devote an hour for this. The bed doesn't always have to be a cornucopia of sexual pleasure only. A simple 'So how was work? How was your day?' to each other connects you together after a heavy day. It shows how much you want to know the happenings of your partner's day and give mental support if they did not have a good day.
Related reading: 10 things every girl wants her man to do
2. Ritual of arriving and departing together:
This might not seem like a big thing for most, but psychologically has a huge role to play. If you both have to go to work in the morning, leave together. Be together for however long as possible and take whichever commute you have to take. Leave with a kiss or a hug. This will leave each other the warmth of acknowledgement and love.
3. A compliment a day, keeps the sourness away:
Compliment each other. Nothing too detailed. Just something your partner might do that you find sweet. Saying "You look so handsome in this shirt" is enough to make him blush and make him feel wanted and loved. Or "That place [of work] would fall apart without you" shows how awesome she is and how good she really is at her job. Just give one compliment a day and see each other light up.
4. Resolving a fight before sleeping:
Go to bed in a sour mood and you wake up with a sour mood. Though this might seem like a tough thing to do, resolve the fight you had in the afternoon before you turn in. This is a legit ritual. If both of you are being egoistic about it and neither wants to take the first step, you take the high road and try and resolve it.
This not only allows you to sleep like a baby but also shows your partner that nothing comes before the happiness of him/her.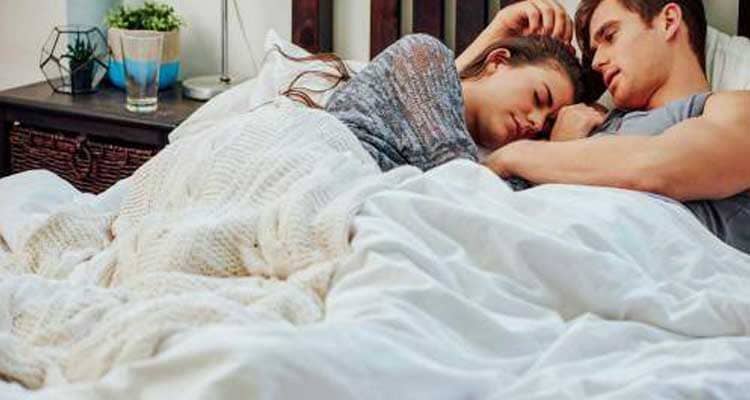 Related reading: Excuses we make for a night out with him
5. Communication is the key:
You don't need to talk over the phone for hours while both of you are at work. Just a WhatsApp text, text message, or even an email to say that you are thinking about him/her. And whenever he reads it, he will feel connected with you, even though you are miles apart.
6. Share the love language:
Each couple has a specific language of their own. You know what a little tug from your partner means, you know her pats, and you know his caresses. You don't need to kiss or fondle all the time. Share them from time to time. A touch can mean you are here for them and calm them down when they need it the most.
7. Gossip:
You have someone from the office who spent a night in jail and the news is just in? Let your partner know. You don't necessarily have to indulge in criticising everyone you know, but a little goofy time with your partner shows how you leave nothing out of each other's lives. Indulging in harmless gossip might range from your next-door neighbour being caught red-handed by his wife for cheating, to the good-for-nothing associate in your firm who just got promoted.
Make sure you don't over indulge or accidentally disclose gossip you heard about each other (oops).