We often look for the perfect relationship in movie stars or believe that it doesn't exist. Your parents are perhaps the people you should look up to for a lifetime of relationship advice. Here's how your parents stole the show with their quirky relationship goals!
When your father is the Masterchef
In modern day nuclear families you obviously need to share the workload. And the most difficult thing to find in an Indian household is a cook who is never absent. But when she is absent who saves the day? Your adorable father!

Related reading: 10 things every newly married couple has heard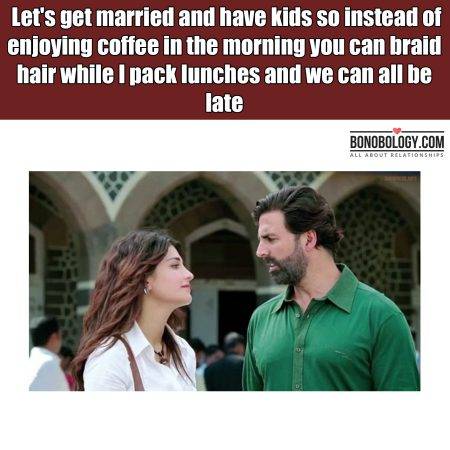 Mothers who work and manage the finances

When your mother is an equal head of the family, you are the happiest. This means that your parents have a lot of mutual trust and your father respects your mother's opinions. Equality is the call of the era.


When your parents are best friends

When your parents share not only a drink but their interests, it is worthwhile. It's absolutely beautiful to see your parents spending time together, over cups of tea or when going for evening walks. Even in the smallest of things, their effort and love is visible and makes you realise that love is about companionship and understanding.


When their fights are weird, but they are not tired of each other

Have you ever seen your parents fighting tooth and nail and cosying up soon after? Yes? Then you have seen the perfect relationship. It is always so inspiring to see how they sort their differences of opinion and move on.

When babysitting is a mutual task

If you have a younger sibling, you will perhaps understand the hang of it. During a pregnancy and even after that, our mothers undergo a lot of stress and physical strain. If your father has been the one who stayed up consecutive nights and changed diapers, you know what you want your future partner to be like.

Related reading: 6 things a man does to show his love

A simple fever is a boon in disguise

Because you often get to see how lovingly they care for one another. It's a sight that could melt the most cynical of hearts. I personally love the relaxed nature of the household and the hot brews, not to forget the chicken stew! Also, nobody pays attention to your misdeeds and you are saved from the scolding.
In our modern day idea of relationships where we are often trying to escape from an abusive live-in or scared of commitment, we can look at our parents and learn the true essence of love. Perhaps then the fallouts will seem like nothing and we can have our hearts in one piece.

How this couple improved their marriage by ignoring all the rules they had set