There was a 10- year college reunion taking place in town, and after much contemplation, I decided to go. I was curious to know what all my old friends were up to and what they were doing with their lives. I didn't known then that I will end up narrating my college reunion hookup story to you then.
We had graduated from the institute of management studies more than ten years ago. He had opted for Finance and topped his course. Back then he had been a nondescript boy, wearing huge black-rimmed glasses on his prominent nose. He had been a good debater though and had represented our college at various intercollegiate fests.
He was the kind of boy I would never even dream of hooking up with; he was nerdy and boring. But people change, and he was standing before me 10 years later, looking as handsome as ever.
Sparks Flew At The Reunion
Meeting him at the reunion five months ago, I had been taken aback by the transformation. He had introduced himself, gently pulling my leg, "Sukriti, have you got a handle on derivative securities or are you still deriving?"
"Simha, I don't believe it. You, you, you…. look good," I had stammered. I wanted to say stunning but checked myself.
"Thank you," he replied in a polished manner. Gone was the angular, unkempt boy. There stood before me a suave, confident, globetrotting investment banker.
He had grown into this charming young man, and I couldn't resist gazing at him the entire duration of the reunion. I didn't know then that my lustful desires would lead to a hookup.
Catching up with news
"You are looking good, Su," he smiled softly calling me by my now forgotten college name. "Never thought I would see you in a sari. Where is the tomboy Su, who had the teachers going berserk with her antics? Su the imp, Su the brat has suddenly transformed into Su the gorgeous."
"You mean to say, I was not gorgeous back then?" I asked, pretending to be angry. I was teasing him to check if he was as into me as I was totally into him.
"You were amazing back then, too, Su. Half the boys had a crush on you but were too scared to approach you, besides there was Kartik…" he trailed off.
"Yes, we got married after college," I answered his unasked question.
Related Reading: Have A Crush When Married- 7 Ways To Handle The Situation
"I know, the yearbook mentions it. He has become a high flying businessman now based out of Singapore. But you are in Delhi, how do you guys manage?"
"We just do. He has his business interests in Delhi too, so is here almost every month. You tell me, how are things with you? Saw your family picture in the magazine. What is your little girl's name?"
"Zoya. I call her Zo," he replied, a fond smile playing on his lips.
"You are really lucky, Simha," I was almost wistful. I did not like the route this reunion was taking. I was more interested in his marvellous transformation.
Kartik and I had decided not to have children. He came from a broken home and had strong views on the subject. I had no views, so I went along with his views, though occasionally I felt a pang in my chest on seeing small children playing or tagging along with their parents.
We danced and talked and kept in touch
Brushing my melancholy aside I asked Simha to dance with me. I casually asked him about his past relationships and hookups, and he answered all my questions honestly. He did not ask me anything in return.
At the end of the dance we went to the terrace holding our glasses and talked endlessly, missing our dinner in the process. He insisted on seeing me to my car.
On reaching home I received his text, "Hope you reached safely. It was one of the best evenings I've had. Thank you." His text made me ponder – will my desires for Simha after all these years land me in an extramarital affair? Did I really care?
I replied along the same vein and thus started our daily hourly texting. I was glad I went to the reunion.
Related Reading: Everything You Need To Know About The 7 Types Of Affairs That Exist
Five months later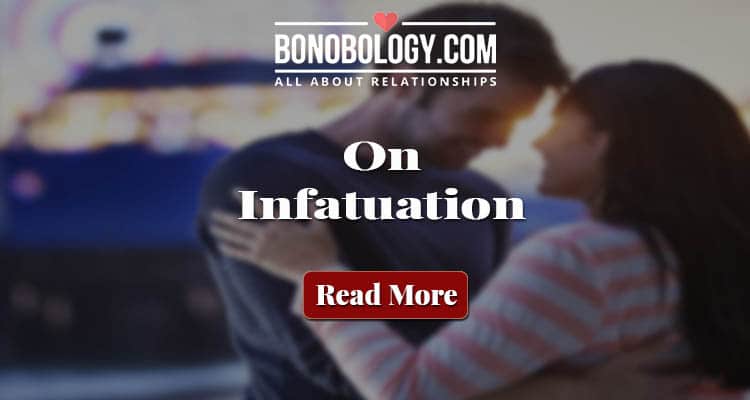 Kartik was in Singapore and I was meeting Simha for dinner. Overturning my wardrobe looking for something to wear, I finally settled on a pair of skinny jeans coupled with a sheer peach top.
I reached the restaurant and found him waiting with a glass of bubbly wine in front of him. I was on time but he had come early, "to watch me make an entrance", he said.
"Su, since college I have wanted to have this moment and today, I want it to go on forever," he said, raising his glass. I blushed and told him I felt the same way. The moment was truly magical.
I clinked my glass of water with him, remembering the tale of Bibi Khanum, the beautiful wife of Timur Lane. Timur had gone off to conquer India when Bibi Khanum commissioned a mosque for him. The architect fell in love with her and delayed the work in order to see more of her.
She tried to tell him love was deceptive
Since Timur was about to return, Bibi Khanum asked the architect the reason for the delay. He confessed his love. She was perturbed, but could not directly spurn such unabashed love. Showing him six eggs in different colours, she explained to the architect that though the eggs looked different from outside, they were the same inside and so it was with women.
She might be beautiful in his eyes, but she was just an ordinary woman.
The architect produced two glasses, one filled with water and the other with white wine. He told Bibi Khanum that though they looked the same, the water would leave him unaffected, whereas the wine would burn down his throat.
The legend says that the architect asked Bibi Khanum for one kiss in exchange for completing the mosque on time. She acquiesced.
His kiss was so passionate that it seared her cheek, leaving an indelible mark. On his return Timur saw the mark and ordered them both to be put to death.
Today her Makbara stands in front of the mosque, her grave surrounded by those of her nieces, as she died childless. But I was like Bibi Khanum, I was ready for the sacrifice.
Related Reading: Ancient Love Story: Lapita, Found Love And Lost It Too
The moment I had been waiting for
I looked at the glass of water in front of me, beckoned the waiter and ordered a glass of Oaked Chardonnay. I felt the romance that the two lovers must have felt back in the day.
Sitting in front of Simha, mesmerised by his gaze, I knew I was going to drink the wine. I needed to feel the passionate love for which any sacrifice was worth it.
I took a sip and gazed at his lush lips. Before I knew it, he was stroking my hair and whispering sweet nothings into my ear. He gently put his lips on mine, and thus began the most exhilarating hookup of my life. I couldn't believe I was having an affair!
What started off as a beautiful, gentle kiss turned into a full blown hooking-up session – one that I was going to remember for the rest of my life. If I'm being honest, I would not have any other make-out session but this one be the reason for my extramarital affair. Simha was breathtaking.
It was as if we were waiting for this one encounter all our life. It fulfilled us. But it happened only once, we refrained from doing it again and getting into further complications.
I had never expected my college reunion to lead to something like this! I'm glad I decided to go, because if I hadn't, I wouldn't have experienced one of the most magical and thrilling moments of my entire life.
I'm Stuck In A Sexless Marriage For The Sake Of Society
When I Found My Teenage Crush On Social Media
6 Reasons Why Women Have Extramarital Affairs In India