You do not know romance until you have indulged in the 90s movies. The 90s was the era of hopeless romance. While SRK and Kajol ruled the silver screen in Bollywood, the mega duo of Richard Gere and Julia Roberts encompassed viewers with minimalist, unrealistic saga of hopeless romance in America. The 90s had something for everybody. 90s movies offered chick-flicks, rom-coms – the years came up with romantic movies like never before. In a decade full of mushy, heart-warming romance tales, these are the absolute best choices from around the globe. The 90s had Bollywood movies that should have been on every hopeless romantic's list.
Related Reading: How Sexism In Bollywood Was Made To Look Like Romance 
A List Of 90s Romantic Comedies You Should Not Miss!
There is no denying the fact that the 90s romantic films were absolutely out of the world and they made you want to fall in love and stay that way forever. Romance was so beautifully portrayed both in Bollywood and Hollywood that it left a dep impression on the viewer's mind. When it comes to the best 90s romance movies we list our favourites. Some of the scenes from these films are unforgettable and will remain etched in our minds forever.
1. Runaway Bride
Nearly a decade after Hollywood's golden couple, Gere and Roberts, made their debut with Pretty Woman ; here comes another movie directed by Garry Marshall. This movie is all about a lot of ill-fated weddings, Roberts' character Maggie has a habit of fleeing from the altar every time she decides to tie the knot. Gere and Roberts' chemistry is nothing like that in Pretty Woman, but the gaiety with which the characters are played to perfection makes it a movie you wanna watch over and over again. It is a fine tribute to those classic 1930s screwball romantic comedies.
2. Hum Dil Dey Chuke Sanam
Aishwarya Rai Bachchan at her absolute best, Hum Dil De Chuke Sanam offers a sort of poignancy to romantic story telling. Unlike the other movies of the 90's, the ending is quite surprising. This movie brings together Salman Khan and Aishwarya Rai Bachchan for the first time onscreen and the romance nears palpability. Ajay Devgan plays the character surprisingly well. Bhansali's set like always is grand. The songs are still hummed to, almost two decades later. All in all, a solid romantic movie hard to miss.
3. Pretty Woman
If you haven't absolutely adored Richard Gere-Julia Roberts' tale of life-changing romance, you have missed out on a lot. True, this movie has underlying dark tones, but can you ever forget the full-mouthed laugh Roberts' Vivian breaks into when the jewellery box snaps shut on her fingers? Richard Gere – a rich man enthralled by Vivian's charisma falls desperately in love with the prostitute. This is your go-to movie to brighten up any dull day. This film takes the cake when it comes to 90s romantic films.
4. Dil Toh Pagal Hain
One of the absolute favourites of the Indian crowd, Dil Toh Pagal Hain introduced western choreography, thanks to Shiamak Davar. This movie brings together SRK with Madhuri Dixit and their passionate love affair with Karishma Kapoor (and her heart-failing over-acting) as the other woman in the love triangle. Yash Chopra proves that even at the age of 65, he was a scintillating romantic at heart. This is one of the best 90s romance movies.
Related Reading: 5 Bollywood Movies Which Show Love In An Arranged Marriage
5. In The Mood For Love
This film was made in the 90s but released in 2000 but man-oh-man, you cannot talk about romantic movies and not mention Wong Kar-Wai's legendary In the Mood for Love. This movie is an emotion that cannot be bled onto paper with words. The director follows the lead actors Maggie Cheung and Tony Leung as they glide through the space, the iconic title track in the background. Su and Chow are married – each to their respective husband and wife. They find out their travelling spouses are having an affair. They open up to one another but refuse to be promiscuous like their spouses. Just as they were nudged towards one another in the city of Hong Kong, they were distanced and thrown apart as well. It is not the usual tale of romance. Cinematography enthrals you and you float through each scene in as smooth as silk.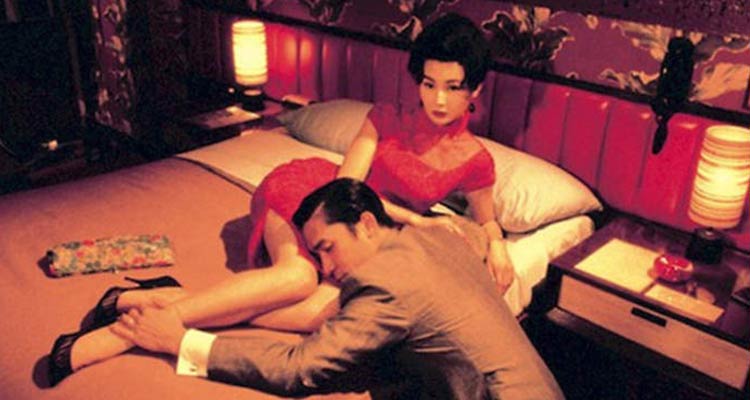 6. Raja Hindustani
Anyone up for a clichéd plot of a man born and brought up in penury falling in love with the princess from the city? Basically, this movie employs the plot that would ultimately be used many times in the coming decade – poor man falling in love with a rich man's daughter. The movie is a classic Bollywood romantic movie. Manish Malhotra is the fairy Godmother to Kapoor's pauper-ish looks. Malhotra magically transforms Kapoor into looking so much better than she did in the previous movies. The most memorable thing about this 90's movie is the lip lock scene between Kapoor and Aamir Khan. If you're a fan of Mills & Boon type love stories, this is the Bollywood movie to catch right away. This was one of Bollywood's best 90s romance movie.
7. Notting Hill
Classic romantic dialogues ruled 90s. Notting Hill, cannot be excluded from the list of the most watched romantic movies of all times. Julia Roberts gave few of the most iconic roles in various romantic movies. Here too, Roberts romances with another mega star Hugh Grant in a classic tale. Roberts' character is an American actress who falls in love with Hugh Grant's character. An unusual romance between an actress and a British bookseller. What's more memorable about the movie is Roberts' iconic line of all time – "I'm just a girl, standing in front of a boy, asking him to love her." That's rom-com glory right there and best possible 90s romance for the hopelessly romantic at heart.
8. The Girl On The Bridge
This French romantic tale of a boy who convinces a suicidal girl to not kill herself and join the circus instead. This European movie has all the necessities of a romantic movie. A meet-cute, sizzling chemistry between the characters of Paradis and Auteuil and unfulfilled erotic tension. The aura is done to perfection with a black and white cinematography.
9. Kuch Kuch Hota Hain
If you're talking about 90's Bollywood scenes, you have to mention Kuch Kuch Hota Hain. Bringing together SRK and Kajol (yet another time after DDLJ) as college-going best buddies in the first half of the movie. From the scene when Anjali leaves to her very sexy dance in the rain with SRK a few years later, this movie epitomises romance at its peak. Recent speculations have criticised SRK's Rahul as a conceited prick but all set aside, this movie is worth the watch.
The 90s romantic films be in Hollywood or Bollywood, had a different charm of their own so when we talk about films that make us hopelessly romantic we inevitably go back to the 90s for reference.