"Hey can I meet you? I need to discuss something very important," said Deepa's voice on the phone with urgency.
In between putting a presentation together and ironing clothes which refused to iron out neatly; I was struck by the poignancy of it. Some relationships just don't straighten out despite the efforts. I had often ruminated on how relationships are a necessary ingredient for the survival of a person, yet they seem the hardest to fix. As much as one may love solitude at times, a small foray into social interactions restores that fine balance; satiating the human need to feel relevant in a complex world.
Deepa Sharma* sat at the corner table at CCD holding her coffee and looking outside wistfully. She seemed oblivious to what was happening around her. She looked at me, a big smile breaking on her face, which quickly evaporated.
"I am so glad you could make it. I really needed to meet you," she said jumping right into the topic.
I gestured to the waiter for the menu, ordered mocha and sat back ready for her story.
Deepa was having marital issues that couldn't be resolved easily. A love marriage gone sour after five years; the fizz had died out and was on life support. She had tried infusing it with oxygen, to no avail. Ashwin Mehta* was a busy businessman, who had grown exponentially with his start-up and had created a niche for himself. Fixing his marriage seemed the last thing on his mind or it didn't seem to bother him much. Coming home late from work, conversations that started and ended with 'Hmmm! Okay! Oh really!' in a detached manner was routine, she said. Deepa recounted tearfully how she went out of her way planning a trip to salvage the marriage, only to find he had scheduled a huge investor's meet that couldn't be changed. Having hit a brick wall with no financial independence and a numbness that she couldn't shake off, she was desperate to bring back the spark.
Related reading: It took 7 years for me to find acceptance, love and respect in my marriage
Deepa had approached me after a recommendation from a common friend. The last conversation I had with her, we had gone over goal setting that she actively participated in. After discussing issues I had gently suggested that she could be financially independent and she had said she would consider it. She had revealed that she needed human interaction on a daily basis and had left the last session with an air of hope.
There was silence for six months with no news from her. I had hoped Deepa was well on her way to figuring it out with Ashwin.
"I tried everything. I don't seem to exist in his world anymore. I still love him but how long can I go on like this? I don't see any affection or concern for me. He seems to have moved on in life without me. We have physical intimacy now and then but his mind is not in it. I really don't see any point in hanging on to this."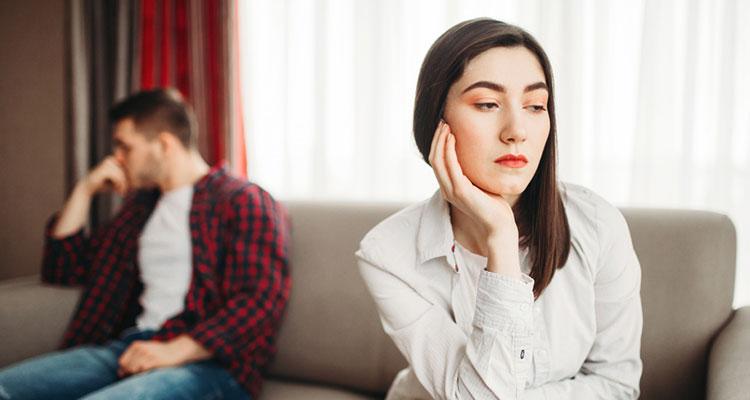 "We even tried marital counselling as you suggested. We had agreed on working this out. It all came down to not spending enough time together. The efforts lasted for two weeks and then we were back to the same stagnant relationship. Ashwin says I am too demanding and that I am constantly seeking attention. He doesn't understand my needs. I want to spend more time with him just like any other couple you know, like go on vacation, hang out together doing fun stuff. Sometimes I wonder if this is the same guy I knew before marriage. He keeps saying I should do stuff to keep myself busy and that my idle mind is inventing things. He gets irritated when I bring it up saying I am always nagging about things and we end up arguing horribly often. It gets ugly. He seems to be avoiding me. Some days we don't talk at all."
"I just wanted to update you. Ashwin said we can separate if that's what I wanted. He says he tried his best with me and cannot do anymore. That's not true. The passion and drive he has for his job is missing in our marriage. I feel he is a workaholic. Anyway, I got myself a job as an HR resource person. I moved out. He doesn't seem to care."
She went on to describe her newfound freedom and the perks of it. She came around the table, gave me a warm hug saying she will keep in touch, thanked me profusely and left.
I just hoped Deepa would find what she is looking for and move on. I could sense it was not easy for her to let go but she had taken the first step. Maybe they will divorce or maybe come back together again. The decision is theirs to make.
As I headed out I pondered on how the force that brings two souls together does not sustain it, unless fuelled continuously by both, as team players.
"Chains do not hold a marriage together. It is threads, hundreds of tiny threads which sew people together through the years," said Simone Signoret. That is true since marriage, the union of two souls and bodies is so much more than what one envisages before tying the knot. There is much of give and take; much to share and to understand each other's needs and wants. Surely not easy by any stretch but necessary nonetheless to keep it alive.
I never heard back from Deepa. I got to know through a common friend that she had accepted a transfer out of Bengaluru and moved out of the city. She was doing well and that's all that mattered.
(*Names changed to protect privacy)