I am a journalist who has been there and heard it all… right from the horse's mouth. I wish to share stories from real life that have not only given me an insight into the complex nature of the human mind but also into various shades of Indian society – a society that is complex and fascinating and wears the garb of decency. This is the story of a Bollywood producer and his wife who live as man and woman in a normal society with skeletons hiding in the cupboard.
Ashish was a happy-go-lucky man who lived in a reputable society and conducted himself in a respectable way. Like any normal man he too loved to flirt with women.  Being a film producer he got many opportunities.  He then got married to a gorgeous looking girl who did 'C' grade films. It was an arranged marriage that lasted for 15 days!  "Ashish, you are an ugly duckling I was forced to get married to. I hate you and you better not touch me," was the bride's reaction to his fondling on their suhaag raat that crushed his manly ego and spirit. This made him decide that they needed a divorce.
Time passed and he met Mehrunisa, a junior artist who was deeply in love with him. She not only boosted his ego but showed the desire to spend her life with him. "Meher, you know I have got into this habit of having sex with different women and I cannot do without it," he confessed to her one evening on the sets after the pack up.
Related reading: Here's how to flirt when you're already married
"So what! I will support it if you get married to me and also promise to support my family financially," chirped the bubbly girl who came from humble roots. "Do you mean it?" said Ashish who could not believe his ears! And they got married.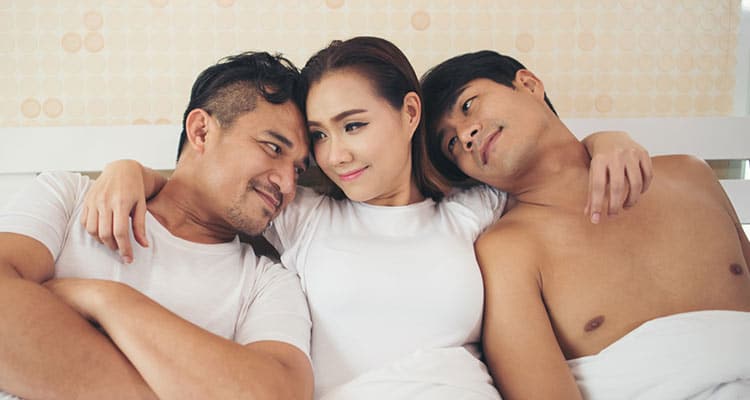 The couple settled down and started partying with single females who would be willing to be a part of a 'threesome." With their networking in the industry where it is not difficult to find women of dubious reputation, they started having their sexual escapades. As their stints continued in the flat rented specially for the purpose where Mehrunisa became the willing third partner, their emotional bond grew. As time passed, they became inseparable.  I have yet to see the bonding and companionship amongst married people as enjoyed by Ashish and Mehrunisa, who even decided not to have children.
The last time I met them, they were buying fruits together. "We are all geared up to sell our current residence," said the beaming duo that live in a respectable housing society.  Do they wish to have a third live-in partner or conduct such activities at home in a not-so-strict-housing-society, I wondered? I wished them luck wondering if it was love or an arrangement in the garb of marriage. Pretending to be the quintessential Indian couple, they nodded their heads with a 'thank you' and smiled at each other with the satisfaction that no one knew their secret!