After almost two decades of their marriage, Reena and Shivkumar Agarwal are still called the 'honeymoon couple'.
"There was no love to begin with. It was an arranged marriage. I had met one another guy before him, but nothing came of it. You know how it is with arranged marriages. The love happens slowly. Or it never happens," says Reena. In their case, love happened. A whole lot.
When? Was there a defining moment, their 'Day of Love'? There was!
A month after the wedding, Reena's sister-in-law noticed that she limped. She pointed it out to Shivkumar. It was an occasional, mild limp and Reena had assumed that her parents had told her in-laws about it before she met Shivkumar the first time. Reena had had an accident as a child, which left her with the limp.
They had met a few times for six months before they decided to get married. But neither mentioned the limp to each other ever, not even after the wedding, not even after the sister-in-law mentioned it to Shivkumar.
His family spoke to her family and everything was settled without her getting a whiff of the whole episode. It was only a month later that Shivkumar made a passing reference about how it had been discussed within the family and with her family. She was upset and fought with her parents for forgetting to inform her in-laws about this crucial detail.
Related reading: Love Overcomes any Handicap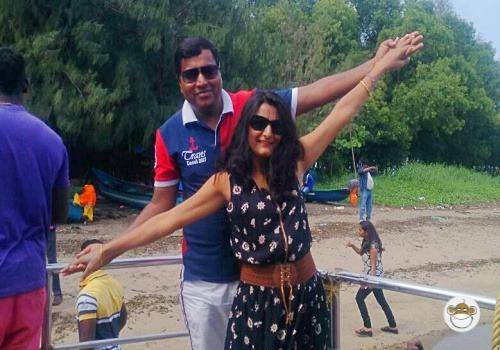 She doesn't still know how the issue was settled between the families and the stance her husband took. Maybe he had liked her so much when they met before getting engaged, that even though he noticed it, he never wanted it to become an issue and a reason to break up.
Immediately afterwards, her in-laws' family was preparing to go to Meerut for a party organised by Shivkumar's uncle. They were reluctant about Reena accompanying them. She couldn't be seen limping around! This was the moment.
Shivkumar put his foot down and told his family that she was his wife and he was proud to be seen with her. It was their 'Day of Love'.
This was the day Reena felt assured that she was in the right place. Until then, she often thought that her limp might have led her parents to rush to accept the proposal. She was an MBA (marketing) working with a telecom giant. Shivkumar was a businessman and was still finding his feet back then. But on their Day of Love, everything changed. Now she knew it was all about love. Respect.
That day in July 1998 when they got engaged is celebrated brand new every year. Shivkumar puts a new ring on Reena's finger every year. But like their wedding anniversary, they don't make their engagement anniversary a big affair. They prefer to be with each other and their 16-year-old son Ritik. They don't crowd their moment by inviting too many guests. "Our real celebration is the time we spend with each other," Reena and Shivkumar declare.
Related reading: 7 tips to make marriages work
That one cute thing they do every day that makes them popular as a 'honeymoon couple' among youngsters in their locality, in their circle, in their family, in their lives? They go for morning walks. Together. Hand in hand.
Almost 18 years after they were formally wedded. Almost 18 years after they walked around the holy fire hand in hand. They walk the park promenade now. Hand in hand. Each day is their Day of Love.
Why I became happier when I stopped trying to please my in-laws