Simran and Neha are sisters separated by miles for over 12 years now. Both women, in their early 40s, have been trying to maintain their connect through sending each other daily letters. Simran is an ophthalmologist and Neha is a geophysicist.
Hi Di,
How's you? Guess what I found today – an entire bundle of old photos from school, college and many other memories. I found them in the loft while cleaning up.
How much happiness lies in those photos. I even found the photos from our visit to Tigra Dam in Gwalior. Remember that photo of me lying on your lap, the one that stayed in our room till the frame broke? I also found one of you accepting your medal at the inter-school writing competition, and am attaching it. It was so nice to take that walk down memory lane. It's funny how we don't count our blessings until it's too late.
Those happier days
I also found many photos of Shashank and myself during our happier days. And then there were some photos from the time when things started going downhill. When we had started arguing over everything. I found one photo, which brought tears to my eyes. It was from an office party where his colleagues had forced us to give a romantic shot. And we had obliged with an embrace….
Yes, I was dying that night as he touched me. I couldn't tolerate his presence, let alone his touch. But it was his colleague's farewell party that we both had to attend!
Related reading: Here is why you can't fix bad relationships with fake smiles
I still remember that evening. He walked in from work to a dirty home and lost his temper. He knew the maid was unwell, and I had been busy with conferences and surgeries most of the week. It neither mattered to him that the mess in the house had largely been created by him, nor that he was as responsible for cleaning the mess as I was. And, then the call from his colleague, and a friend of ours, "Hope you both are coming for my farewell party…"
Social obligations took precedence over personal frustrations and much as I hated accompanying him that evening, I went.
Why is it only a woman's job?
But I have many questions: why should a woman alone be responsible for a home shared by two, when both go out of home to work? A woman has to keep house, manage household expenses, be a professional, be responsible for her life, her parents' lives, her in-laws' lives, and if she has kids, then their lives too! The man, however, needs to be responsible only for bringing in the money. I am no superhuman. It's tough to keep tabs on everything and be perfect at it all. But he never understood. I used to pay his bills, my bills, our bills, manage his relationships, mine and ours! But he never appreciated it. Something was always wrong. A delayed payment, a dirty house, a dinner which he didn't like. A constant feeling of walking on eggshells.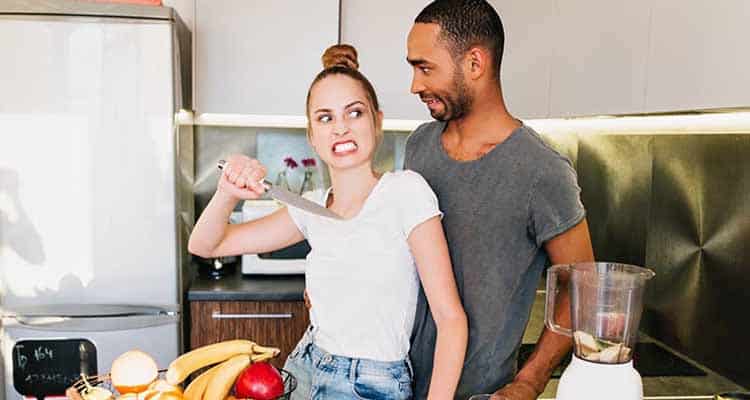 It was always my fault. I don't know what I could have done differently to make it work, to make him happy. The pressure to maintain the marriage was so high, that it played on my mind even when I was at work. Those were the days I was working with the City hospital – constantly running between my OPD hours, hospital meetings, education, and all of this, topped by the constant fear of his anger if I missed anything. It was too much pressure and it was affecting my mental and physical health.
Related reading: What to do when your husband doesn't help with house chores
He never listened
I tried talking to him, but he would just go quiet after a few statements. Almost as if thinking it's futile to share his thoughts with me. Our conversations would start with a healthy exchange of ideas. He would present his perspective and I, mine. It would end with what felt like a monologue from me. And, it wasn't that I was angry or upset or shouting at him. I was just trying to tell him what I feel about certain things. But he would clam up. Was I not supposed to have a perspective on anything? I used to feel that he would initiate conversations only because he wanted to talk, not hear. Maybe I was too strong headed for him. Maybe he preferred someone who would hear his perspective and implement it, rather than voice her own thoughts.
Related reading: 5 things men do to make women feel insecure
I did not understand it then, I do not understand it now. One feels like a failure in every aspect of life with no knowledge of how one could have changed things.
I have a lot more to write on this topic but not today… I have to rush for my CME class. But I promise I will trouble you more tomorrow. Thanks for reading.
Lots of love and a big hug,
Simran
As Simran pressed the "Send" button and shut the laptop, she was upset that she still nurtured anger over her failed marriage. Or, was it still love… it wasn't indifference for sure!
Their dreams were the same; but his love was different. She wanted respect and that was the only thing he couldn't give.