I am married to a 7-year old child. Ours was a love marriage. We had dated each other and then got married. After the marriage, there were few ups and downs and I did not get any support from my husband. I have a very close friendship with a man now. It is not an affair after my love marriage. It's just that it is a very intense relationship. 
It's not an affair after my love marriage but what should I do about this intense feeling I have for my friend?
I started sharing my problems with a friend whom I knew from before we came close and suddenly his wife started being suspicious about us. She called me and asked me to stay away from him. This is not an affair after my love marriage something she fails to understand. 
I know that it's a wrong relation, but I seriously don't know now what to do. He hasn't called or messaged me. I know he is under pressure from his wife as she is monitoring his calls and messages. She even took his cell phone with her for a day. She is very troublesome. He also doesn't like her anymore, even though their marriage was also a love marriage.
There was a huge fight between them, I don't want all that trouble but we still miss each other and we are confused. He understands me the way my husband doesn't, takes time out to listen to me. He understands my feelings and satisfies me also.
My husband only knows that we are good friends and his wife is suspicious. That's all. Again, it's not like I'm in an extra-marital affair or cheating my husband outrightly.
But I do feel guilty at times. I am tired of these relationship issues. But what can be done now? Am thinking of stopping all this and just concentrating on my family.
Please advise at the earliest.
Dear Lady,
This obviously is a hard time for you and I appreciate that you sought help. Marriage is a tough cookie and it's going to need constant work to make it smooth.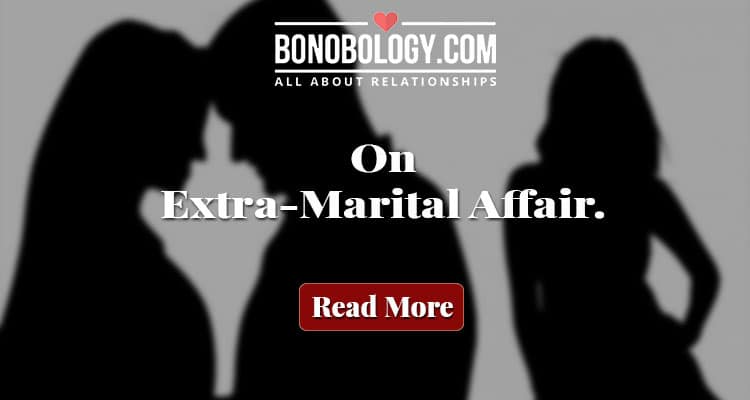 We keep looking for things 
A lot of times we start to look for things that we feel are lacking in the marriage, outside the marriage. That's when the trouble starts. I understand that your friendship with this man gave you comfort and support but also, it's causing problems in his marriage.
Step back now 
I would agree that you need to step back and focus on your family. You need to sit with your husband and have an open conversation with him about what you think is not working out for you in this marriage. That will give you a long-term solution, and will ensure that you're happy in the long run.
Don't hesitate to reach out if you need to.
Take care,
My partner is controlling. I feel like I am losing my individuality
I have a five-month-old baby and my husband is having an affair