Anuradha Kedia, co-founder, with her husband Dhimant Parekh, of The Better India, spoke to us about work-life balance, the impact of their work and their vision for the future.
How did the idea of The Better India emerge?
My husband and I were both news junkies! We'd scan newspapers and websites and devour all that was there to know and learn about what's happening around us. Over time what struck both of us very strongly was the noise and emphasis around everything that is broken in India, all that is wrong and bad. There was no place that showed us what was good, working and beautiful. While we sensed immense positivity around us, none of it seemed to be reflected anywhere. We knew many initiatives, good things that were happening in the country and felt they must get visibility. The Better India started with that thought.
It was a lot of work but something that got our adrenaline pumping. We went out on weekends and after work on weekdays to cover stories of change and positivity. Our initial readership was just our friends and family. In time The Better India started getting attention from people from all walks of life.
How do you catalyse change with stories?
The approach that we take with our stories is one where we talk about how people do what they do. Our emphasis is on how they brought about change and we break down their process. Once the deconstruction was done, the readers felt that yes, change is not that difficult to bring about! We can do it too! Sometimes they'd get so inspired by reading about other people's efforts that they reached out to those initiatives directly and offered their time, money and support, hoping to be able to help amplify the impact. Once people begin to feel that change is achievable, nothing stops them from trying out similar efforts in their own localities.
Six years ago when we first wrote about The Ugly Indian, the group that had started spot fixing, hundreds of people got inspired and started cleanliness drives in their areas. They took up a dirty bus stop, public park or a space full of garbage and cleaned it all up. It was like a movement. We got letters for months and still do.
What has been the real impact of positive stories that you feature on your portal?
Beyond covering stories, we also drive intense campaigns where we take up a cause or we motivate our readers to take up a cause. Something like picking up a village and working to get water and electricity to it. Or helping a village become open defecation free. An exciting effort was to get the street children to enrol at a school which we got made out of a shipping container!
Any impactful couple story from The Better India that inspired you?
Oh yes! Lots of them in fact! There were these two volunteers. A young man and a woman who came across an HIV positive child. This moved them so much that just to give him a secure and safe home they decided to get married and adopt him. So many couples (with both husband and wife as doctors) have quit their plush city jobs to settle in villages to make a difference. For instance, Dr Rani Bang and her husband Abhay Bang, who have moved to Gadphiroli, Maharashtra together as a team, provide medical services to tribal areas.
How do you and your husband do as a team at work and home?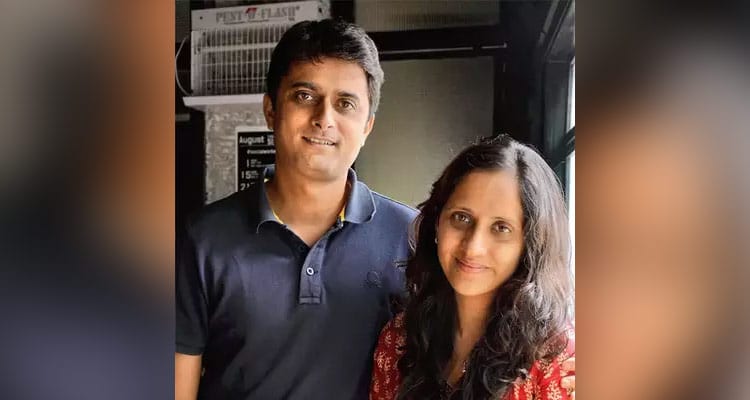 (Laughs) That's a complicated question! There are pros and cons of working together and people do ask us how we tolerate each other for so long! Luckily that has not been an issue for us. We have clear demarcated roles in the organisation, so fortunately we don't come in each other's way. What probably works for us is that more than colleagues or a couple, we're friends and buddies. That works well for us! There is one little downside, which is that we don't really get to demarcate 'family time'. We do carry work home, and we should cut that down!
Related reading: Sankalp Sharma: My wife keeps me mentally motivated and strong
Any couple stories on your portal that mirror progressive relationship trends in India?
So many! Parents are lovingly adopting kids with cerebral palsy and other disabilities. The stigmas around them are reducing. Every day we discover more and more people and couples who are adopting an unconventional path just to make a small difference to the lives of their fellow citizens. Couples take these steps knowing full well the comforts they leave behind, how difficult the path ahead could be and of course the massive risks involved. Nothing deters them. The selflessness that one witnesses is unbelievable.
Any relationship issues in India that you think need working on for a better and happier India?
By virtue of what we do, we generally come across hard-working, selfless individuals who don't get much into petty thoughts or actions. But one thing that must change is patriarchal mind-sets. Starting right from the beginning when a male child is favoured in place of a female child and the rest of it… But it is very heartening to see the changes happening around us. Parents are now more supportive of their daughters than before. Mothers-in-law and daughters-in-law are also looking to be more accepting of each other and do enjoy a special friendship when they make an effort.
Why did you take up the campaign to empower widows of farmers?
The farmer suicides were extremely disturbing. Many people had come forward with assistance in the form of food, money and clothes for the families. But we didn't want to stop there. Our main objective was to give the widows strong financial independence, for them to be able to pay their own bills and raise their children with dignity. So we went about raising funds so that we can set up tailoring shops or catering businesses for them (depending on what they were more comfortable doing). Once they were settled, they didn't have to ask anyone for money and that felt good! They gained respect and confidence, and most importantly, lead a life of dignity.
What next for The Better India? What issues would you like to focus on?
As we take on new issues on a monthly and even daily basis, there isn't one issue that we are looking at. We want to channel our efforts towards making a difference and keep amplifying the positive impact, bridge the rural urban divide… and be able to support a lot more initiatives! We aim to become the world's largest platform of impact.