Anushka – The bold lady of Bollywood
Anushka is a breath of fresh air in Bollywood; a fresh, strong and unique breath of air. Everything about her is effortless, unique and subtle. She has been silently showing her boldness by creating many new precedents in the way a Bollywood heroine conducts her life.
She debuted in 2008 opposite superstar Shahrukh Khan in the film Rab Ne Bana Di Jodi. The film was a hit. She instantly got recognised as a talent to be reckoned with. Then many more hits followed. Now she is one of the top heroines in Bollywood. While being at the top and before turning 30, she got married to the love of her life, Indian cricket captain Virat Kohli. Very few actresses would do this, given post-wedding the career of an actress becomes dicey.
But Anushka has always been like this. She has bravely made her own path. She has shown that love and career both are equally important for her.
Related reading: 7 times Bollywood was truthful about relationships
1. Open about her relationship
In 2013 she met Virat Kohli while shooting a shampoo commercial. It is said there were instant sparks. By 2014 they were going steady and open about their feelings for each other. Anushka attended his matches while Virat visited her in outdoor shoots. From flying kisses from the pitch to congratulating on performance in a newly released film on social network, they were openly showing their love while fellow celebrities' records were stuck on "we are just good friends". She never bothered about how being in a serious relationship would affect her career.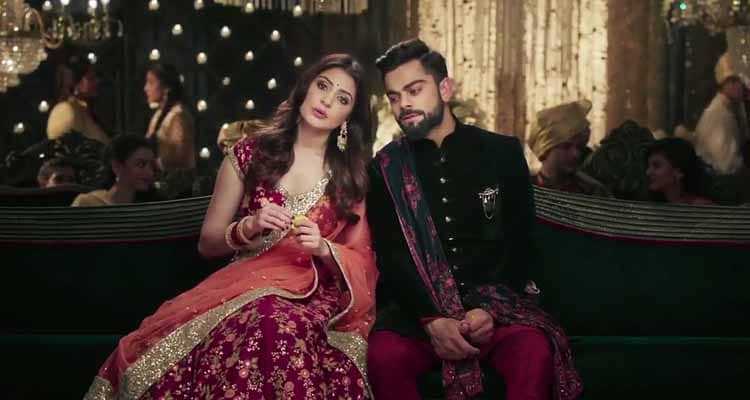 2. Not shying away from PDA
Not only celebrities, common Indian couples too stay away from public display of affection (PDA). But Anushka has modern sensibilities. She never shies away from showing her love openly; be it loving messages on social network or holding hands or shooting a commercial close to their real life or kissing while saying goodbye at the airport.
In the following video you can see how happy and starry eyed Anushka is after kissing Virat. She is not ashamed at all of her PDA.
3. Getting married while at the top
There was a time when getting married was a death sentence for an actress' career. In the last decade things have changed. Married actresses Kajol and Aishwarya are still going strong. But one thing is for certain; even now actresses after marriage certainly slow down. Actresses generally delay their marriage as much as possible. Very few would dare to marry while at the top and before turning 30. But Anushka has done it. Last year she got married. After marriage and honeymoon she got back to work. She never neglected her professional obligations.
4. Always choosing roles of substance
From the beginning Anushka has chosen her roles in films carefully. She has never played the role of a decorative piece. Her character is always core to the plot. She has stayed away from playing glamorous arm candy. Even in a Salman Khan movie Sultan, she was a wrestler, his motivator and equal partner.
Related reading: Some Bollywood films that successfully portrayed middle-aged women
5. Producing offbeat movies
Before completing even 10 years in Bollywood, she donned the producer's cap. The movies produced by her company are interesting and different from the usual trends of Bollywood. She has produced three gems till now – NH 10, Phillauri and Pari. These movies depict varied subjects, like a woman's anger against honour killing, a ghost's love story and a horror film. She is brave to take risks and make beautiful films, which may not get big commercial success but have become milestones in the landscape of Bollywood.
On her birthday we wish Anushka success for all her unique endeavours and a lifetime of love with her husband Virat.