Like most plump women, I rifled through glossies featuring models with chiselled abs, looked at my protruding belly in the mirror and broke down, disappointed.
The workout wasn't helping, in part because I held back on going to the gym with all sorts of excuses: I was tired; I was trying to crawl out of post-breakup depression by sobbing my way through heart-breaking romantic movies and digging into tubs of cheesecake ice cream; It was XYZ's birthday and I was busy stuffing my face with cake; Some moron at the gym was acting fresh. And when I ran out of reasons, there was always the good old shark week to my rescue.
Related reading: Widows are human, too, and have needs
How was I ever to lose weight when I shuddered at the thought of running on a treadmill and the weights sitting on the rack seemed nothing but a burden? So three years ago, on my 25th birthday, I gifted myself a belly dance class – partly out of curiosity for this sensual Middle Eastern dance and partly in an attempt to learn some new moves to charm my partner.
I must say that signing up for this art turned out to be a life-altering move. During my first class, I was surrounded by women who were as clueless as I was, but something magical happened to our bodies after we revealed our midriff, rolled our shoulders and began swaying our arms and thrusting our pelvis to the lively Arabic tune.
That was the moment when the sensuality trapped within me resurfaced and found its language, when I no longer despised my curves but, instead, embraced them in their entirety.
Sex becomes a rare thing once you're engulfed by the corporate culture. But as a lover of bedroom experiments, I refused to give up. I did everything I could to ensure my well was never parched – from aromatic candles to blindfolds and yoga. But deep down, I still felt a void. A qualm. I was almost there, yet not there. There were also days when I failed to awaken my sleeping sexuality, no matter how hard I tried.
Practicing belly dance over the past few years has fired my libido like no other workout. So much so that I advise women, irrespective of their age, size and shape, to tuck their tee into their bras, drape a pretty wrap to highlight their hips, tuck in their pelvis and get their groove on. Belly moves open the sacral chakra (located between the belly button and pubic bone) and improve sexual life. The hip movements and powerful shimmies also boost the blood circulation in the pelvic region.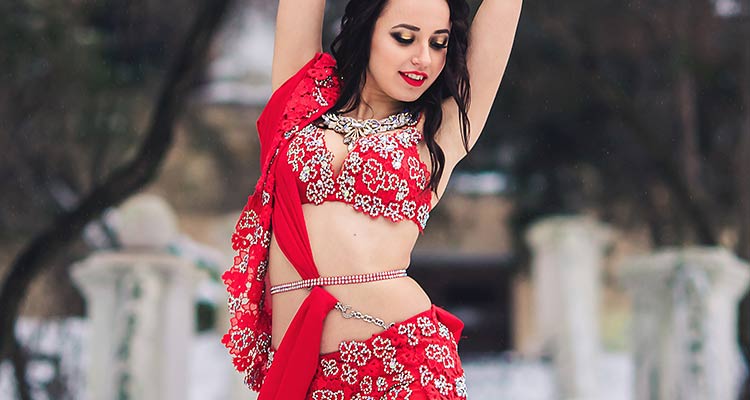 Related reading: Why porn can be good for your relationship
And while this sexually enticing dance form doesn't require a partner to lead you, it does wonders to him in the bedroom. Even after all these years, when I'm in the room, lost in the spellbinding beats of the darbuka and the enchanting notes of the flute, doing my snake arms and hip circles I can feel the unmistakable gaze of my partner from a distance. And at that point, I'm really not bothered about whether my tummy is spilling or if my kohl has smudged a little too much, or if my legs need a wax. The only feeling is that of happiness in my own skin, and anticipation of how he'll pull me closer, gently, unexpectedly, and reignite an intense spark.