If you still have loving grandparents, then consider yourself lucky and cherish them. The kind of warmth they radiate is unlike any other. Nobody else can shower you with love like them. Grandparents don't really ask for anything except your presence. They are the sweetest and you need to look for the best gifts for grandparents to let them know they are equally loved. 
Whether you are looking for homemade gifts for grandparents or useful gifts for grandfather or grandma, or Christmas, birthday or anniversary presents or, this list will fit any and all your needs. Whether they are cinephiles or nature lovers, this list has gifts for all kinds of grandparents which they will treasure forever. 
Useful Gifts For Every Type Of Grandparent
Your grandparents have cheered you the loudest in your accomplishments and have been there for you during your difficult times. Their love can never be defined or categorized. It's something different. They are the matriarchs and the patriarchs of your family and they deserve the best and the most thoughtful gifts for grandparents. The compiled list below has all kinds of  useful gifts for grandparents.
Best Gift For Grandparents – Our Top Picks
1. Book of crosswords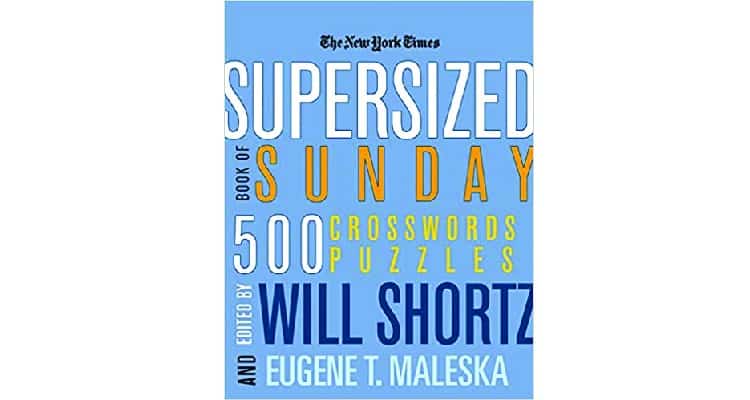 This is for the grandparents who love to challenge their brains. This great collection of New York Times Crossword Puzzles will keep your grandparents sharp. It will entertain them if they are bored at home. Such good gifts for grandparents are a gift of quality time for you too because you can sit with them while they solve a crossword puzzle.
It has 500 puzzles
It's the biggest collection of Sunday Crosswords which is The New York Times' most popular crosswords
The crosswords are supersized
It takes about one hour to solve each puzzle
2. Handheld vacuum cleaner
Lessen their load of household chores by getting your grandparents this handheld vacuum cleaner. Get such best gifts for grandma and grandpa so they can tackle a mess without any hassle. It's a great way for your grandparents to clean up after their pets too!
Gives a long lasting suction power so you never have to worry about recharging in the middle of your clean
The lightweight and portable vacuum design is packed with power and easily accessible for you to clean anytime, anywhere
Easily maneuver through those narrow, hard to reach spaces with the cleaning kit
Easily access and rinse your filter for a quick maintenance that will help your vacuum live longer
Related Reading: 35 Funny Gag Gifts For Women | Best Gift Ideas For 2022
3. Watering can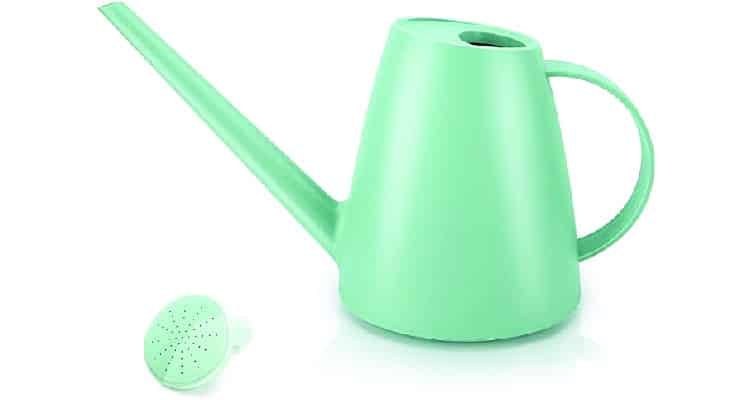 If your grandparents love gardening and have an indoor garden, then this is one of the most practical gifts for grandpa and grandma. This sleek watering can will add a modern touch to their garden space. 
This can be used in watering tanks for plants, children's baths, trees, watering of gardens, etc
Comes with a detachable shower nozzle
You can choose between a steady stream or a gentle shower.
The water can is long and thin and suitable for hard-to-reach areas
4. Family tree picture frame
There is nothing more heartwarming than looking at your lineage and feeling proud. This is one of the best gifts for grandparents as it is sincere and sentimental. This family tree with bronze leaves will highlight the members of your beloved family beautifully.
Made of high quality metal. The tree is black with bronze streaks
The leaves are bronze. The branches are bendable so you can adjust it for your shots
Photos slip into the wallet size picture frames
This family tree picture frame doubles as a centerpiece
5. Porch swing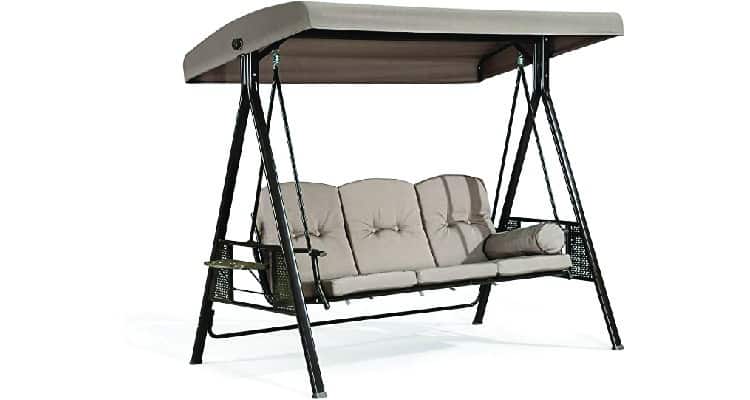 If your grandparents love spending time on their porch and gazing at the birds, they would love this thoughtful gift. They can relax on this comfortable three-seater porch swing whenever they want. Imagine all the good times you can have with them here! This is one of the best gifts for grandparents as it will help them spend some quality time with each other outdoors.
Durable metal with powder-coated finish, rust-resistant steel frame
It can support up to 750lbs. It is easy to clean and maintain
Comfortably swings up to 3 people
Breathable, UV resistant, water and fade- resistant polyester fabric, protects you and your family from sunburn
6. Toaster
Breakfast is the most important meal of the day. Upgrade your grandparents' toaster with this stylish black one. This is one of the best gifts for grandparents. You can go over to their place and make a delicious breakfast of bread and butter for everyone while taking some relationships tips from grandparents for a happy marriage.
2-slot toaster for toasting bread, bagels, English muffins, and more
6 browning settings to choose from for your favorite level of toasting
Multifunctional controls for bagels, defrost mode, and quick-cancel
Cord wrap keeps plug secure and out of the way between uses
7. Mug warmer
This mug warmer is small, stylish and as essential as coffee is in our lives. It's almost the size of an iPhone. Your grandparents can take this anywhere and they won't have to keep heating their hot beverages anymore. They can enjoy a warm cuppa anytime they want. 
This easy-to-use coffee mug warmer meets everyone's needs as it keeps suitable temperature for coffee, milk, water and other beverages all day long
This comes with an automatic switch with heating and constant temperature function 
It has three temperature settings from warm to hot and reaches up to 167 degree Fahrenheit 
This cup warmer comes with an auto shut off function after 4 hours
8. Smart water bottle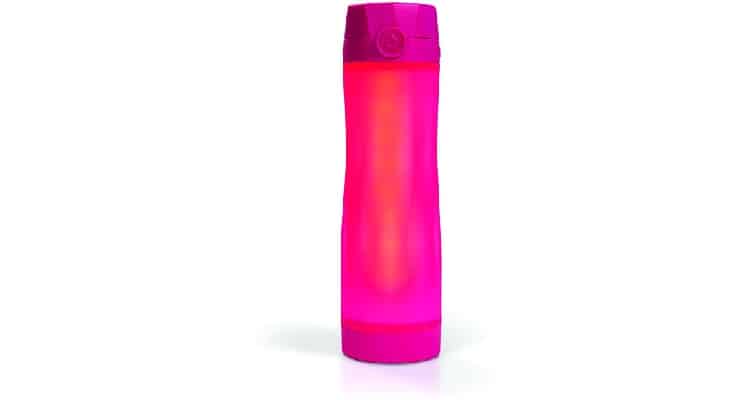 Hydration is important. Sometimes we get so engrossed in their daily life that we forget all about our water intake. We can't have our grandparents forget about their health, can we? Get such thoughtful gifts for grandparents and show them how much you care about them. HidrateSpark will track their water intake and the glow option will remind them to take a sip. 
The bottle has sensory technology which tracks water intake. It syncs your progress to their free hydration tracker app via Bluetooth
The entire bottle will light up to remind you to drink water
It will glow either at regular intervals or when you are behind on your daily water goal
 You can choose from three lighting options and various water bottle colors 
9. Crocs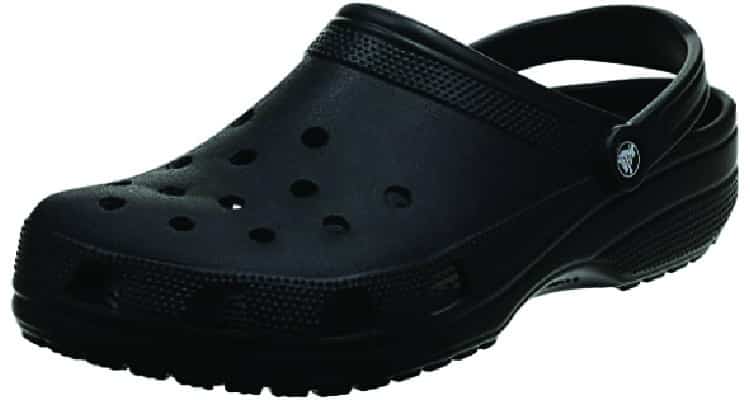 Crocs have brought on a comfort revolution. From supermodel Kendall Jennar to our neighborhood uncles, we have seen everyone wearing them. Crocs are practical gifts for grandpa and grandma as they are easy to clean. All they will need is some soap and water.
Shaft measures approximately 8 inches from arch
Heel measures approximately 0.68″
Ventilation ports add breathability and help shed water and debris quickly
These slip-on clogs are easy to take on and off, while being extremely durable
Related Reading: 32 Best Gifts For Movie Lovers & Film Fans
10. DIY terrarium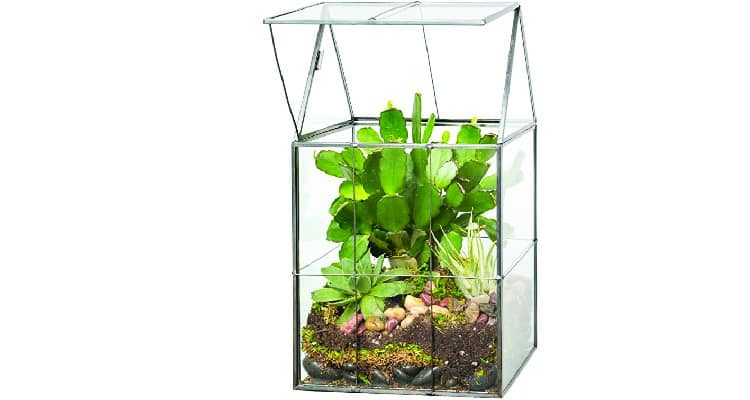 This is one of the best gifts for grandparents with a green thumb and they can use this DIY terrarium kit to grow microgreens, succulents, air plants, moss, cacti, and more! This DIY terrarium kit will help your grandparents have a calming afternoon while spending time with their own indoor plant. 
Has a glass-hinged roof 
Beautiful black brass accent and ventilation
Its dimensions are 5.9″ x 5.1″ x 11"
The roof props open so your plants will get enough ventilation and sunlight
11. Aromatherapy diffuser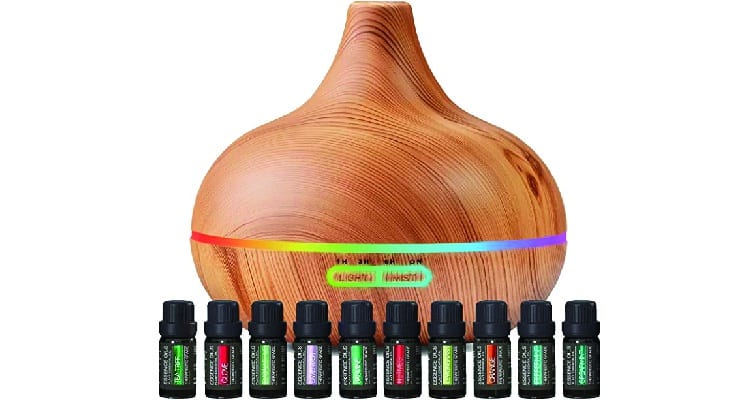 If you're looking for thoughtful gifts for grandparents, here's one that's perfect. You want to ease away their worries, right? So why not an aromatherapy diffuser? Their essential oils are formulated using high-quality plants sourced from different regions of the world. This is one of the best gifts for grandparents as it will give them calming stress-free nights.

Oils are sourced from all over the world, such as lavender from France and Tea Tree from Australia
Essence diffuser has a 400ml capacity and uses wave diffusion technology to atomize essential oils for ultimate wellness
Comes with ten essential plant oils. To protect the oils from sun degradation, they are packed in 10ml amber jars
Contains zero additives or fillers 
12. Wall clock
This giant gear wall clock is practical yet a unique present for grandparents. It is exquisite, vintage and definitely a nice room decoration. It is suitable for any kind of architectural decor. You can help them hang this wall clock in their living room, their study, kitchen or their bedroom. 
This large wall clock is designed with real moving gears in the clock center
Put the battery in and the various gears of different sizes will start rotating
Adopts precise quartz sweeping mechanism for accurate time without any ticking noise
Classical black metal hands and large Roman numerals on 3D hollowed-out background
13. Necklace for grandma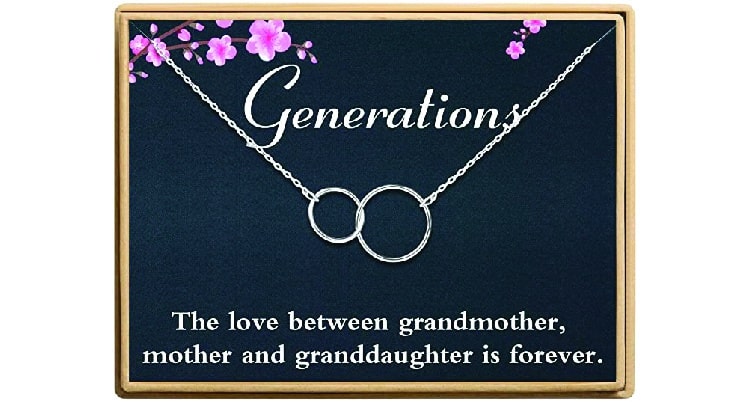 Your grandma will cherish this elegant necklace which comes with a quote "the love between grandmother, daughter and granddaughter is forever". This is one of the best gifts for grandma as she will turn into a puddle after receiving it.
Comes in two options – 14k rose gold-plated and silver-plated
The size of the chain is 45+5cm
It comes wrapped in a classic shiny jewelry box
90-day money-back guarantee for any reason
14. Neck massager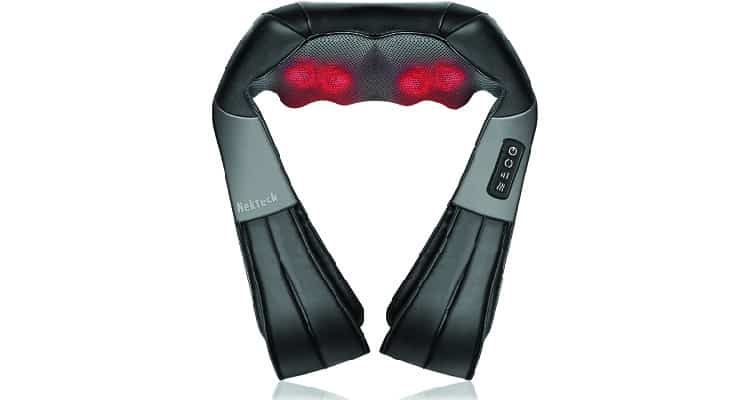 It's no secret that old age brings a lot of physical pain and illness. This back and neck massager will help them manage their pain. It's a massager on the go. They can use it anywhere they want. Such good gifts for grandparents will make you their favorite grandchild. 
This neck massager has eight powerful, deep Shiatsu, kneading massage nodes and comes with adjustable intensity 
This shoulder massager has three-speed strength level which you can use to adjust the pressure according to your liking
It has an ultra-soft fabric which provides a soft surface
It is made up of high quality premium PU leather and breathable mesh fabric which makes the massager durable 
15. Couple mugs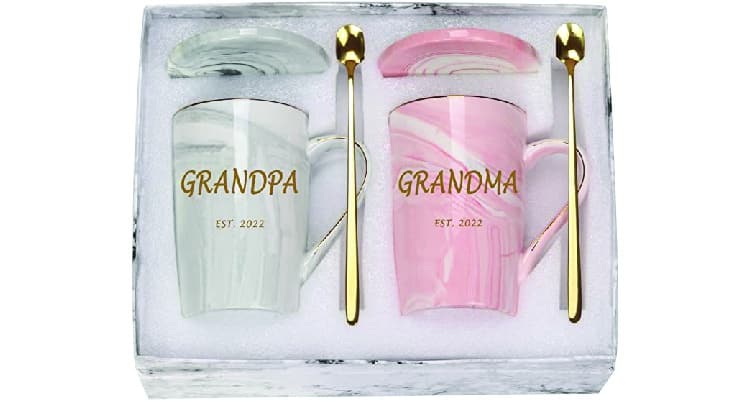 For grandparents who love their beverages in designer mugs. This is a great way to express your love and admiration for the old couple. Grandparents are wise. You can spend time with them and learn the habits of couples in strong and healthy relationships.
All the mugs are handmade
No two patterns of the mugs are the same which symbolizes their unique love
Upgraded microwave oven safety and more convenient for daily use 
14 ounces, large capacity and large handle design
16. Grandmother figurine keepsake box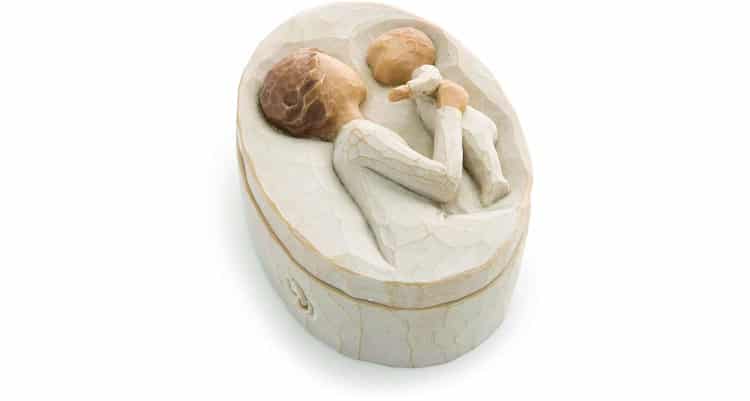 A grandmother's love is one that transcends not just years, but also generations. She can keep this figurine on her nightstand. It's one of the best gifts for grandma because it will remind her of you and your love everytime she looks at it.
3"oval x 1.5"h hand-painted resin box
Carving of older figure in cream dress and holding up baby in cream onesie on lid
Comes in an oval box
Ready to display on a shelf, table or mantel and use soft brush or cloth to clean it
17. Pour over coffee maker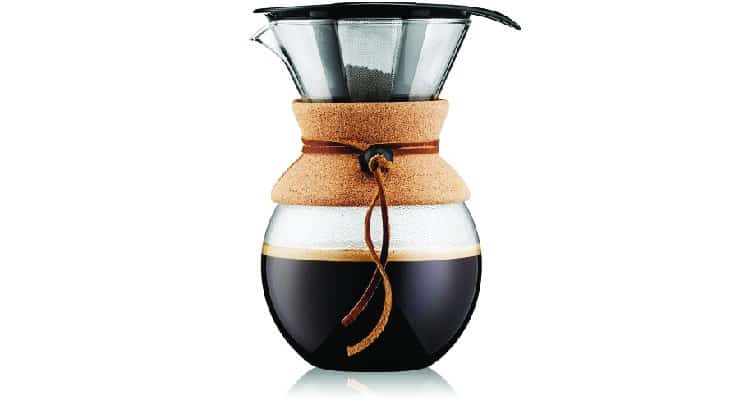 This present for grandparents will ensure they have a good cup of coffee whenever they want. Brighten their day with an excellent, rich taste and robust aroma that will fill their home. You can sip coffee with them and talk about must-have relationship qualities for happy life.
Manual pour over coffee maker allows you to brew an excellent cup of coffee in minutes
Includes a permanent, stainless steel mesh filter that helps extract coffee's aromatic oils and subtle flavors instead of being absorbed by a paper filter
Made of durable, heat-resistant borosilicate glass with cork band 
Makes 8 cups of coffee, 4 oz each
Related Reading: 21 Gifts For Your Girlfriend's Parents & In-laws | Under Budget Gift Ideas
18. Knee massager
Knee massagers are the best gifts for grandparents. Through this present, you will be helping them with their knee ailments. It's not easy being on your legs for too long at that age. This massager is compact and portable and they can wear it anytime and anywhere they want..
This heated knee brace wrap combines heat and soothing vibration massage
The knee massager knee pads are built in heat pads with adjustable 2 heat levels
They work well for soothing stiff joints and tired muscles and enhance blood circulation
It comes with 4 powerful massage motors to deliver soothing massage to tissue muscles
19. Luxury bathtub caddy tray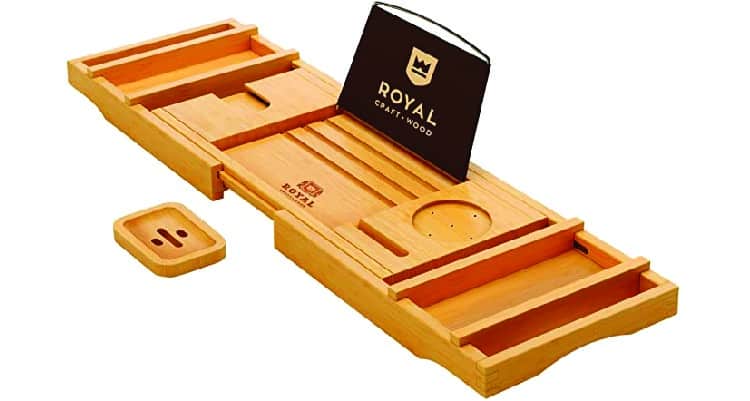 Royal Craft Woods make sustainable goods at affordable prices. Grandparents love a good bath and this bathtub tray will make their bathing moments luxurious. This is one of the best gift ideas for grandparents. 
These bathtub trays are adjustable and can fit bathtubs with any dimension
This will fit even the widest of tubs as it is designed to expand from 29 ½ inches to 43 inches 
It also has a slip-resistant silicone grip that will prevent your tub caddy from sliding
It is coated with a protective layer of lacquer that makes this bathtub tray table waterproof and sturdy
20. Fitbit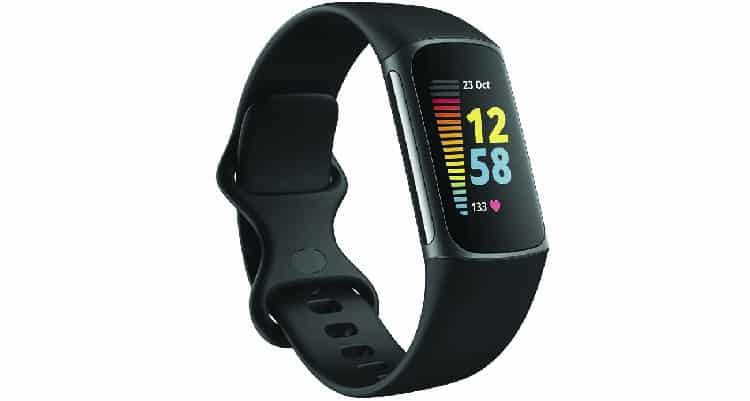 This is an expensive gift but their health is priceless. Your grandparents can optimize their walking routine by having a Fitbit around their wrist. This will track their health and will let you know if there is anything to worry about. 
Take steps to improve your levels with an on-wrist EDA sensor mindfulness session
Get a daily Stress Management Score showing your body's response to stress 
Check real-time pace and distance without your phone using built-in GPS during outdoor activity, then look at a map of your workout route in the Fitbit app
Stay fit by tracking the calories you burn throughout the day
21. Long-distance friendship lamps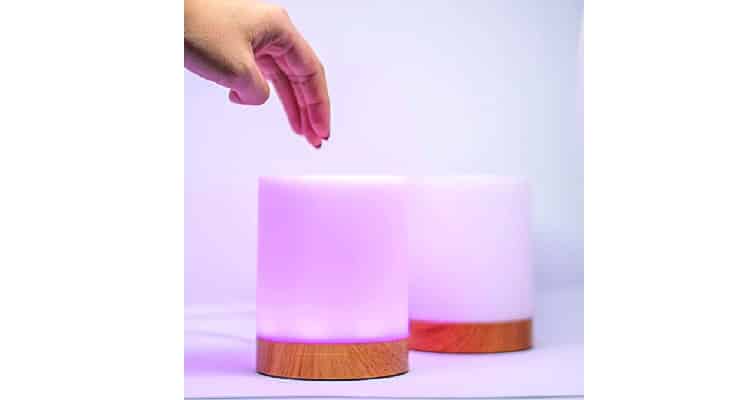 Light up their room and lives by getting such good gifts for grandparents. Just touch your lamp and the lamp in their room will light up which will let them know you are thinking about them. How sweet is that! This friendship lamp that will highlight the loving bond you share with them.
Sync as many lamps as you like
Connect one lamp with your special someone or have a whole group of lamps connected with your friends and family
When you tap your one lamp, then all the lamps on that same Group ID will light up the same color
You can easily change colors by holding down the touch pad
22. Oven mitts
For the grandparent who loves to bake, oven mitts make the best gifts for grandma and grandpa. This will prevent them from burning their hands while placing the tray in the hot microwave oven or taking it out. 
Features 2 oven mitt (9.6 in x 6.7 in) and 2 pot holders (7 in x 7 in)
Made of durable 100% cotton shell with a 100% cotton fill
Heat resistant up to 392 F/ 200C
The printed silicone design on the oven mitt and pot holders provide a secure non-slip grip while handling pots and pans
23. Wooden chess set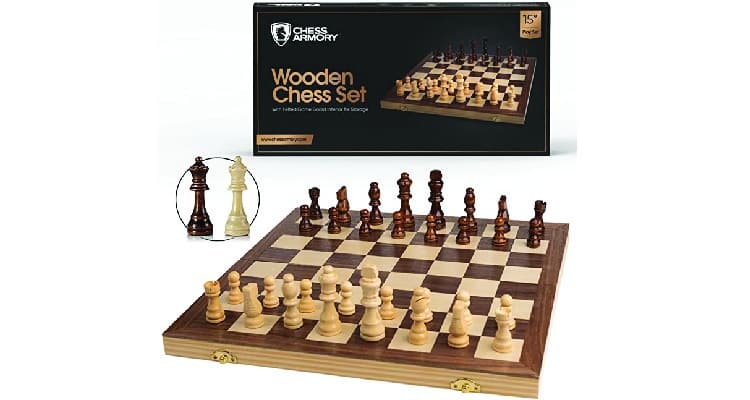 This present for your grandparents will keep their minds sharp and engaged. It will keep them entertained for a few hours, and you can join them too! We have all been staring at our screens for way too long. It's high time we shut them off and play a game of chess with our grandparents.
The wooden chess set includes a 15 x 15-inch wooden chess board
32 wooden chess pieces, and a sturdy storage box
The entire set is handcrafted
The inlaid non-magnetic walnut chess board is solid, durable, and foldable
Choose a gift from these ideas and visit your grandparents to make them happy. This list of presents for grandparents is sure to win you the title of "the best grandkid of the year". A grandparent and grandkid relationship is truly one-of-a-kind. They already adore you. If you want, you can even get homemade gifts for grandparents. Whichever gift you choose from this list of good gifts for grandparents, they will treasure it forever.
FAQs
1. What do grandparents really want for Christmas?
Anything they have their heart set on. It could be a gardening gift, a new deck of cards to play with, something to alleviate their pain or a great book to spend the day reading. At the end of the day, what they want for Christmas is company and attentive presence. You can even get them an air fryer or a toaster and make their life easier.
2. How can I surprise my grandpa on his birthday?
Surprise him with your presence and a cake. Don't forget to get candles. Get him a gift and visit him with a bouquet of flowers. Men deserve to get flowers too, right? Take him out to his favorite restaurant and order his favorite dishes. Do one of his hobbies with him. Just hang out with him and have a wonderful time. These are some of the many useful gifts for grandfather.
3. What should I get my grandma on her birthday?
You can do the same things for your grandma that you would for your grandpa. Or surprise your grandmother on her birthday with a cute sweater or a wall clock or a nice picture frame of the two of you. Spend the day with her and make memories. Grandmas love to talk to you, they have so much wisdom and love to share! Go out on a walk with her, get her talking, and try to gauge what she might like, and then get her that.
Ask Our Expert
You must be Logged in to ask a question.