Most of us have had second thoughts about a gift we wanted to give to someone, especially a loved one – THE ONE, for various occasions like birthdays, anniversaries, promotion or a milestone. Some of us also feel the added pressure of nor repeating a gift!
In case you are planning to present your better half something they would absolutely love but you are hesitant about your choice because you don't want to end up disappointing them – don't overthink and go through the following 21 romantic gifts for couples which have been selected keeping in mind the various stages of a romantic relationship and pick one for your bae! Shopping for your loved one need not be so stressful!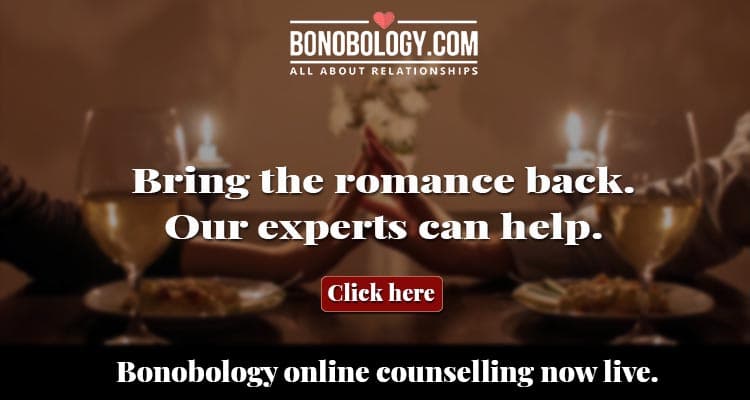 1.Our Q&A a Day: 3-Year Journal for 2 People
This book is ideal for couples who like to reflect on their relationship every few years. This (7×5.5 inches), thick (1 inch) book has questions like "what was the last nice thing your significant other said to you?" – and each question has writing slots for both partners and spaces for the next 3 years. This book is a witness to how your relationship has evolved. No need to come up with elaborate answers, just jot down what you feel at the moment in and then compare each other's answers and get a fresh perspective on your relationship!
The book which comes with a soft and adaptable spline can easily sit pretty on your coffee table and draw curious glances from the guests.
Related Reading: 12 Thoughtful First-Night Wedding Gifts For Your Husband
2. Custom Family Portrait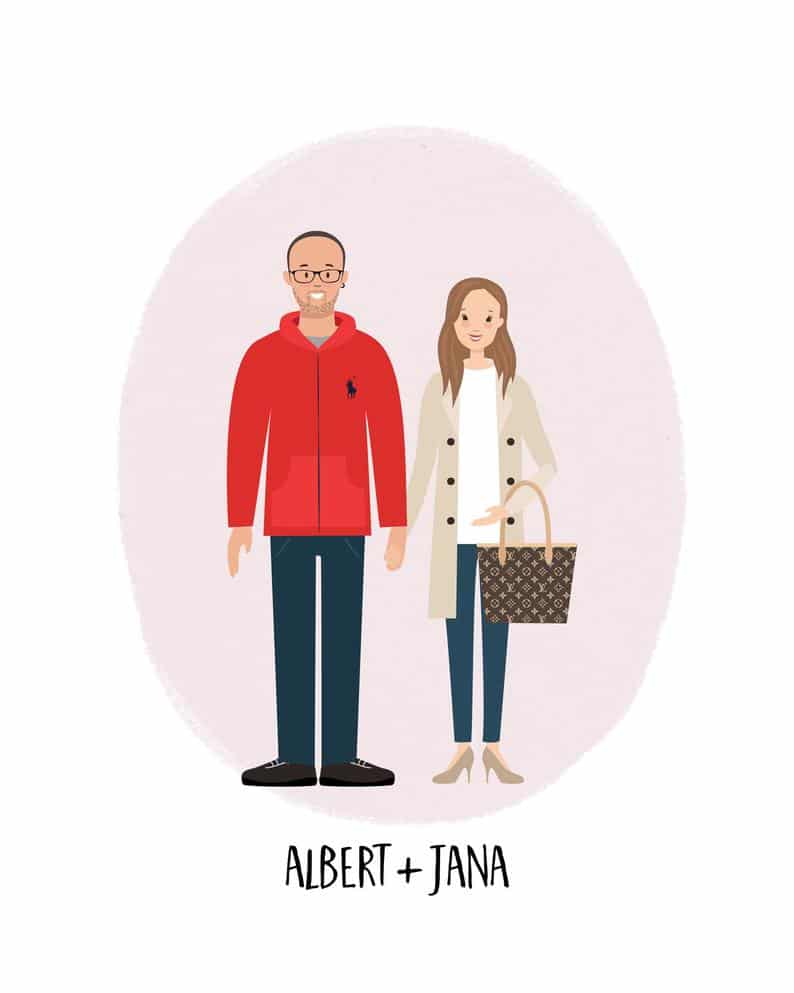 With this customized family portrait, you will get a print-ready high resolution illustration in JPEG format (8×10 inches, 300 DPI). This is ideal for all those couples who are living together and parents to children and pets. Just hold hands with your partner and pose with your cat and dog and/or human child and let the artist work on the details and create magic to showcase your love!
Bear in mind that the portrait will be a digital download.
3. 100 Thought Provoking Conversation Starters for Great Relationships
Sometimes we don't really know every nitty-gritty of our partner, do we? These 100 thought-provoking conversation starters will surely open dialogue between any couple – whether they just entered a romantic relationship, are engaged or have been together for years. If you want to get out of your comfort zone and further explore your emotional and mental intimacy with each other, spend quality time with them and share laughter, then go for this gift!
These 100 question cards printed on 300gsm card stock appear shrink wrapped in a custom tuck box.
4. Wooden picture frame
This is a perfect gift to celebrate a milestone or starting a new chapter in your life with your SO. Hell, it could also be ideal for Valentine's Day! This cute string art frame together with a photograph of you and your bae along with the line – "let the adventure begin" could be the ideal keepsake especially if you are doing long-distance or miss each other too often.
It can also decorate your room, wall, or desk with its adorable heart patterns designed and handmade with cotton lines. Tip: Get two of these if you are not living together.
5. 100 Things to Do Bucket List Scratch Poster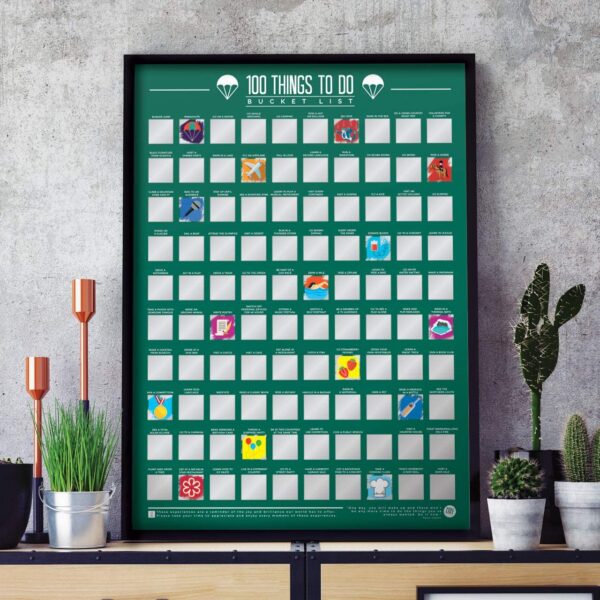 A model gift for those adventurous bunch who seem to have never-ending goals that they HAVE to achieve in this lifetime. Be it exploring a hobby together, travelling to some exotic place, or making a fool out of themselves by participating in a karaoke-put a tick mark against that bucket
list poster with 100 things to do. This present comes in a triangular gift
box and each poster measures 42 x 59.4 cm.
Tip: Once you scratch the squares, a foggy residue is left behind. Don't pout! just take a dab of rubbing alcohol on a paper towel, wipe the sqiuares  with alcohol, and voila, you get fully coloured beautiful squares
6. Knock Knock Why I Miss You Fill in the Love Book Fill-in-the-Blank Gift Journal
Sometimes your partner's love language might not be words of affirmation. In that case, it says a lot (of good things) about someone when they give us a Why I Miss You journal. The journal which comes with a hardcover with removable clear plastic jacket; and 112 pages is 4.5 × 3.25 inches and is filled with meaningful questions. This personalised gift is perfect for long-distance lovers or couples who don't get to spend time with each other as much as they want to.
You have the freedom to fill it with words which are passionate, cute or plain funny. Just come back to it and reread the lines whenever you miss your partner.
7. Letters to Open When…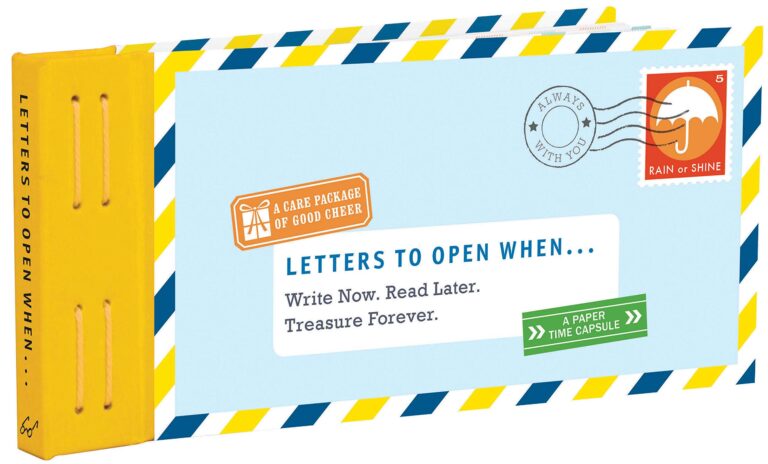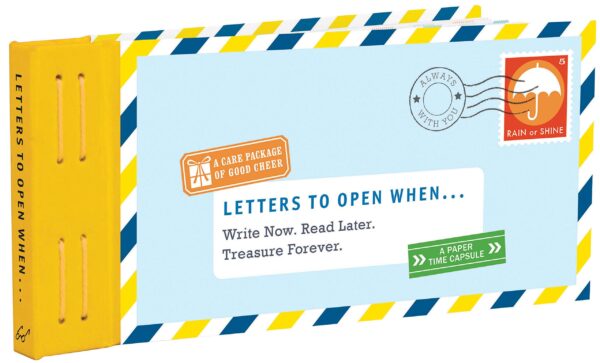 We all need our significant others to motivate and cheer us up when we are low. But life comes in the way and they are not always around. This is where Letters to Open comes in handy! The receiver of these 12 prompted letters will be inspired and encouraged to read all the pep talks and witticisms jotted down by their significant other.
Whenever they are low or need some motivating words to face life, they can just break open the seal and read a letter and remember that their partner is always there for them.
8. Ceramic Coffee Mug Set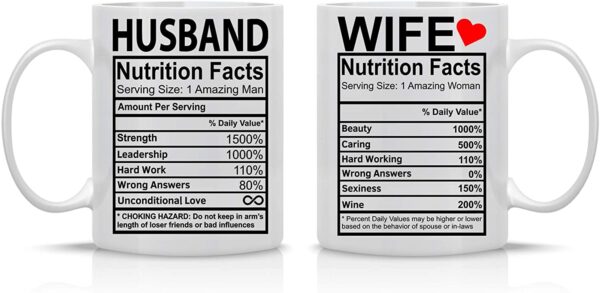 If you and your partner have the same favourite beverage, but struggle to
share your morning cuppa or favourite alcohol, then without further ado, get
your hands on this gift set of two mugs. Rest assured these ceramic mugs with an 11-ounce capacity, won't wear off for years and will stand tall against
scratches.
Your stoneware ceramic mug can be used by either since Husband and Wife Nutrition Facts Couples design is printed on two sides. Be carefree while using them in the microwave or dishwasher. The cold and high temperatures will not affect the design!
9. Mr Right and Mrs Always Right 2-Piece Kitchen Apron Set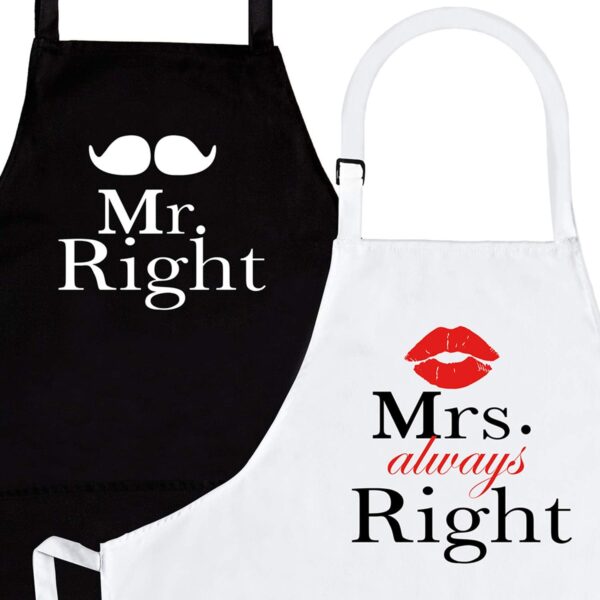 Want to make other couples jealous with these matching aprons? Do you spend a lot of quality time in the kitchen with your partner and need something romantic as well as practical to save your clothes? Then this His and Hers cute matching apron created with strong fabrics, a fine mix of polyester and cotton and easily washable by machine, is perfect for you. Say goodbye to those worries while baking, cooking and grilling.
These sweet aprons' general dimension is 32 "length x 25" width. And will fit anyone, thanks to their adjustable neck and waist sizes.
10. Bond Touch – Bracelets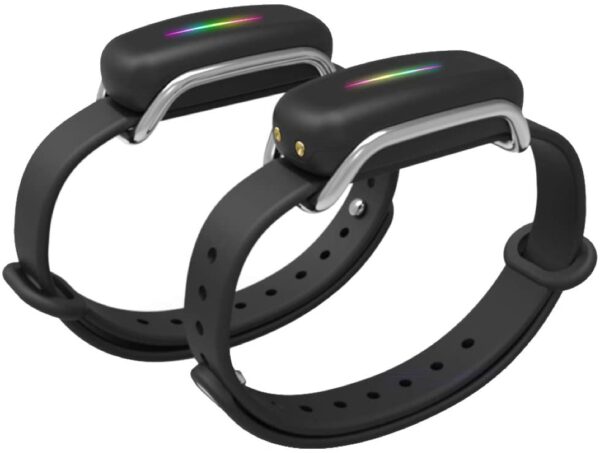 Get a pair of Bond Touch bracelets for you and for your beloved. No matter where your loved one is on the earth, the moment you touch the bracelet, they will feel it! No, no this is not some rocket science – all you need is a Bluetooth connection. Open your Bond Touch App to note your partner's status and get an update in case you miss a touch. This gift is ideal for couples who want to go beyond their daily Skype/Facetiming.
What makes it extra aww is that as soon as you send a touch, your SO's bracelet will shine in the colour you chose. And oh…the fact that it is waterproof and has a long battery life just seals the deal for us!
Related Reading: Crazy Things Couples Do When No One Is Watching
11. Kissing Mugs Set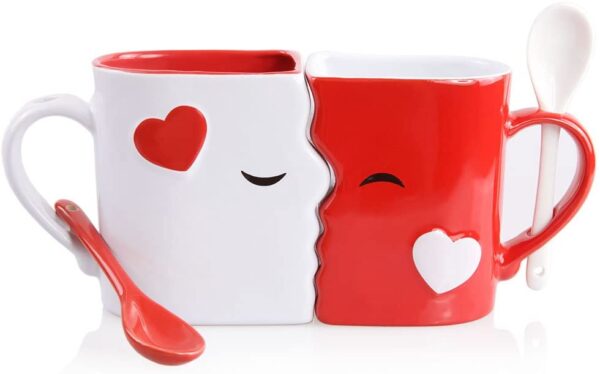 If you are feeling extra lovey-dovey and need to scratch that itch of showering oodles of affection on your sweetheart – then get these cute and adorable mugs and place them fact to face. They will perfectly fit each other like soulmates and create an amorous kiss. Also, surprise! Your kissing mugs bring coordinating teaspoons with them; all you need to do is slip the spoons inside the mugs' slotted handles and display them proudly.
This memento is durable, and both microwave and dishwasher friendly.
12. King and Queen Beer and Wine Glass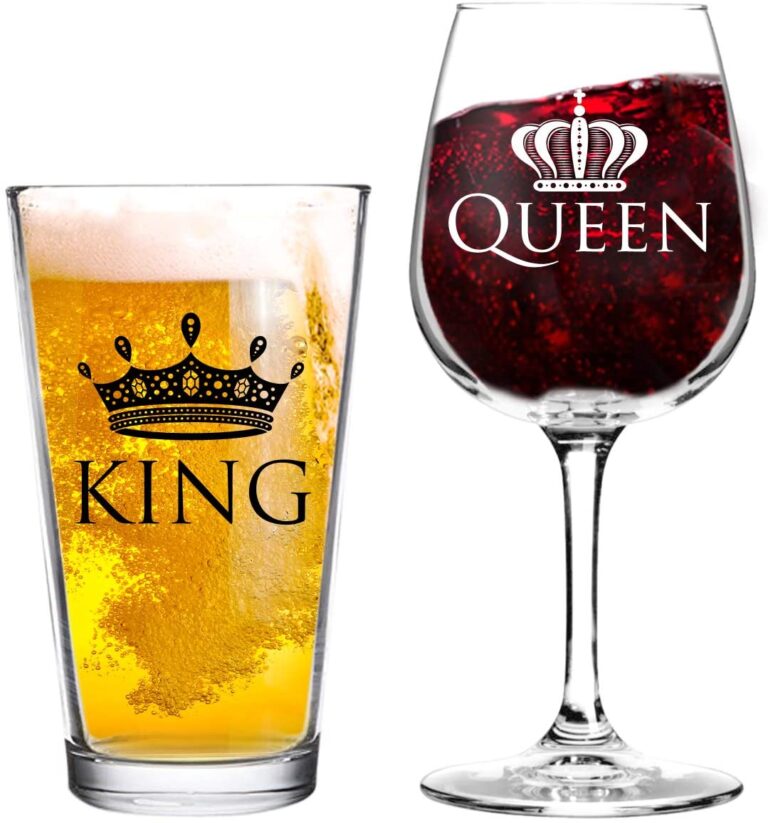 Beer for the Mr, and wine for the Mrs! The perfect accessories to complement your home bar. Each set comes with a 16 oz King pint beer glass and a 12.75 oz Queen white or red wine glass. Made in the USA, this glassware set is built with food-grade safe materials and organic ink. The glassware is not only dishwasher friendly but also made to be used and reused as much as you want.
So, drink away with your partner and create some crazy memories!
13. Fashion Leather Couple Keychain
A set of 2 pcs keychains – one-piece key and one-piece lock is a relevant gift for any couple who are in this for the long-term. Made from high grade plated alloy, this not so over-the-top gift looks fashionable and is 100% top-grain leather.
The best part is the key fits the lock – all you need to do is keep one part of the gift with you and ensure that your partner has the other part so that you are forever tied with each other.
14. Chevron Trimmed Box Sign
Most of us can't get over listening to those three magical words, do we? This gift is the perfect reminder that your special someone loves you and will always be there for you no matter what. This trimmed box sign comes in the classic black and white colour and measures 3 x 3 x 1.75-inches. It reads "I Can't Say I Love You Enough, So This is Your Reminder" – and is perfect to remind your bae that you love them. The Box signs have been designed in a way to freely stand on their own or hang on the wall.
If you are a smartypants, then you already know that this gift can also be utilised when your partner is mad at you and doesn't want to see reason!
15. Personalised Mini Wood Cutting Boards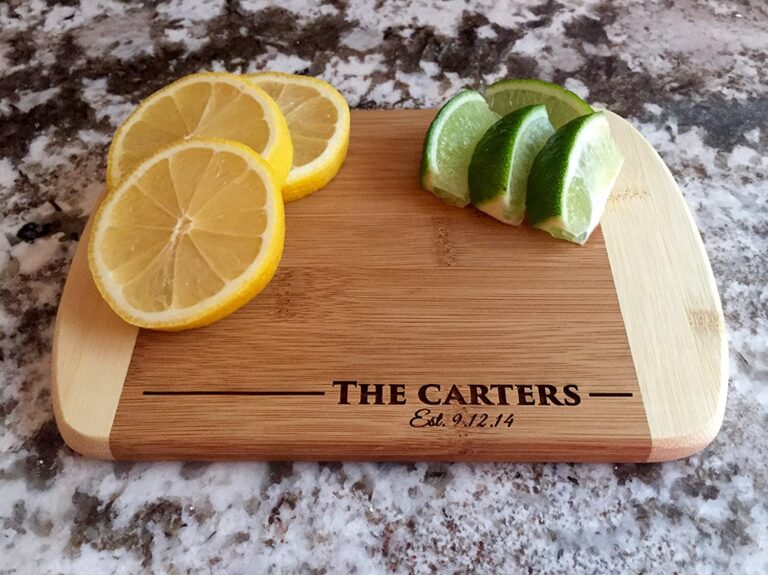 This personalised mini wood cutting board, available in versatile
designs will definitely be a memorable souvenir for couples who love to spend quality time together in the kitchen. An ideal example of a gift which is not only decorative but functional as well – this durable restaurant grade bamboo allows you to pick a certain design and then customise it. Don't worry about the customisation – just rely on Qualtry's perfect laser engraving method and wait for the magic to arrive at your doorstep.
Tip: Rub the cutting board with some food-grade mineral oil for wooden things to give it a polished look before gifting.
Related Reading: 10 things happy couples do that others don't
16. Grapeseed Oil, Vegetable Glycerin, Flavour Oils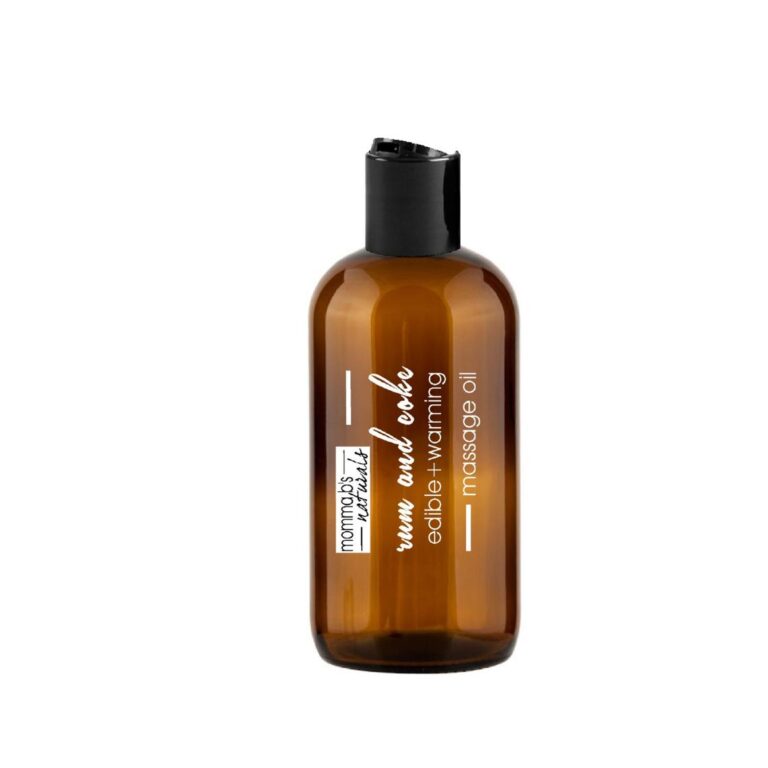 Some added fun in the bedroom never hurt anyone! If you are that couple who have always been curious about a massage or the one who seem to love massages and can beat most masseuses out there, then grab this oil for a sensual massage. The food-grade ingredients make this oil edible aaaaannnnd lickable. Wink, wink! When you blow on the oil, the receiver will get a slight warming sensation on the body.
This oil contains grapeseed, vegetable glycerin, flavour oils and stevia and is strictly lacking paraben, sulphates, artificial colours and talc.
17. 52 Uncommon Dates Paperback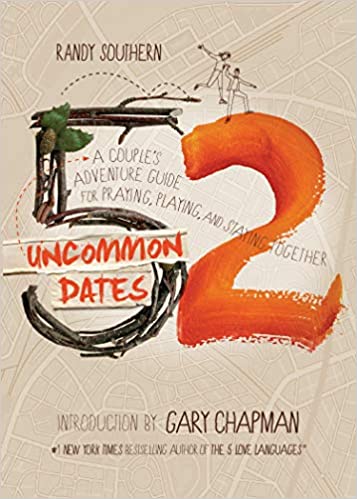 Are you tired of the Netflix and Chill dates? Or The traditional candle-lit dinner and want to try something new with your significant other? Have you ever tried a photography date? A water date? What about a second first date? Then get your hands on 52 Uncommon Dates and discover ways of speaking each other's love language. It provides a bible verse with each idea, conversation starters that you can use on each date, and fun sexual suggestions that go with the themes!
This book will surely enhance your emotional, physical, spiritual and romantic connection with your soulmate.
18. Kamasutra Intimate Gift Sets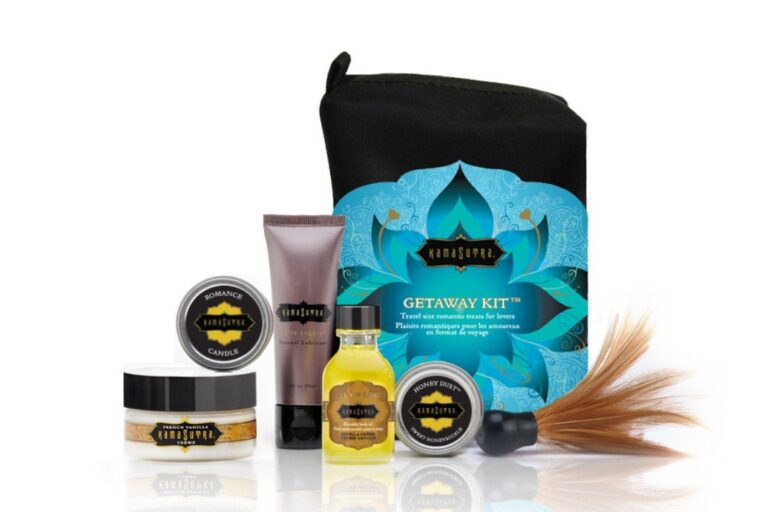 Wondering how to make the passion between you two intense again? Bring this getaway escape kit with you to a weekend getaway and make full use of the sensual treats. Worry not, these have been smartly sized to suit the TSA standards and make space for themselves into your luggage. The makers seem to take sustainability seriously – the set is packed in a soft (and discreet) reusable carrying case.
Inside the box, you will find Oil of love Vanilla Crème kissable, body oil Honeysuckle kissable body powder & Feather tickler for Honey Dust apart from water-based lubricant and a Tea light candle Zippered, keepsake toiletry bag.
19. Nerdy Hoodie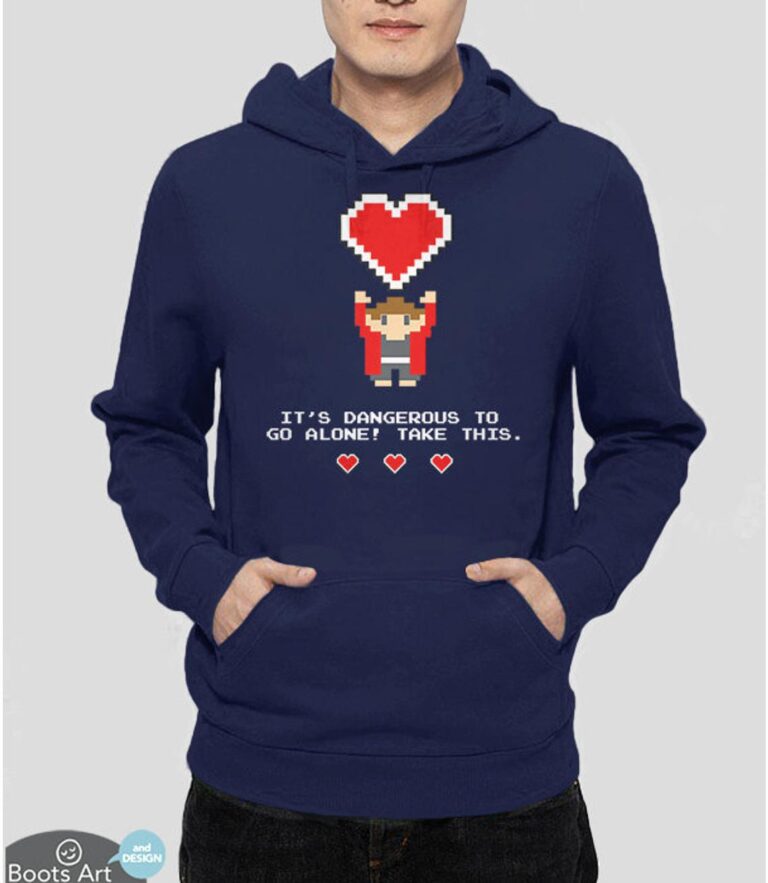 These nerdy graphic sweatshirts are perfect for gamer couples. If you tend to go overboard on the romance, then just get one of these (it's unisex, yay), and take turns wearing it! You will have to convince your will power to allow you to take them off, thanks to their comfortable polyester fabric, blended with a soft 7 oz cotton and poly blended fabric*. It can be worn as a hoodie or a crewneck sweatshirt choice is yours.
The casual looking hooded sweatshirt comes with cords and a front kangaroo pouch pocket to keep your hands warm on those chilly days.
20. Custom Handwriting Sound Wave Art Canvas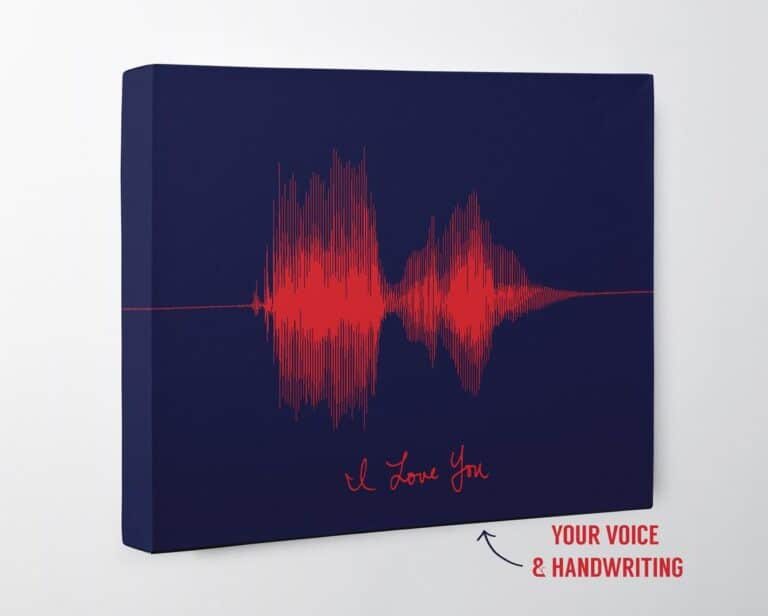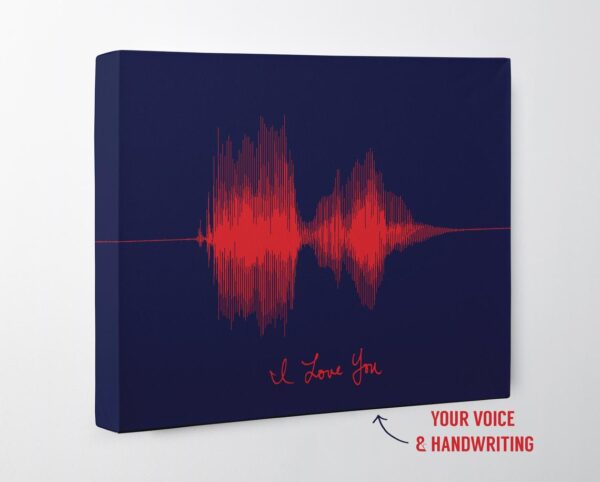 Are both of you fans of each other's voices? If yes, then this is the perfect gift – you can customise this present with either a voice message or a song that you both love and it's a guarantee that this will be one of the best romantic keepsakes for both of you. For a song, you need a link to it on YouTube; alternately you can mail the MP3 file as well. In case of a voice message, just record it on your voice recorder app on phone.
The printed canvas wrapped around a wooden frame with a 1.5 inch finished depth can be easily hung on a wall.
Related Reading: 21 Cool Tech Gift Ideas for Couples Madly in Love and Passionate About Gadgets | 2020
21. Romantic Tea Cup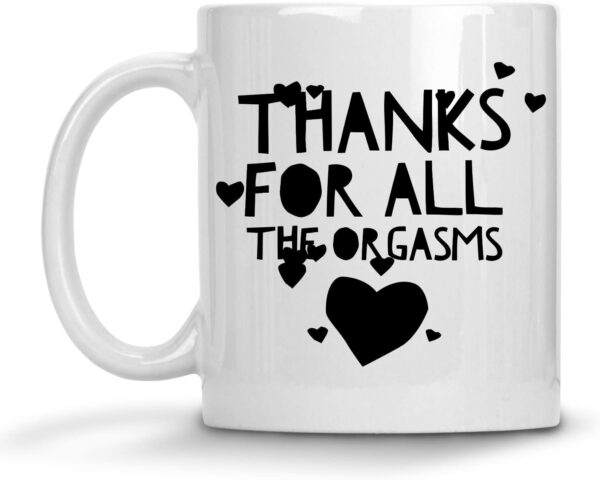 We think it's the perfect gift to show your partner how much you appreciate all those orgasms! This ceramic coffee/tea mug can hold 11 oz or 15 beverage and is dishwasher and microwave safe. Rest assured that you don't have to worry about its durability; there will be no cracks!
Even if you wash it a hundred times, the naughty print on both sides won't go away!
15 Romantic Valentine's Day Proposal Ideas That'll Make Your Girlfriend Say Yes
21 Amazing Gift Ideas to Impress Your Crush who is a Big Instagram Influencer