Bollywood often explores the contemporary urban culture of rampant dating, breakups and affairs. From publicly dating co-stars to hiding serious relationships, from becoming the face of 'live-in' lifestyle to possibly having a child before getting married (Hello, Arjun Rampal!), from grand weddings to subtle, mutual divorces – Bollywood has examples of all of this and so much more. In the middle of all this arranged marriages might seem like an ancient custom. However, some of the B'wood stars still pick the arrange marriage route over love marriage. We are quite interested to find out about these Bollywood celebs in arranged marriage and how are they doing now.
So here are seven Bollywood celebs in arranged marriage who have been giving us major 'relationship goals' ever since they got married
Shahid Kapoor-Mira Rajput
After the iconic couple, Shahid and Kareena, broke up, so did many a fans' hearts. Kareena married Saif in 2012. While Shahid, after a couple of more relationships that did not work out, decided to go the arranged marriage way and tied the knot with Mira in 2015. Their wedding was a low-key family affair.
On Koffee With Karan, Shahid admitted he was getting a bit lonely at 30 and wanted to have a "sold home" since his parents separated when he was young. That's when his parents suggested an arranged marriage. He readily agreed.
The two met through the religious cult Radha Saomi Satsang and struck a chord so strong that they spoke for 7 hours in their first meeting. They are now happily married. Even though they are 13 years apart in age, the two fell head over heels in love with each other. Fans even call them 'Shamira'. The couple is blessed with two lovely kids, Misha and Zain. They are Bollywood celebs in an arranged marriage who have shown how things can work.
Recently Mira Kapoor posted a boomerang with her hubby captioned, 'I got sunshine on a cloudy day.' The two of them are so cute together, right?
Vivek Oberoi-Priyanka Alva
Who can forget Vivek Oberoi's short lived relationship with Aishwarya Rai that went through a constant state of turmoil? Who can forget the spat Salman Khan and Vivek Oberoi had over their common ladylove?
Oberoi finally tied the knot with Priyanka Alva, daughter of Karnataka minister Jeevaraj Alva in 2012, via the arrange marriage route. Both of them are proud parents of two lovely kids now, and if we are being honest, they make a lovely pair too!
Vivek Oberoi often posts pictures with his kids and it's always such an aww worthy moment!
Neil Nitin Mukesh-Rukmini Sahay
Neil seemed to have been fond of actress Sonal Chauhan and at some point, even wanted to marry her. Unfortunately, their relationship did not stand the test of the time.
Neil is now happily married to Rukmini Sahay, whom he met on his parent's insistence. Rukmini worked in the aviation industry and the two families were very close. The couple look happy and stunning together. They even welcomed their first child, Nurvi, last year in September. And, Neil seems like a doting father and a loving husband. We love his Instagram posts.
Madhuri Dixit-Dr. Shriram Nene
Everyone is aware of the romance that had once bloomed between Madhuri Dixit and Sanjay Dutt, who was then a married man, and was going through a difficult time because of his wife's battle with cancer. Madhuri's father did not approve of this relationship. As Sanjay Dutt was arrested their relationship too came to an end. To nurse her sore heart, Madhuri flew to the US to be with her brother and was introduced to Dr. Shriram Nene. He was not only able to charm the 'dhak dhak girl' but also stole her from Bollywood for a long time after their marriage, causing heartache to her die-hard fans. She has two young boys now and is blissfully married.
Madhuri Dixit doesn't shy away from posting adorable pictures of her husband and her kids and it gets us all to saw 'aww!'
Karisma Kapoor-Sunjay Kapoor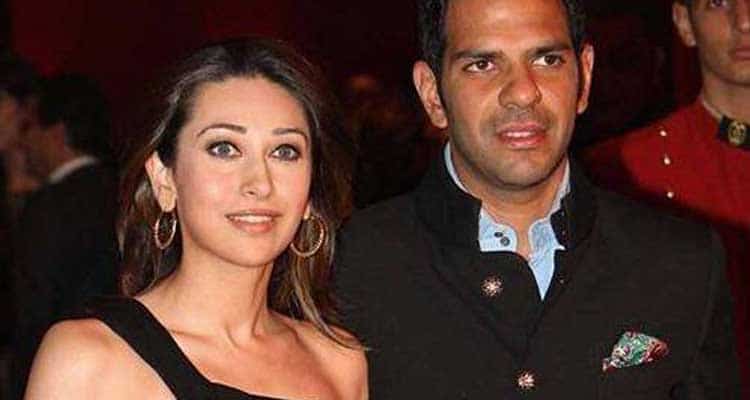 After a publicized drama where Karisma's engagement with Abhishek Bachchan broke, she decided to take the arranged-marriage plunge with a Delhi-based businessman, Sunjay Kapoor. Even though the couple was blessed with two kids, it wasn't a happy ending for them and they mutually parted ways through divorce. This is one of the arranged marriages in Bollywood that didn't last.
Esha Deol-Bharat Takhtani
Though Esha Deol's acting career never really took off, she is excelling in her personal life. Married to Bharat Takhtani, who she claims to have known since childhood, she is now a proud mother of two cute little girls – Radhya and Miraya. Seems like the concept of arranged marriage worked really wonderfully for her.
Govinda-Sunita
Even when Govinda was such a successful actor and was at the peak of his career, he chose to be the perfect son and let his mother choose a girl for him. Govinda and Sunita's arranged marriage has completed 32 years and the couple has two kids, Tina and Yashvardhan.
Tell us what you think of arranged marriages and which couple happens to be your favourite? Also, if you know of any other Bollywood celebs in an arranged marriage, do let us know too…
The Funniest Matrimonial Ads In India: You Will Die Laughing And Will Also Cry
Bollywood actresses who inspire with their entrepreneurial skills