The only thing that is always in style is staying in shape! We know how hard this can be given the many high-calorie options out there, which is why we bring to you a delicious and light salad specially put together by renowned chef Irfan Pabaney. What better way to spend date night than tossing together a delicious salad and catching up over some wine? Grab your partner and try this today!
Recipe for Grilled Vegetables Salad with a Cumin Lemon Dressing
INGREDIENTS:
Grapefruit                                                  50G
Fennel                                                        10G
Cucumber                                                  50G
Tomatoes                                                   10g
Salad oil                                                     15ml
Onion                                                          50g
Red capsicum                                           10g
Green capsicum                                       10g
Yellow capsicum                                      10g
Feta                                                            20g
Arugula                                                     100g
Lemon juice                                              1 no
Cumin                                                        1g
Salt                                                             to taste
Pepper                                                       to taste
METHOD:
Grill the bell peppers and fennel.
Cut tomatoes and cucumber in cubes
Remove the segments of grapefruit.
Wash and dry the arugula
Roast the cumin seeds
Dressing:
to make the dressing take lemon juice in a bowl
slowly whisk in the oil to emulsify
season with salt and pepper
To assemble:
toss all the vegetables in a bowl and mix the dressing
now mix in the crushed roasted cumin
to serve place salad in a cold salad plate
Bio: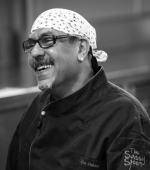 Irfan Pabaney was born in Bogota, Colombia in 1966, graduated in 1988 (B.Com) and did his hotel management after that from HAFT (HotelAdministration & Food Technology) at Sophia Polytechnic, Mumbai. He then did a course in pan Asian food from the At Sunrise academy in Singapore before his stint with Seijo & The Soul Dish and worked at various restaurants during his career including Indigo & was corporate chef of Hakkasan and Yauatcha before joining hands with Rachel Goenka and starting his own restaurant, The Sassy Spoon, in February 2013.
https://www.bonobology.com/5-things-to-do-with-your-partner-to-rekindle-your-love-life/
These amazing illustrations will make you fall in love all over again