The 90s pop sensation Britney Spears has been in the headlines for her very public legal battle against her father James Spears over conservatorship rights. Conservatorship refers to a provision of adult guardianship in the United States, intended to protect individuals who lack the ability to safeguard their interests and general well-being.
Typically, a conservator – mostly a family member – is appointed by the court in case of dementia, old age, developmental disabilities or mental or physical limitations. However, in Britney's case, her father's plea to be her conservator was approved in 2008 after she suffered a much-publicized meltdown in the wake of her divorce proceedings and refused to hand over her children to her ex-husband's representatives.
For the past 13 years, the pop star's person and assets have been controlled by her father. He has been the one calling the shots on the kind of work she does as well as what she should or shouldn't do in her personal life.
Britney Claims Guardianship Abuse
Breaking her silence over the issues of guardianship abuse, Britney in her statement to a Los Angeles judge said that her father and management have forced her to tour and work and seek medication against her will. In her intense, emotionally charged statement, the pop star also claimed that she had been 'traumatized' on account of being denied the right to get married again or have more children.
"I just want my life back… It's enough… I deserve to have the same rights as anybody does," she said.
And why shouldn't she? If she is fit to work, tour and bring in the millions that her father and managers control with such gusto, she has the faculties to decide what she wants for herself. Whether it's a life in showbiz or that of a suburban soccer mom should be up to her. No one else. Not her father. Not her managers.
Related Reading: 15 Signs You Had Toxic Parents And You Never Knew It
Britney's alleged toxic guardianship isn't a stand-alone case. Nickelodeon star Amanda Bynes has been living under her mother's conservatorship since 2014 when details about her bipolar diagnosis went public.
Singer-songwriter Joni Mitchell is another example of a successful, financially independent woman having been deprived of the right to decide for herself after a medical crisis in 2015 – a limitation she lives with to this day, despite having recovered from the brain aneurysm that brought on the decision.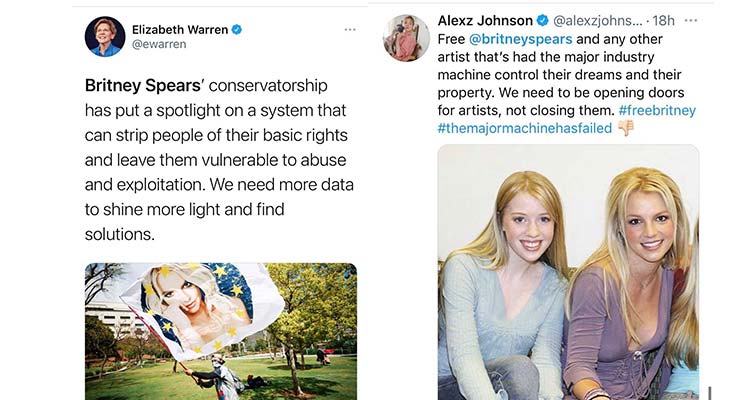 The fact that the world's oldest democracy still has legal provisions that can be exploited to deprive successful women in public life of their right to make decisions for themselves is a telling reflection of how far we're from the reality of gender equality.
Suspending a woman's free will to make the choices she likes, just because the people in her life don't agree with her, is nothing more than a manifestation of centuries of the patriarchal mindset that has conditioned us into believing: 'Women don't know better. They must be controlled.'
Related Reading: How To Be A Happy Woman? We Tell You 10 Ways!
Bollywood's Legacy of Parental Trap
Closer home, the phenomenon looks even more pronounced and rampant. From the 1950s to the 80s, the leading female stars of Bollywood had to grapple with similar toxic parental control. From Rekha to Sridevi, Meena Kumari to Hema Malini, female actors worked and lived under their parents' thumbs, who called the shots not just on their professional choices but also in their choice of spouses and life partners.
Madhubala's love story with actor Dilip Kumar was cut short because her self-serving father Ataullah Khan didn't approve of the match. Meena Kumari, much like Rekha and Sridevi, was forced into the life of a child artiste by her father Ali Baksh. So much so that she saw her marriage to much-older director-producer Kamal Amrohi as her only escape from the clutches of an oppressive father.
Related Reading: Was Sridevi Lonely At The Top?
Likewise, Hema Malini's early days of stardom were spent in the shadows of controlling mother Jaya Chakravarthy, and the nightmarish run ended only after she married Dharmendra.
Not just celebrities and film stars, societal constructs controlling how women should live their lives, who they choose to love and marry are all around us. If only believers of this archaic mindset would join the rest of us in the 21st century, we can move toward building a more balanced, equal and just world for everyone.
How To Get Out Of A Controlling Relationship – 8 Ways To Break Free
8 Relationship Problems You Can Face If You Had Toxic Parents
10 Examples Of Traditional Gender Roles