Bollywood was shocked when Arjun Rampal and Mehr Jessia announced their intention to separate yesterday. While some people said, the step was long overdue, others pointed out how the 16-year marriage was already under tremendous strain.
Bollywood marriages are extremely fragile thanks to the pressure and temptations that exist in the industry. While a lot of couples, say those in the know, merely put up a façade of happiness, there comes a time when they no longer want to pretend that all is well within the family. We take a look at some of most talked-about celebrity marriages that could not withstand the test of time.
Hrithik Roshan and Sussanne Khan
Married for: 14 years
Hrithik Roshan's marriage to childhood sweetheart Sussanne Khan, actor-director Sanjay Khan's daughter was the stuff dreams were made of. They were the ideal couple – young, good looking and committed. They even had two sons but shocked the world when they announced their separation. The seeds of trouble had been sown when Hrithik was linked with his Kites co-star Barbara Mori. Thereafter, Sussanne was alleged to have been involved with common friend Arjun Rampal. However, now they are back to being friends and are often seen hanging out with one another. Will they get back?
Farhan Akhtar and Adhuna Bhabani
Married for: 16 years
Farhan Akhtar married the slightly older Adhuna, a cutting edge hairstylist, in 2000 after dating for nearly two years. It was after marriage that Farhan found fame as a filmmaker (Dil Chahta Hai) and later as an actor. It is said that the two grew apart over the years. They announced their separation on social media and then filed for divorce which was granted last year. Farhan and Adhuna were married for 16 long years but evidently didn't find it worth their while to fight for their marriage.
Saif Ali Khan and Amrita Singh
Married for: 13 Years
Bollywood of the early 90s was shocked when a young Saif Ali Khan married Amrita Singh, who was 12 years older to him. The two met at a party and had apparently hit it off well. Saif's parents didn't approve of the relationship initially but the couple was adamant and got married secretly. Unfortunately, it wasn't smooth. Rumours of Saif's infidelity did the rounds and as years passed, they grew apart. His affair with the Italian girl Rosa was the final straw and it wasn't long before they divorced – despite having two children, Sara and Ibrahim.
Aamir Khan and Reena Dutta
Married for: 16 years
Aamir was already married when he became the nation's heartthrob with Qayamat Se Qayamat Tak. His wife Reena remained far away from the film industry though she took an active interest in his work and his production company. However, despite the marriage, there were constant link-up stories of Aamir with his co-stars Pooja Bhatt and Mamta Kulkarni. Then there were rumours of his love child with a British author. Eventually, the couple went their separate ways after over a decade of marriage.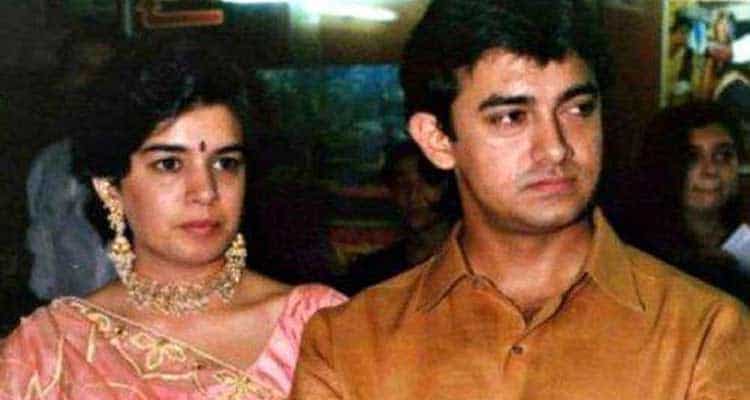 Arbaaz Khan and Malaika Arora
Married for: 19 years
Hottie Malaika married Arbaaz Khan after meeting him on the sets of a steamy coffee ad they were doing. They seemed to have a great marriage where they rarely interfered in each other's work. She made a name as a fantastic dancer, doing hit item songs and he first tried his luck at acting and then turned producer. However, there were rumours about Malaika's infidelity especially over her link up with Arjun Kapoor. The couple shocked fans when they announced their separation over a year ago.