The United Nations' (UN) International Day of Innocent Children Victims of Aggression is observed on June 4 every year. The purpose of the day is to acknowledge the pain suffered by children throughout the world who are victims of abuse. Like everywhere in the world it is important to protect child rights in India.
Even a couple of decades back the presence of child sexual abuse in India was a grey area that was hardly acknowledged. But now importance of child rights in India is a key concern and laws for children are in place to ensure they do not face sexual abuse or if they do, the culprits don't go unpunished.
Need To Protect Child Rights In India
Child abuse is rampant in India. It is the least talked about malaise although statistics show that child abuse is on the rise. And most perpetrators are know to the children.
According to a 2007 study conducted by India's ministry of women and child development, 53% of children surveyed said they had been subjected to some form of sexual abuse.
The Protection of Children Against Sexual Offences Act (POCSO) which came into being in 2012 have done its bit to contain workplace sexual violence against children, but we still have a long way to go when it comes to protection of child rights in India.
Related Reading: I was Sexually Abused By A Family Member and My Sister Did Not Support Me
How child abuse is ingrained in modern society is best shown in the film Highway. The parents of the girl wanted her to marry her off in the family to which her abuser belonged. If she had not been kidnapped
Data released by National Crime Records Bureau show that in the year 2015, 25% of the rapes committed on children were by their employers and co-workers.
It is a known fact that children face the most physical and sexual abuse in the hands of people they know. So it is important to know how India protects child rights.
The POCSO Act is helping in protecting child rights and abusers are being punished but what we most often tend to overlook is the impact of abuse on the child.
7 Ways In Which Childhood Sexual Abuse Has Been Hurting Your Relationships As An Adult
Sexual abuse tends to severely impact a child at a physical, behavioral and emotional level. Although the abuse has happened in the past, its traumatic effects can seep into adulthood.
A toxic childhood can impact your future relationships in a way that you may not realise even. These effects get reflected in the relationships you share or in the problems you may encounter in forming meaningful relationships later in life.
1. Difficulty in developing trust
Statistically, about 90% of the times, the perpetrator is known to the victim. Being abused at an early age by a known person can raise big questions around 'trust.' A child feels violated and betrayed.
This gets worse when the child is asked to keep it a secret; it takes away their support system making them feel afraid and blamed. Meaningful, adult relationships require trust and trust issues lead to breakdown of the relationships when a person faces child sexual abuse.
The feelings of mistrust developed in childhood, may lead to avoidance of close relationships in adulthood or choosing ones that tend to confirm their distrust.
2. Shame and inappropriate guilt
If the effects of sexual abuse in childhood have not been treated under therapy, the person may carry feelings of shame and guilt.
They find it difficult to open up in relationships as they often wonder how people will look at them. Their narrative of life revolves around the traumatic memories.
Sometimes some people block those unpleasant memories and that becomes their coping mechanism. But in adverse situations those memories can come back and wreck havoc in a relationship. That's why it's important to address this shame and guilt in therapy.
3. Never feel 'good enough'
Another after effect of childhood sexual abuse is developing a self-critical and deprecatory image. This reflects in adulthood relationships when they start watching out for judgement and rejections by their partner.
Such a person feels that they are not 'good enough' to be loved or of having a loving relationship. They tend to grow up into people with low self-esteem, always unsure, always needing more attention.
4. Choosing the wrong partner
Because of the difficulty in trust as well as feelings of inadequacy, guilt and shame, a person with past history of sexual abuse may look for relationships that reaffirm these emotions.
'Being loved' for oneself is a hard reality for them. They may get involved in abusive/ neglectful/ codependent relationships as well.
They most often cannot make out who is the right choice for them and end up continuing in relationships that perpetuate the cycle of abuse. They do it because in their childhood they have normalised abuse.
Related Reading: Partner Sexually Abusing Her Daughter – Child Sexual Abuse and Trauma
5. Ignoring one's needs
Being abused as a child tends to distort the idea of equality and love in a relationship. Such people, in adult relationships, try to 'earn' even the slightest amount of love by giving as much as they can, often ignoring their own needs and desires, as they don't want to risk being hurt or abandoned.
They are so scared that their partner would leave them that they often put up with disrespect and abuse totally ignoring their own emotional and physical needs.
People who have faced abuse in childhood tend to lack confidence and self-esteem so they become clingy to their partners, not realising that they are spoiling their own relationship.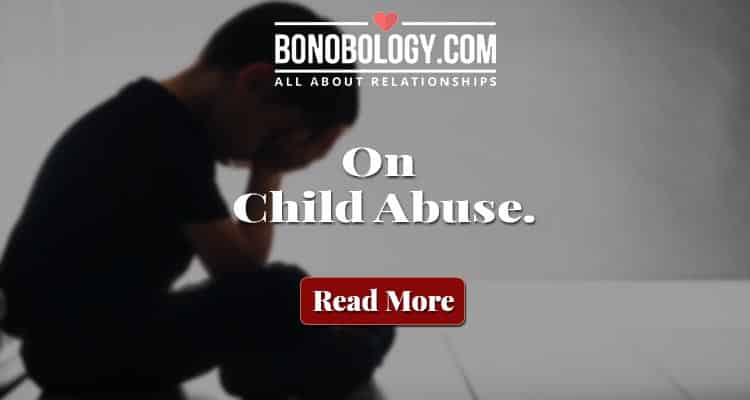 6. Building walls
A person with abusive childhood tends to create walls around him/her so as to defend themselves from the potential intruders and hurt.
This makes commitment and investing in a relationship a difficult process. They often become distant and would choose superficial relationships.
They end up self-sabotaging their relationships again and again because they are unable to be themselves with their partner. They perpetually build a wall around themselves and refuse to be vulnerable with their partners.
7. Difficulty with intimacy in a relationship
Flashbulb or traumatic memories of the abuse can make it difficult for the person to developing intimacy in an adult relationship. At times, they may not even feel comfortable being touched or getting intimate with their partner.
Adequate psychotherapy can help overcome these problems. But the problem is, most people who face child sexual abuse, especially in India, do not realise that their childhood experiences are responsible for their inability to become intimate. So opting for counselling is hardly on their minds.
Protect your child no matter what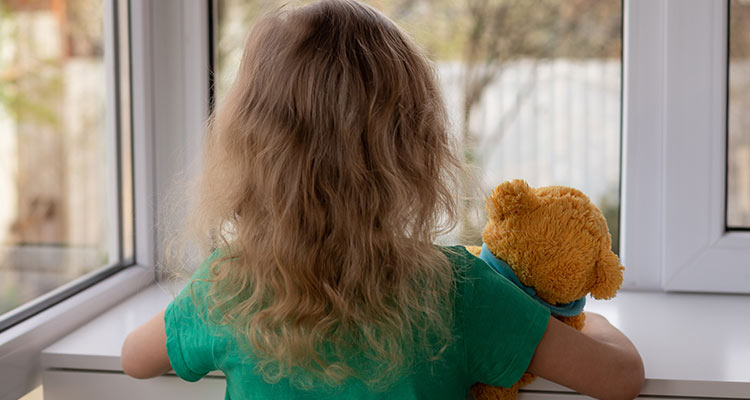 It is important to be aware of child rights in India and child protection services. The United Nations' (UN) International Day of Innocent Children Victims of Aggression is a day when you need to understand and acknowledge this issue. UNICEF, CRY, Smile Foundation, Pratham are organizations and NGOs that are working towards protection of child rights in India.
At home you can teach your child about "good touch and bad touch' and create an environment where they would be able to easily tell you if they feel anything is amiss. Also it is important for families and institutions to realise the importance of child rights in India and be aware of the laws that are there to protect children.
FAQs
1. How does an abusive childhood affect adulthood?
Because of child sexual abuse a person suffers from trust issues, gets into abusive relationships as an adult, has difficulty in achieving intimacy and they can self-sabotage relationships.
2. What are the 3 effects of child abuse?
The 3 worse effects of child abuse are guilt and shame, trust issues and lack of confidence that people carry into adulthood.
Sexual abuse has left me depressed and I feel like it was my fault
My Abusive Wife Beat Me Up Regularly But I Fled Home And Found A New Life