[vc_row][vc_column][vc_column_text]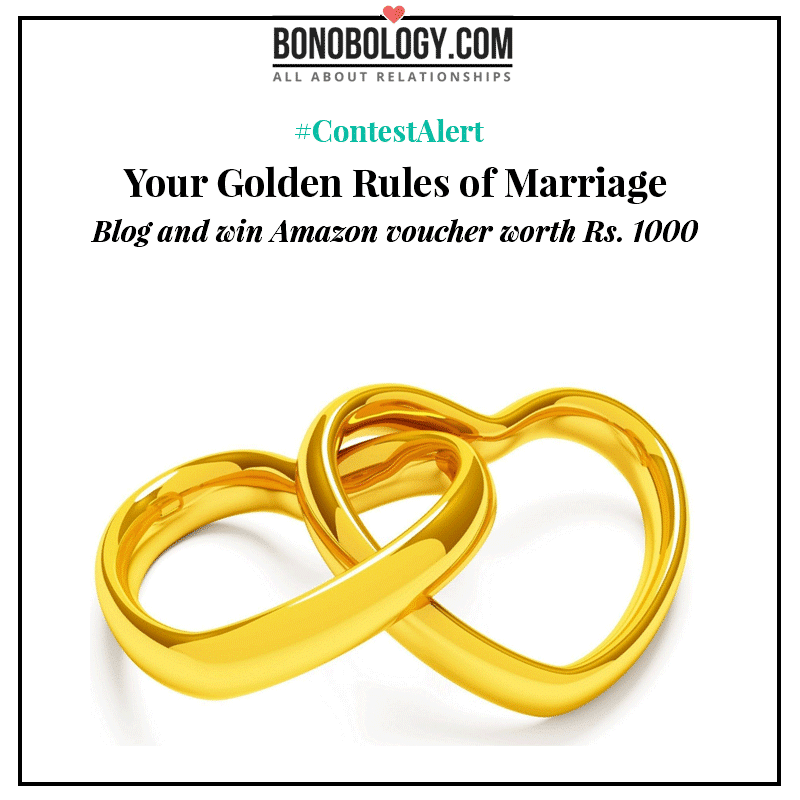 [/vc_column_text][/vc_column][/vc_row][vc_row][vc_column][vc_empty_space height="40px"][vc_column_text]
#ContestAlert
Hey Bloggers, here's your Blog topic –
'Your Golden Rules of Marriage'
Blog in about 250-300 words on what you think are golden rules of marriage and stand a chance to win an Amazon voucher worth Rs. 1000!!
Brownie points if your headline makes us click more (let it not be as boring as 'Golden rules')
Last day of submission – 21st Aug, 1 pm
Winner Announcement – 22nd Aug
P.S – If you think this contest is only for married people, you are not being creative enough!!
[/vc_column_text][/vc_column][/vc_row][vc_row][vc_column width="1/2″][vc_empty_space height="40px"][vc_column_text]Already have a Bonobology ID?[/vc_column_text][vc_empty_space height="40px"][vc_btn title="Sign in and Start Blogging" color="orange" link="url:http%3A%2F%2Fwww.bonobology.com%2Fcreate-new-post%2F||target:%20_blank|"][vc_empty_space height="40px"][/vc_column][vc_column width="1/2″][vc_empty_space height="40px"][vc_column_text]Don't have a Bonobology ID?[/vc_column_text][vc_empty_space height="40px"][vc_btn title="Register to Start Blogging" color="green" link="url:http%3A%2F%2Fwww.bonobology.com%2Fregister%2F%3Fredirect_to%3Dhttp%253A%252F%252Fwww.bonobology.com%252Fcreate-new-post%252F||target:%20_blank|"][vc_empty_space height="40px"][/vc_column][/vc_row]
Tags: