Depression can not only be tough on the person grappling with it but also on their relationships. If you're sharing your life with a depressed wife, for instance, her mental health will have a direct bearing on every aspect of your life. Both as a couple as well as individuals.
While living with a depressed wife, you may find yourself getting caught in her mood cycles or experiencing an inexplicable sense of suffering. At times, you may even find yourself at the receiving end of her extreme reactions and moods. In such situations, you may desperately search for ways to cheer up your depressed wife.
However, healing your depressed wife is not your prerogative. Nor are you equipped with the right skills to do so. But you can definitely help them get better by offering the right support at the right time. To be able to do that, you first need to recognize the signs of a depressed wife.
How Do I Know If My Wife Is Depressed?
Chris didn't make much of his wife's tendency to spend a lot of time by herself. She seemed withdrawn and distant in some moments, agitated and angry in others. At first, Chris attributed the changes in her demeanor to a hormonal flux. Maybe it was a spell of PMS that had dragged on, he thought.
Over time, these behavioral traits became more and more pronounced. Chris' wife started sleeping in a different room, waking up long after he had left for work and going to bed soon after an early supper or sometimes even without it. Any attempt to establish contact or elicit a conversation would only aggravate her agitation and make her withdraw even more.
This went on for months before Chris to identify these behavior patterns as a manifestation of a depressive state of mind. If this situation seems relatable, here are some tell-tale signs of a depressed wife that you ought to pay attention to:
Feelings of hopelessness
Mood swings
Lack of interest in communication
Abnormal sleeping patterns
Anxiety
Increased alcohol dependence or substance use
Suicidal thoughts or attempts
Change in appetite and body weight
Losing interest in activities that she once used to enjoy
Related Reading: I started my journey with depression all alone but eventually fought it with my partner beside me
How Can I Help A Depressed Wife? 7 Tips
Depression is a condition that is defined by inaction and hopelessness. However, to help a depressed wife your outlook toward this mental health issue should be exactly the opposite. It's imperative to take action swiftly and remain hopeful about the outcome.
The field of mental health has come a long way, and by working alongside a competent therapist, the affected person can begin to manage their depressive state of mind better and may even bounce back from it fully.
But for any of it to happen, that person has to be willing to seek help. If you feel that your depressed wife won't get help, it may well be because she feels that her issues aren't legitimate or not serious enough to warrant professional help.
That's where as a spouse, you can play an important role in nudging her out of this state of inertia, making her acknowledge and accept the state of her mental health, and taking small but concrete steps toward tackling depression.
Here are 7 effective ways in which you can help your depressed wife:
1. Create an activity list
Depression means inaction. If you notice that she is constantly fatigued, tired or drained of energy, these may all be signs of a depressed wife. Mental exhaustion due to unaddressed emotional issues can spread to other parts of the body, resulting in physical symptoms such as pains, aches, feeling butterflies in the stomach. Any pains or physical symptoms that cannot be pathologically correlated to a physical condition could be a result of psychosomatic issues due to depression.
It's her body's way of signaling her to slow down. So, the first step toward helping your wife deal with depression is to create an activity list to tackle the inaction. This list can include all the activities that she may have given up on – essential activities such as shopping, running errands, basic hygiene practices such as bathing or combing, as well as self-care activities such as yoga, exercise, walks.
Then, nudge and encourage her to start resuming these activities one at a time. The key here is to start small. You may tell her to go out for a 5 min walk with you after dinner, and then, next day take it up to 7 mins, and gradually build up. These baby steps will ensure that she doesn't get overwhelmed and slump back into inaction.
Likewise, each of the activities on the list should be tackled on different days, reserving one day per activity. So, you can create a weekly plan with her to schedule these activities. At the same time, keep reminding her to not aim for perfection but progress.
As a spouse, it is also equally important for you to remember that making a little progress every day is what counts. Don't expect her to make giant leaps right from day one. It will only result in disappointment, and your disappointment may again put her back in the loop of inaction.
Related Reading: 5 ways depression affects and destroys relationships
2. Discipline is crucial for your depressed wife
Depression also brings a person to a point where they just let go of themselves. If you're living with a depressed wife, you'd have noticed that she spends most of her time sitting, sleeping or even staring into nothingness. As the depressive state grows, this inaction begins to eat into a person's ability to carry on with day-to-day routine tasks.
One way to help your depressed wife is to create discipline around her routine. For instance, ensuring that she brushes her teeth when she wakes up or prepares and eats breakfast, bathes, listening to music and so on can go a long way in preventing her condition from escalating.
However, in your bid to help her, you must take care not to push her beyond her capabilities. It's important to remember that the abilities of a person in a depressive state are very different from those who are not dealing with such mental health issues. She may get tired very quickly, which can impede her ability to carry on with even the most basic tasks.
In such a state, if you push her, she may become even more withdrawn, leaving you to think that your depressed wife refuses help. But that's not the case. It's simply beyond their ability to keep up. So, you must tell her that it is okay to sit down, take a break, and then resume when she feels ready. The key is to not overdo any activity but also not bypass it completely.
That's the only way to save her from slipping deeper into the dark ditch from where the depression can turn clinical and bouncing back can become increasingly difficult.
3. Help her build a safe connection
My depressed wife is pushing me away – this feeling is not uncommon when your spouse is grappling with mental health issues. To be able to step out of this zone, she needs to have a safe connection where she can express her thoughts without the fear of being judged.
If you can be that person for your depressed wife, then nothing like it. But that may or may not be the case, and if it's not, it's not a reflection of the state of your marriage or your connection with your spouse. In such circumstances, you must encourage her to turn to a friend she can lean on.
And if she doesn't have a person in her life who she feels comfortable opening up to, joining a support group can be immensely helpful. Feel that your depressed wife won't get help because stepping out, meeting and talking to strangers could be too overwhelming for her? Well, in that case, you can motivate her to join an online group that offers a safe space for people with depression to cry, express their anger or vent.
For instance, I run a WhatsApp support group for depressed women, where together they help each other heal. There are myriad such online programs available today that you can leverage to help your depressed wife.
Related Reading: My Encounter with Depression: Thoughts of a Damaged Soul
4. Tackling anxiety
Feeling anxious is one of the common signs of a depressed wife. Since depression begets inaction, a person's to-do list can keep growing and spiraling out of control. As these tasks pile up, these can trigger anxiety over how it will be finished, when, whether someone will help her finish them or if she will be able to do them all on her own.
When you see her in that state, your first thought may be to cheer up your depressed wife. However, going from being anxious to cheerful is not an easy transition. You cannot drive that instant shift, no matter how hard you try.
Instead, focus on helping her feel the full extent of her anxiety. Remind her to stay in the moment and not go into flashbacks that can further aggravate the anxious feelings.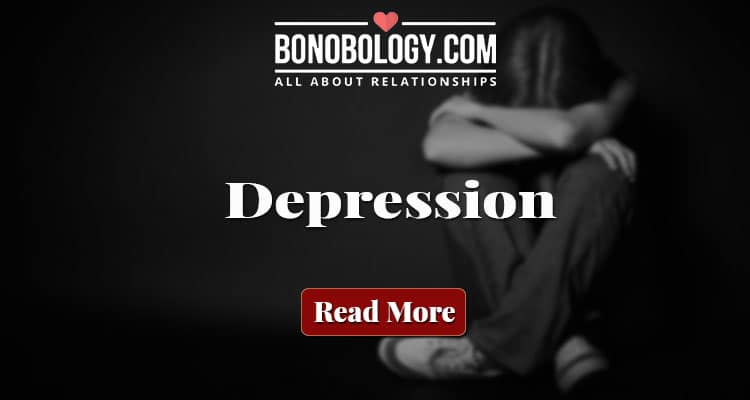 When a depressed person feels anxious, the only way for them to emerge out of it is to sit through and process their feelings without fear and panic. They must acknowledge and accept what they're going through and handle it calmly without pressing the panic button. Getting this across to your angry depressed wife, who is caught in the throes of anxiety, may not be easy, but with gentle nudges and soft reminders, you can get there.
5. Direct her toward mindfulness
Depressive feelings can be triggered or enhanced due to the emotional baggage of past events, traumas or issues. One of the most effective ways to deal with it is mindfulness. Whether you're learning to deal with the issues of a depressed newlywed wife or have been sharing this journey with your spouse for years, it's an important tool that you can bring into your life to help your partner.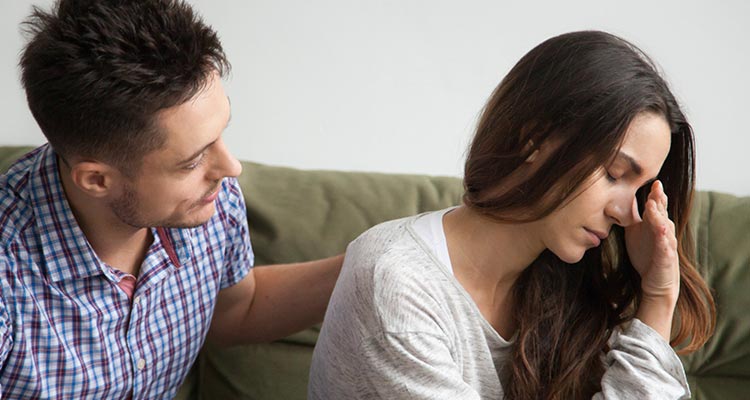 Mindfulness means being in the moment, mind and body, and not letting the mind connect the dots and wander to different places, times and events all at once. By letting the mind wander, a depressed person can become totally displaced.
If your depressed wife refuses help, you can work with a mindfulness coach or a counsellor to learn techniques that can help her stay in the moment and feel the full extent of her feelings rather than push them away or try to fight them. This doesn't require her to pause whatever she is doing.
Mindfulness can be practiced alongside doing one's job, helping the kids with their homework, reading a book, making a cup of tea or whatever else that a person may be doing.
Related Reading: Am I Going Through Depression? I Think I Have All The Symptoms…
6. Help a depressed wife deal with the source of her stress
If you want to cheer up your depressed wife, start by working with her to get to the root of her stress or whatever is triggering her state of turmoil. This is not going to be an easy or quick journey but taking the first step is what counts the most.
The root cause for her depressive state could be a toxic connection with her parents or yours, with you, at work, with a friend or neighbor. Unless this underlying trigger is identified and addressed, your depressed wife may not be able to break free from the trauma and turmoil.
If you're living with a depressed wife and your marriage is riddled with issues, you could help your spouse and yourself by going into couple's therapy. Similarly, if the issue lies elsewhere, you must encourage her to seek therapy, especially if your depressed wife refuses help.
A competent therapist can help her make a conscious choice about whether she wants to take a break from this toxic connection in her life, work on it or severe it altogether. By understanding that she had a choice and is not forced to put up with the circumstances dealt to her, she can begin to make progress in healing.
7. Support her find a creative outlet and financial independence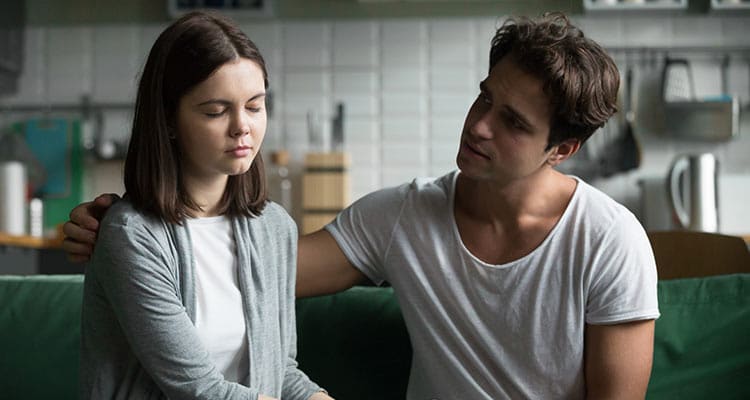 Do you feel that you're dealing with an angry depressed wife even though she doesn't admit it or hasn't slumped into a full-blown depressive state? Well, this sadness and irritability could be among the early signs of a depressed wife that must be nipped in the bud. One simple yet effective way of doing that is to encourage her to find a creative outlet or work toward gaining financial independence.
If your wife is a working professional, then juggling the pressures of home and work life can leave her trapped in a monotonous loop where there is no time or energy left to pursue the activities she finds joy in. Shouldering domestic or parenting responsibilities, so that she gets some 'me time' to follow her passions and interests can be one way to cheer up your depressed wife.
On the other hand, if your wife is a homemaker, she may feel stifled on account of being financially dependent on you. Besides, just being confined to the role of shouldering domestic responsibilities may make her feel stripped of an identity of her own.
This is especially true if your wife has given up her career to take care of the household. In this situation, encouraging her to restart her career or exploring remote work opportunities to become financially independent can be an effective way to counter her feelings of sadness before they translate into a depressive state.
It can be a frustratingly helpless experience to watch your depressed wife slump deeper and deeper into the dark, lonesome hole of dejection and apathy. With the right mindset and know-how, you can help her help herself.