In 2005 Abhay Deol debuted in Socha Na Tha, directed by newcomer Imtiaz Ali. Imtiaz Ali went on to become a big name but it all started with Socha Na Tha and Abhay Deol.
After this, Abhay Deol paved his own path and instead of following his uncle and cousins' footsteps he chose to work in parallel and experimental cinemas.
A fateful chat
While chatting with Anurag Kashyap once, he mentioned about a drug addict frequenting strip clubs. Kashyap is famous for his experimental style of cinema. He liked the idea. They kept on talking and based on this they created another version of Devdas. Thus Dev D was conceived.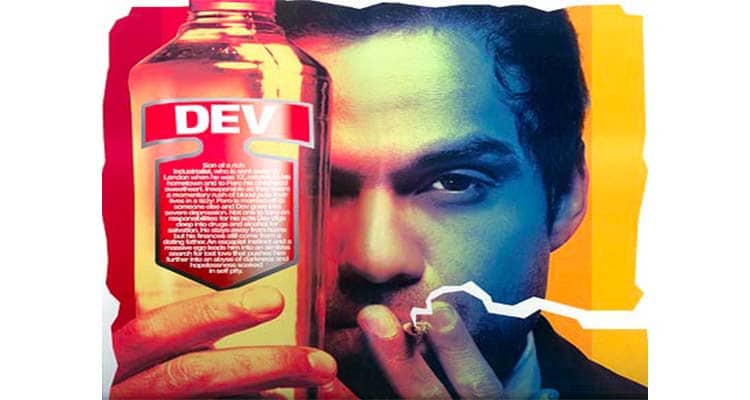 Devdas
Sarat Chandra Chattopadhyay's Bengali novel Devdas has been adapted on screen innumerable times without any change in the time, place and plot of the novel.
In the original story, set in Bengal of the early 1900s, Devdas could not marry his childhood sweetheart Paro, so in depression he became a troubled alcoholic. Even the love of the nautch girl with a golden heart, Chandramukhi, could not save him.
Related reading: 7 times Aishwarya showed us she could use her divinely beautiful face as a canvas to paint endless stories of relationships
The concept of Dev D
Anurag and Abhay gave Devdas a complete makeover.
Dev D, released in 2009, is set in Delhi and Punjab of the 21st century.
Abhay Deol and Anurag Kashyap conceptualised the film brilliantly. From the style of narration to photography to editing to music, everything about the film is so experimental that the film has become an important movie of the century.
Despicable Dev D
Abhay Deol's Dev is egoistic and callous. Paro was his childhood sweetheart but he feels more of a sense of ownership along with lust towards her. That is why he could not take it when someone lies to him about having a physical relationship with her, although deep down he knows it was a lie.
Deol made his character even more despicable by changing the characters of the family members. In the original story, Devdas' father did not want Paro as his daughter-in-law because her family was beneath him. He was the main reason for Devdas not getting married to Paro.
In Dev D, the father wants Paro as his daughter-in-law, and there is no evil brother as in the original story. Everyone is nice to Dev, yet he is totally set on destroying his life.
Paro gets married to another man after being abused and humiliated by Dev.
When it is too late, the realisation of the permanent loss of Paro hits Dev.
Unlike the original Devdas, he did not start drinking only after losing Paro. He was already a heavy drinker and occasional drug user. This catastrophe pushes him more towards substance abuse.
Abhay Deol's Dev is a can of worms so far as character is concerned. He is selfish and self-centered. To get close to married Paro, he gets close to her husband's sister without bothering how it would affect Paro's marital life. This Wuthering Heights-ish sub-plot does not belong to original Devdas novel.
Abhay Deol's talent lies in the fact that he made Dev despicable in every sense yet he made him so likeable that viewers would always sympathise with him and root for him. There is a dangerously thin line between a villain and a hero with wrong qualities. Abhay Deol successfully kept his Dev on the side of the hero.
Chandramukhi
In a brothel in Old Delhi he meets Chandramukhi, a Madhuri fan. For the first time, Chandramukhi had a detailed backstory of turning into Chanda from Leni.
She is the first person who revives something good inside Dev. He is decent to her without any expectation, so it is obvious for Chanda to fall for Dev.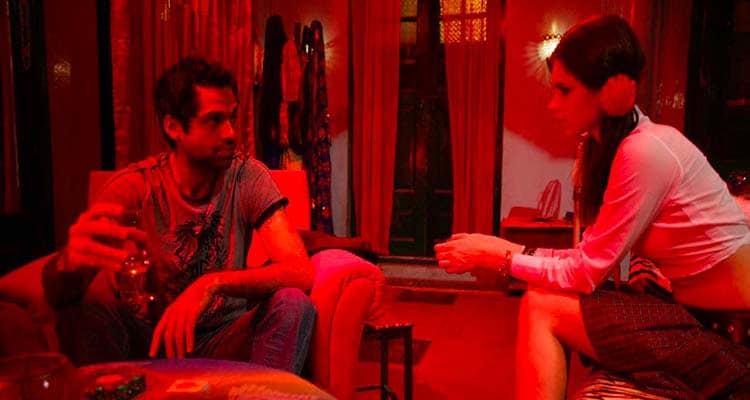 The downward spiral
But Dev is still in love with Paro. Paro is happy in her marriage. She wanted to take care of him but Dev wanted her body. Paro had never forgotten the humiliation from Dev; rejecting him on the bed is her ultimate revenge.
Dev's ego is shattered, but Chanda keeps him out of the abyss. But again his ego is hurt seeing some customers of Chanda. This spirals him down, resulting in a accident caused by him.
The downward spiral continues with his father's death and him fleeing from the police. However, after touching rock bottom he realises the value of life.
At that moment the only person he can think of is Chanda, because Paro had become a speck in memory's horizon.
Love and life over death
The film ends with great messages:
We can always change our life.
We should give chance to people who love us to "love" us instead of running away.
The change of track made Dev D a love affair between two fallen angels who are growing wings again.
Save<Save<