The news of legendary actor Dilip Kumar's passing at 98 has plunged the entire country into mourning. The sense of loss, the end of an era, the demise of not a man but an institution unto himself is being felt deeply, cutting across divides of generations, cultures, leanings and opinions.
Away from the glare of this public grieving is the heartache of a monumental personal loss – that of Saira Banu, a reverent, mesmerized wife who has lost her partner of 55 years. While we have no way of knowing the private dynamics of the Saira Banu-Dilip Kumar marriage, the takeaway from their public life is that she has spent her life in the awe of being chosen as Dilip Kumar's wife and life partner.
A Fan And A Life Partner
Saira Banu has famously maintained that she knew at the age of 12 that she wouldn't marry anyone other than Dilip Kumar. At 22, her dream came true when she married the legend, who was 22 years her senior. She spent the next half-a-century delighting in the paradisal realization of her destiny.
Dilip Kumar was a giant, who shone predominately not just in the world of cinema but also in his marriage. Perhaps, because his life partner was also his self-professed biggest fan and admirer who found contentment thriving in his shadows.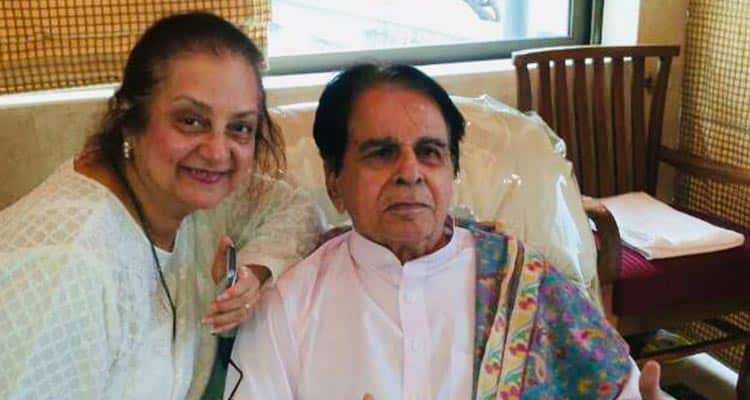 While her devotion and admiration for the man she chose to love till death did them part have been the epitome of unconditional love, we wonder if playing the second fiddle in her marriage ever gripped her with a sense of being eclipsed and rendered invisible by the very man she was so enamored with. She stuck by his side, like a rock, not just in the heydays but also when he receded into the sunset of his stardom.
Related Reading: What I Regret After The Death Of My Spouse
Over the past decade or so, Saira Banu plunged herself into caring for her 'Sahab', as she fondly called him. Since Dilip Kumar's debut on social media in 2017, the world got a glimpse into how she cared for and mothered the man who was her beau ideal.

An Empty Nest At 76
Dilip Kumar's demise will leave behind a gaping hole in Saira Banu's heart and life. At 76, she'd find herself stripped of the sense of purpose and devotion that has governed much of her adult life. Her hero, her life partner, her Sahab snatched away by the clutches of death.
It can be overwhelming to fill the gaps left behind by the person who has been the center of your universe for as long as you can remember. Even more so, when one stands in the dusk of life, all alone.
Related Reading: How I Coped After Losing My Partner On 9/11
Caring for an ailing spouse can become an all-consuming experience that leaves no room to even come up for air. Taking it upon oneself to save a loved one can be a lofty standard to meet, which often leaves the caregiving spouse stressed, overwhelmed and distraught.
For Saira Banu too, this long-drawn-out role of caring for her husband's health and well-being would have come at the cost of neglecting her own needs. Research indicates that caregivers' stress can have very real ramifications on physical and mental health. Often when that role ceases to exist, caregivers find themselves in an existential identity crisis, but beyond it lies a liberating sense of relief.
When the pall of gloom lifts, we hope, Saira Banu is able to embrace the relief of being set free from these exacting responsibilities without guilt or remorse. Today, as everyone mourns the loss of an icon, our thoughts are with his beloved. We wish she finds the strength to embrace this chapter of her life as a journey to discovering new joys and love.
Aamir Khan And Kiran Rao: Splitting Up, But With Grace
Every day should be lived with love: Anang Desai
Controlling parents of actors in Bollywood