Once it was said 'marriages are made in heaven', which seems obsolete now. I would say 'marriages are either made in someone else's marriage or the Internet'. These are the days of Facebook, WhatsApp, Twitter and various dating apps.
We would visit Cyber Cafes during those non-mobile Internet days. I created a funky email id. Little did I realise then that the same funky email would help me meet my chocolate hero.
I received an introductory email from SMARTYMARTIN a few weeks later. I almost fell off the chair when I received the email, and donned a Sherlock Holmes' hat to investigate if it was Raghav or Shomu or that guy from the bus who has ragged me multiple times… I wrote back time and again. Finally I got some information from him. He saw me in an Internet cafe, I was sitting next to him, he was a Malayali (from the land of elephants and coconut oil) and he was working.
Culture shock
My knowledge of people from God's own country was limited to Mohan Lal and deodorant cleansed, oily haired people in class. They always left a mark (rather smell) wherever they went. My Mallu classmates always believed, 'Eat fish, live fishy, drink alcohol and breathe deodorant'. I was in a trance thinking that I never fancied guys from God's very own place and here I was, already dreaming about him showing his culinary skills to me. Now that I was aware where he worked I was on my Six Sigma scheme to surprise him with a visit. I made that customary call to inform of the Arrival.
There he was waiting for me, wearing a chocolate coloured shirt. He stood strong like a mountain, all of 6 feet. I was itching to ask, "How is the weather up there?" I felt so vertically challenged next to him with my 5 feet something. However, I was more grounded than him (closer to earth). We waded towards the cafeteria for our first date. He definitely didn't fit into my stereotype. Tall, dark, handsome, no oil refinery, confident. The whole time, one activity kept him very busy, pulling up his socks. He said, "I've never heard someone talk so much in such little time." I chose to take that as a compliment and thanked him.
Breaking the usual jinxed rules of falling in love, I proposed to him, which he accepted.
A different romance
Like all couples we had the usual differences (we were both always a foot away, he at 6 feet and me at 5, which added to the differences). Unlike the usual meeting, eating, talking types, he became my tutor and monitor of studies. He was my Java tutor and the first person to check my results after every semester exams. If I scored unexpected marks I had to play the game '20 questions' with him. He would be present in the bus stop during every exam like a vigilant police officer. After my exciting 4-year engineering course, he was very focused on me getting a job. He was on cloud nine when I landed a job and celebrated like I was the CEO of Microsoft. I learnt financial planning, execution, saving, expenditure from him. A tall BF with a mixed quotient of financial assistance, monitor, policing, romance sounds so exciting.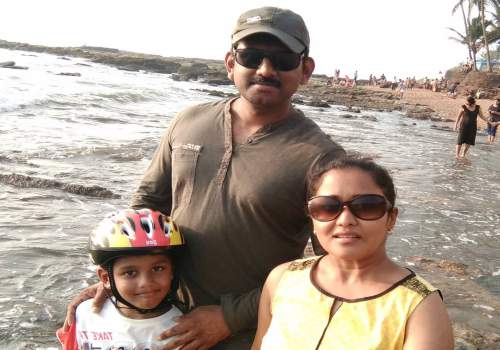 V-Day or D-Day?
Finally, it was time to reveal all at home. I chose Valentine's Day and my mom was shocked beyond imagination. Chocolate hero chose a passive way of revealing the suspense, through his sister. On both sides, the moms played the protagonists, objecting at every step and word. My mom wanted a Brahmin boy and his mom a Malayali girl. I told our Hero, "Easy solution – You get converted to a Brahmin, me into a Malayali girl, as they didn't insist we continue to be what we are now."
Related reading: A cocktail of cultures
We decided to wait till our moms gave in, even if it meant we would have to marry in old age… To be prepared I had started my research on various natural dyes for hair, colourful lenses available. Our Bollywood, Sandalwood, Kollywood inspired moms gave us enough dialogues which would put the scriptwriters to shame.
The house first…
After two years of pestering, coaxing, convincing, and pretending to be depressed, the moms gave in! When nothing worked for us in the normal order we tried reverse psychology. What made them give in was the house we built together. We did everything, from looking for a site to the tiles for the kitchen together. Built a house, spoke to our lovey dovey relatives and convinced them. Now the onus was on the moms to be considerate. They wanted to look like the most modern, liberated, open-minded moms in the world and gave in… Sounds so filmy doesn't it?
Now we were on the most important hurdle, "What would be the customs and venue of the wedding?" These were the million dollar questions for which we had no say. They decided there would be 3 weddings – Kerala, Mangalore, Bangalore.
Related reading: Kickass bride turns up at her wedding without makeup and jewellery!
A saree sight
Marriage gave me shivers, not for the actual event but for the national garment (alias saree) draping. The national garment had to be tucked in half into me to look presentable thanks to me being vertically challenged else I would look like I was ready for social service on my wedding day — dragging the saree around to clean the place. And the draping happening thrice made me wonder if registered marriage was a better bet.
The chosen day was Akshaya Tritiya, one of the most auspicious days for any event. On the wedding day I was flabbergasted to see a stampede near the venue, Guruvayoor Temple, never knew we had so many relatives, friends for the wedding. Someone enlightened me that ours was one of the 100+ marriages on that day. Some brides were carried to venue by their relatives thanks to the overwhelming jewellery they were. I wished that day I had the skills of Spiderman and could swish swish zoom into the Kalyana Mantapam instead of squeezing through the crowd. Finally with the mangalsutra on my neck, I thanked God for all the exciting drama in my life and being where I was that day.
Now the greatest adventure is what lies ahead.
https://www.bonobology.com/15-most-creative-ways-to-propose-marriage/