[vc_row][vc_column][vc_column_text]It is often said that women will tear each other down at the drop of a hat and are often the race's worst enemy. Given the leaps we have made in feminism and taking into account the socioeconomic difficulties women face in society, why do you think this is the case? For years we have been primed by societal norms to compete with one another and when it comes to relationships, jealousy gets the better of sisterly solidarity. The age-old stereotype that women in serious relationships are restrictive of their partners socialising with single women in both formal and informal settings continues to be a reality today.We took the opportunity to ask this question on our Facebook group Indian Women Discuss and here are some interesting comments from our members.
Do Indian Married women, both professionals as well as homemakers, feel insecure about independent ladies who are single (unmarried, widows or divorcees) being around their husbands?
Related reading: 5 things men do to make a woman feel insecure
Are women their own worst enemy?
[/vc_column_text][vc_empty_space][/vc_column][/vc_row][vc_row][vc_column width="1/2″][vc_empty_space][vc_column_text]
[/vc_column_text][vc_empty_space][/vc_column][vc_column width="1/2″][vc_empty_space][vc_column_text]The Black Widow Syndrome! Hmmm… this is an instance when women work against women! Pull single ladies down maliciously even when there is nothing going on, but a figment of their own basic insecurities. That said, this is a problem hard to overcome, as you are basically fighting your own self.[/vc_column_text][vc_empty_space][vc_text_separator title="Amreeta Sen" color="black" style="shadow"][vc_empty_space][/vc_column][/vc_row][vc_row][vc_column width="1/2″][vc_empty_space][vc_column_text]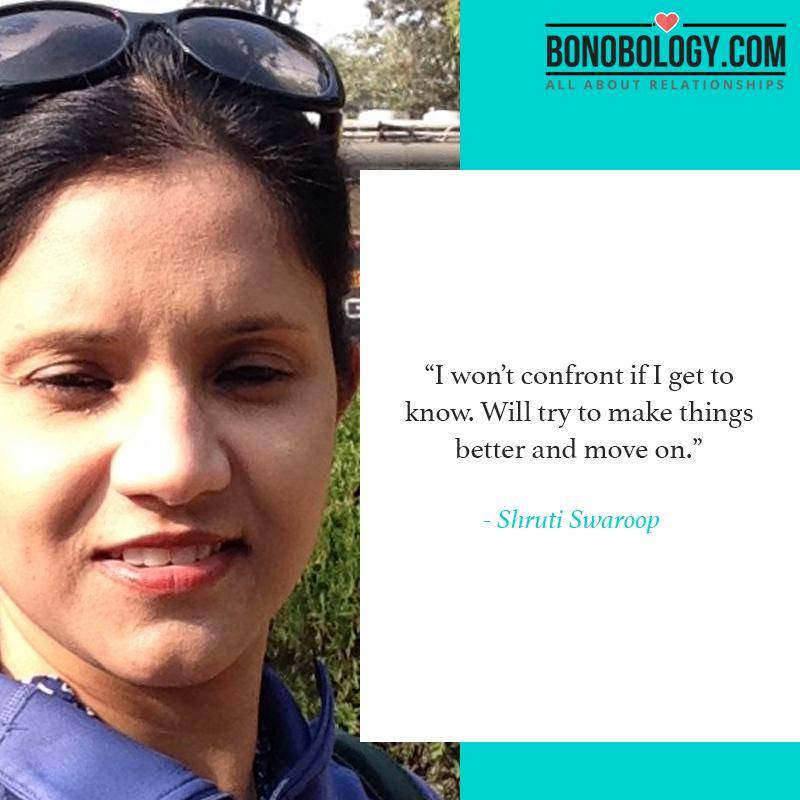 [/vc_column_text][vc_empty_space][/vc_column][vc_column width="1/2″][vc_empty_space][vc_column_text]I know women who get insecure of other married women too! Never understood this insecurity. If a man wants to go, he will go – you can't keep a man unless he wants to be kept![/vc_column_text][vc_empty_space][vc_text_separator title="Shruti Swaroop" color="black" style="shadow"][vc_empty_space][/vc_column][/vc_row][vc_row][vc_column width="1/2″][vc_empty_space][vc_column_text]
[/vc_column_text][vc_empty_space][/vc_column][vc_column width="1/2″][vc_empty_space][vc_column_text]Known as the black widow syndrome where a woman becomes unhappy and insecure in front of the others since they strive to get what they don't really have, as the housewives are only able to see the independence of the working ladies but not the struggle behind it. I guess at a peak point of the housewives they really don't get that independence, so that makes them envy the working ladies.[/vc_column_text][vc_empty_space][vc_text_separator title="Joyeeta Talukdar" color="black" style="shadow"][vc_empty_space][/vc_column][/vc_row][vc_row][vc_column width="1/2″][vc_empty_space][vc_column_text]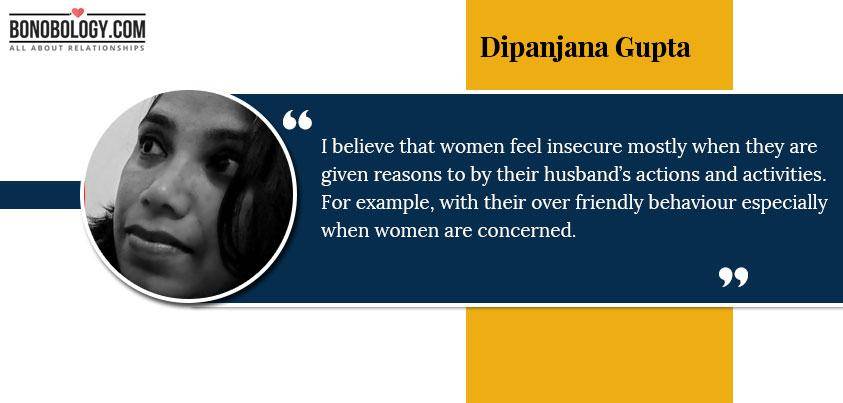 [/vc_column_text][vc_empty_space][/vc_column][vc_column width="1/2″][vc_empty_space][vc_column_text]I believe that women feel insecure mostly when they are given reasons to by their husband's actions and activities. For example, with their over-friendly behaviour, especially when women are concerned.[/vc_column_text][vc_empty_space][vc_text_separator title="Dipanjana Gupta" color="black" style="shadow"][vc_empty_space][/vc_column][/vc_row][vc_row][vc_column width="1/2″][vc_empty_space][vc_column_text]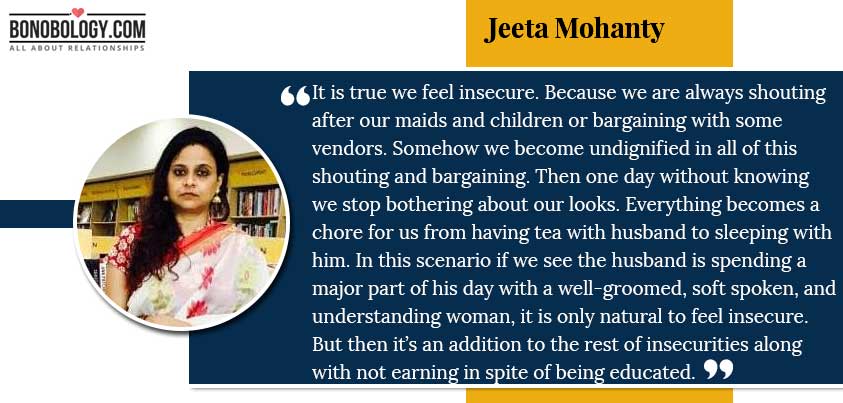 [/vc_column_text][vc_empty_space][/vc_column][vc_column width="1/2″][vc_empty_space][vc_column_text]It is true we feel insecure. Because we are always shouting after our maids and children or bargaining with some vendors. Somehow we become undignified in all of this shouting and bargaining. Then one day without knowing we stop bothering about our looks. Everything becomes a chore for us from having tea with husband to sleeping with him. In this scenario if we see the husband is spending a major part of his day with a well-groomed, soft spoken, and understanding woman, it is only natural to feel insecure. But then it's in addition to the rest of insecurities along with not earning in spite of being educated.[/vc_column_text][vc_empty_space][vc_text_separator title="Jeeta Mohanty" color="black" style="shadow"][vc_empty_space][/vc_column][/vc_row][vc_row][vc_column width="1/2″][vc_empty_space][vc_column_text]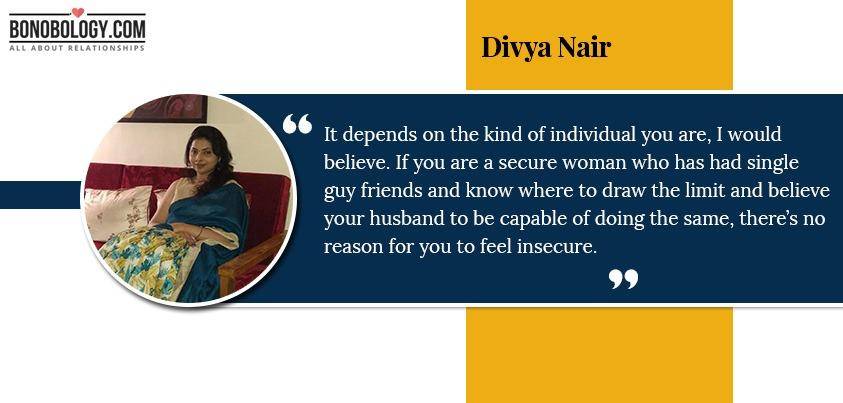 [/vc_column_text][vc_empty_space][/vc_column][vc_column width="1/2″][vc_empty_space][vc_column_text]It depends on the kind of individual you are, I would believe. If you are a secure woman who has had single guy friends and know where to draw the limit and believe your husband to be capable of doing the same, there's no reason for you to feel insecure.[/vc_column_text][vc_empty_space][vc_text_separator title="Divya Nair" color="black" style="shadow"][vc_empty_space][/vc_column][/vc_row][vc_row][vc_column width="1/2″][vc_empty_space][vc_column_text]
[/vc_column_text][vc_empty_space][/vc_column][vc_column width="1/2″][vc_empty_space][vc_column_text]Insecurity should not be there unless the husband/partner has given her a reason! However, I definitely have seen such cases of women feeling insecure… Nobody is perfect – no woman and no man either; yet, it's the female gender that seems to succumb to insecurity more often! Once again, it seems to root from the dependency factor and thus the females have more to lose. Patriarchy, as it has 'evolved' over the years, stinks. It is the cause of all gender related ills! We can all see the insecurities of women; what we fail to see is that the patriarchy has also evolved out of male insecurities, them uniting to keep the power out of female hands![/vc_column_text][vc_empty_space][vc_text_separator title="Upasana Tibrewal" color="black" style="shadow"][vc_empty_space][/vc_column][/vc_row][vc_row][vc_column width="1/2″][vc_empty_space][vc_column_text]
[/vc_column_text][vc_empty_space][/vc_column][vc_column width="1/2″][vc_empty_space][vc_column_text]I wouldn't say insecure, but Indian married women, especially new moms, start comparing themselves to the other set of women who probably have more time to groom themselves and due to this they get overwhelmed and judgmental.[/vc_column_text][vc_empty_space][vc_text_separator title="Jayashree Krishnankutty" color="black" style="shadow"][vc_empty_space][/vc_column][/vc_row][vc_row][vc_column width="1/2″][vc_empty_space][vc_column_text]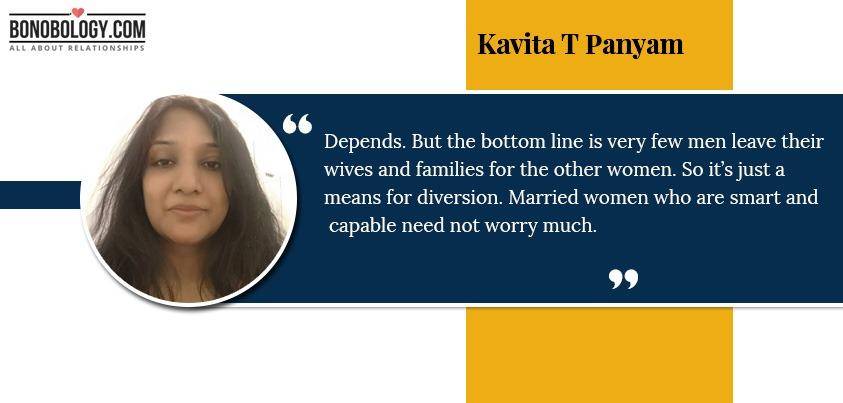 [/vc_column_text][vc_empty_space][/vc_column][vc_column width="1/2″][vc_empty_space][vc_column_text]A combination of lack of self-worth that is created by the world telling you every day that your social worth comes from your husband. Seeing the husband as the centre of the world you have created. And the idea that all single people are only looking to get hooked up.[/vc_column_text][vc_empty_space][vc_text_separator title="Arundhati Ghosh" color="black" style="shadow"][vc_empty_space][/vc_column][/vc_row][vc_row][vc_column width="1/2″][vc_empty_space][vc_column_text]
[/vc_column_text][vc_empty_space][/vc_column][vc_column width="1/2″][vc_empty_space][vc_column_text]Depends. But the bottom line is very few men leave their wives and families for the other women. So it's just a means for diversion. Married women who are smart and capable need not worry much.[/vc_column_text][vc_empty_space][vc_text_separator title="Kavita T Panyam" color="black" style="shadow"][vc_empty_space][/vc_column][/vc_row][vc_row][vc_column][vc_column_text]