I was throwing a party for around ten couples. A very dear friend, Jimmy, who was 60-plus, and really debonair and dashing, was visiting town. His answer to the question, "Does age really matter?", was always a big fat NO! (of course, age doesn't matter in love.) We wanted to invite him home. He used to live in our city until he left for Mumbai many years ago.
The evening did not take off. The guests were not really mingling with each other and I knew I was to be blamed. The people I had invited did not know each other too well, but still, I thought they would try to talk to each other. Some evenings are fun evenings and some evenings are drags; like this one was.
The guests were waiting to leave politely as soon as possible and I was hoping this dreary party would come to an end soon so I could heave a sigh of relief.
The men hung around the bar making conversation about stocks and shares and how to make more money. The women talked to each other, but they were not really well-acquainted enough for hard-core gossip; they could only talk superficially about some sale in town or of the strange twists and turns in some television soaps. Most of them did not even try.
Does Age Really Matter? Meet Suman!
I walked over to my friend Suman a little later. Suman was on the wrong side of 60, but she was so coquettish and flirty that she could put a teenager to shame. She had been single for a very long time…practically all her adult life. She had had a disastrous marriage that lasted only two years, but she never let that make her bitter.
As a close friend, I knew about the kind of traumatic mental abuse she had gone through. But she always said she did not want to talk about it and give it more energy. Toxic and abusive relationships were best left in the past.
Related Reading: Dating In The 50s – 15 Tips To Do It Right
She was dressed in a tight salwar kameez. The kameez's neck was cut seductively low and her dupatta hung around her neck more as a fashion statement than for its actual purpose.
"Your cleavage is showing and a great deal, I could post a letter in a cut that deep," I whispered in her.
"I know," she said airily, "I don't care." A few moments later, she added with a sly smile, "Maybe it's by design." I chuckled and shook my head with fond exasperation.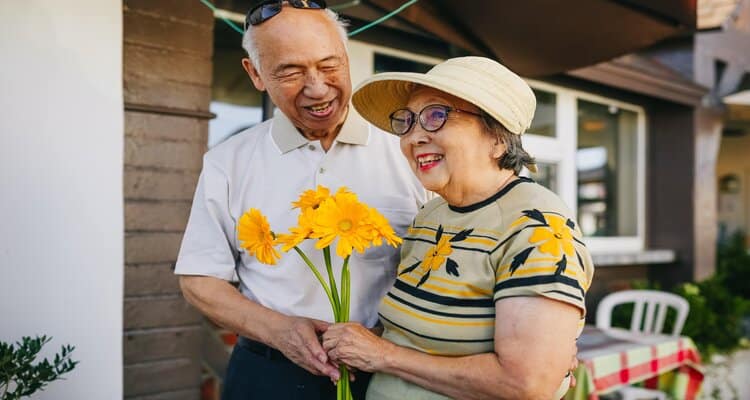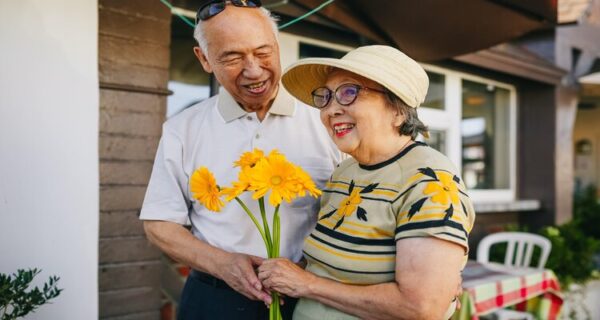 Suman had stopped dyeing her hair a long time ago. Her white short thick hair shone and her diamond bracelet gleamed on her thin wrist. The tiny diamond nose ring she wore seemed to wink every time the light fell on her face. She had kajal in her eyes but otherwise, her face was bare. She carried her age with panache. Each time I looked at her, I'd wonder: does age really matter in love?
Something you must know about Suman, is that she's the life of the party. She makes interesting conversation, flirts and drinks a great deal, and laughs boisterously at jokes. But that evening she seemed tired and not ready to mingle. She sat sulkily in one corner. "God," I thought, "I have cooked so much. And the dinner seems to be such a flop. Suman was my last hope."
Age doesn't matter in a relationship – Jimmy and Suman sing!
When the last of the starters were making the rounds, Jimmy walked in. He looked handsome with his salt and pepper hair – more salt, less pepper. He wore slim, well-fitted jeans and a white shirt. We were so glad to see him and crowded around him asking how he was. Suman also knew him.
Somehow, the conversation veered towards old Hindi songs and the magic in them which is missing in the contemporary songs. We all badgered Jimmy to sing. He has a fabulous voice. He started with Ye nayan dare dare, ye jaam bhare bhare, an old-time favorite Hemant Kumar song.
And then Suman slid towards him and said, "Let's sing a duet." At least Jimmy sang in tune. Suman sang loudly, hardly following the tune, but made up for it with a lot of gesticulation and actually getting up and dancing. She bent low, showing a lot of skin very unselfconsciously. Her dupatta slid off, which Jimmy gallantly picked up and put back on her shoulder.
Then they sat down next to each other laughing and talking. I mean, how does age really matter in love when two people are so obviously compatible.
My friend turned to me and said in a low voice, "Look at those two! It's like their age doesn't matter in a relationship!" All I could do was nod.
Related Reading: 8 Relationship Problems Faced By Couples With Huge Age Difference
Things go up a notch: Does age matter in love?
Jimmy had to get up and go out to talk on his mobile. But he told Suman, "See that no one sits here, because I want to sit next to you when I come back." Suman giggled, coyly fluttered her eyelashes, and said, "Of course, Jims, no one can take your place." I just stared at him open-mouthed. But they both were in merry spirits and seemed not to have a care in the world.
Jimmy came back and sat next to Suman. They sipped their drink from the same glass. Their mutual attraction was palpable. Never again would I pose the question, "Does age matter in love?" or more pointedly: does age REALLY matter anywhere?
The evening had taken off. The younger lot joined in, trying to play antakshari. There was a lot of clapping and foot tapping. I could sense everyone's spirits rising. They were having a good time, finally.
Jimmy sang the last song before dinner was laid. He looked deeply into Suman's eyes and sang Ae Meri Zohra Jabeen. Everyone stood up and clapped and joined in the chorus. The joy Suman and Jimmy spread was infectious. There was a lot of laughter and noise in the room.
A soulful connection – Age doesn't matter in love…
Who says people get old? Age is just a number. That evening proved it. Suman was more alive than all those young women in designer clothes.
I knew there would be endless gossip about her and the way she flirted with Jimmy, but how does age matter in a relationship? What they did not know about was her tough life. She had brought up her daughter alone – a wonderful single mom, given her a good education, and gotten her married. She had worked really hard all her life, coping with obnoxious bosses, and now that she was retired she wanted to live every moment.
The evening ended and the guests were leaving. We had to go and drop Jimmy at the airport. Suman came and hugged Jimmy. "Thanks so much, I really enjoyed myself. I don't know when I will see you again. Be happy and good luck," she said as her eyes misted over.
"It was lovely meeting you again," said Jimmy. He tightened his arms around her and his voice broke. And then he smiled and said, "I think this is a Fevicol hug. I can't seem to detach myself." He promised to be back very soon.
For the 100th time, I wondered if there was more to their relationship than met the eye. And I prayed fervently that I was right. Suman deserved it, so what if she was going to turn 70 in a couple of years! Age doesn't matter in a relationship. Age doesn't matter in love.
FAQs
1. Does age difference matter in love?

Love is love across all ages. Age differences might impact the practical considerations of a relationship, but they can be easily overcome. People find love at all ages and stages of their life. It's time we de-stigmatize age-different relationships!
2. Is age a problem in love?

No, it's not a 'problem' per se. A few issues like different perspectives, having kids (or not), emotional wavelengths, etc. might crop up in an age-different relationship. But these may arise in any other relationship too. Age doesn't matter in love and compatibility!
How Often Do 50-Year-Old Married Couples Make Love?
12 Facts Of Older Woman Younger Man Relationships
Older Man Younger Woman: 9 Reasons Why Dating With Age Gap Works