I have been absorbing loads of information about luxury wedding trends and the so-called 'big fat Indian wedding' since I was 16. Vogue and Elle fed me enough stereotypes that shaped my outlook towards my very own 'fairy-tale' wedding.
Cocktails at a luxury villa, wedding on a beach, and a majestic palace reception always coloured my ideas when I thought how my wedding would really turn out to be. But the truth is, this fairy-tale bubble burst the day I met the love of my life…

What does a fairy-tale wedding mean to you?
For me, it meant happiness—the happiness of tying the knot with my parents right next to me bestowing abundant blessings on us, the happiness of a promise that will keep me close to him for the rest of our lives, the happiness of starting my own family and embellishing it in my own little ways.
When the time arrived, I didn't care about the venue or the colour of my bridal sari; I didn't care about the jewellery or the fancy trousseau. All I wanted was a wedding wherein I would laugh a lot, dance like there's no tomorrow, hug my new set of parents and look the prettiest of course. And this meant 'fairy-tale' to me. Guess what, that's exactly how my wedding was.
Related reading: I know we are friends but…
I wore a traditional Banarasi sari, handpicked by my Ma; it was pink and gold, and I loved it. I wore minimal jewellery and makeup was subtle too. But I looked beautiful. My friends from all corners of India made it to Durgapur (my hometown); laughter was plentiful and so was the excitement. My handsome groom came along with the smallestbaraat ever, all the way from Dehradun.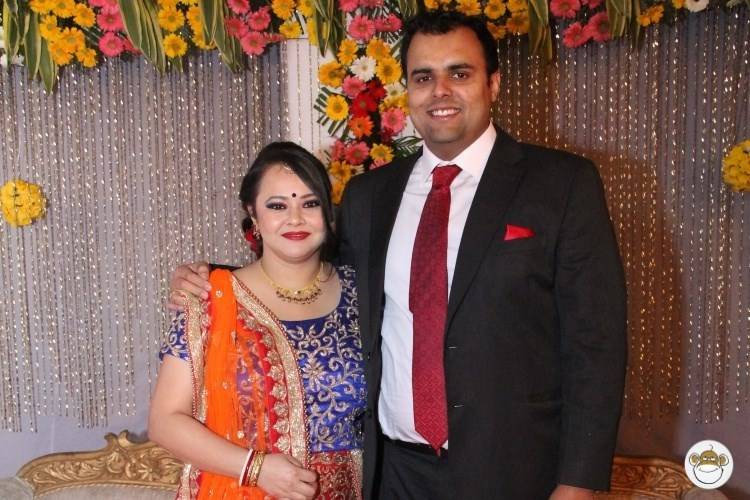 It is a Bengali custom that the bride and groom cannot see each other before the time is ripe (the right muhurat). I was always a rebel and my groom was never fond of rules either. He somehow managed to sneak into my chamber, and he whistled as loudly as he could… Of course, he drew attention. But that's okay; it was his way of telling me how pretty I looked. I was carried to the mandap by my brothers and friends on a wooden plank. I was expected to be coy and demure; but on our way to the mandap, I lost the plot and screamed, "Let's do this shit, guys," which was captured on camera by my darling Ma-in-law (we laughed about it later).
Related reading: How I realised my soul mate is none other than my best friend
As we officially saw each other on the mandap, we couldn't contain our joy. The sound of conch shells, the smell of incense sticks, the sight of red dye (alta) outlining my feet, the heavy garlands we were made to wear, and the sight of everyone who mattered standing right in front of us became little chapters of my fairy-tale wedding.
Ours was a three-hour-long wedding. We had two Panditjis (one Bengali, and the other Pahadi) literally on a jugalbandispree of mantras; I swear to God, I didn't pay attention to what they were saying even for a second. When we stood up for the pheras, not a single sacred mantra fell on my ears. I just nurtured one promise and I kept repeating that over and over again in my mind – "I will always love you." I guess he didn't pay attention either. Soon after, the Pahadi Panditji declared with much pride, my gotra had changed and now I officially belonged to the Pandey family. Those words sounded so unfamiliar; I felt my stomach sink as I saw my parents staring at the two of us with absolutely blank expressions. Oh, I wanted to get up and hug them both. I kept a wide smile on my face, but that smile was awkwardly accompanied by brimming eyes. I tried hard not to blink. But eventually, the tears rolled down my face. Somehow, my beloved husband realised what I was feeling. He asked the Pandit to pause his endless mantras, and he whispered to me, "Smile please. You have two sets of parents now, which means pampering just got doubled. By the way, Hello, Wifey!" His words comforted me so much; I burst into laughter because 'wifey' sounded so weird/funny from him. Even today, sometimes when I introduce him to someone, I automatically address him as my boyfriend; and then I quickly correct myself.
I guess I did have a fairy-tale wedding after all, because I married my best friend.
Hygiene mistakes you might be making before, during or after intimacy