Dear Ma'am,
I was married 2 years ago. It is an arranged marriage. My husband is an extremely loving and caring person.
I moved into his and his parents' house right after marriage. The issues started soon after. My father-in-law would come home drunk at times. This would anger my husband since FIL had promised him before our marriage multiple times that he would stop drinking. This would result in huge arguments between them. My husband wanted to move out at that time but I convinced him to ignore FIL's behaviour.
Although my mother-in-law would do most of the household chores, I would always help out (whenever I was home, since I have a job). Sometimes my husband would help me out as well, but my MIL was not very happy with that. She convinced him to stop helping me out.
No matter what I did, I was always wrong. If her son did not eat enough in her absence, the blame would be on me. (He is 30 years old, for god's sake, it is up to him to decide if he wants to eat less some day). If my husband and I have a small argument, she would get involved and start blaming me, screaming at me, make a mountain out of a molehill. Even if I would go into kitchen, I would be constantly told which utensils to use and which to not use, what to do, how to do, etc. I had no say whatsoever in doing things my way.
We stayed like that for 2 years. My husband and I were making great strides in our careers and were always looking for some encouragement from them. But all we got was negativity. They'd tell us how we could have done better.
Also, they are extremely money minded and always commented on our spending habits; asking us where we went, how much we spent, etc. This money thing affects our day to day lives too. Since MIL would do the shopping, we would eat whatever she would bring (whatever was the cheapest). Me and my husband would go out of town on weekends just so that we could some peace of mind from all the family drama.
I put in a lot of efforts for all festival, birthdays, etc. Almost every such occasion ends up being another argument/fight between my husband and parents over some silly reasons. I am tired of losing out on important days and moments in our marriage because of their arguments and controlling nature.
My husband was convinced that we should move out and I supported him too, but his parents convinced him otherwise.
On one such argument, I moved to my parents' place and now I do not wish to go back to that place. It's been 3 months and he is still not ready to move out. He says it is our responsibility to take care of them in their old age. (They are in their 50s and 60s and are fit and fine.) I have tried explaining that we will still stay close to them and take care of them, still he is not ready to move out.
He has now returned all of my belongings.
I have tried my best to convince him in every way, and he is not ready to budge. I don't understand why he has suddenly changed his mind and I don't know what to do.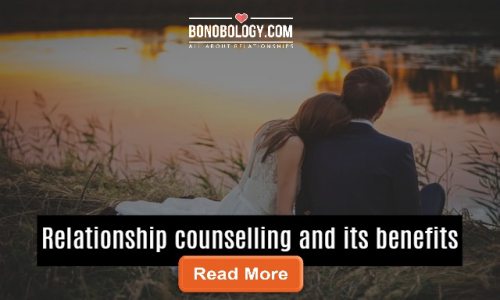 Dr. Snigdha Mishra says:
First things first. Your husband was always supportive of you. In fact, he used to
When I got the mother-in-law treatment from the maid, even before getting married