Antara Rakesh, the founder of the Facebook group, The Femininity Group, talks about what led her to start the group and its aims and the challenges of running it.
What is The Femininity Group? What inspired you to set it up?
Femininity means quality of being female, womanliness. There are a lot of stereotypes associated with women, like we are the weaker sex both physically and emotionally and our job is to cook, clean and take care of everything. I want to celebrate every trait and attribute related to being a woman.
The idea for the group started thanks to Bonobology. I was celebrated as the Star Blogger on Bonobology last April and I felt elated. It was a big deal for me, being acknowledged for something I had done. My joy knew no bounds. That is when I decided to celebrate women for everything they do, however small or big. If a small blog and Bonobology acknowledging it could give me so much joy, I wanted to do the same for other women.
This is a group where women of any age are appreciated, acknowledged, celebrated and recognised for whatever they are doing. We post videos that talk about positivity, and hold small contests to get women to appreciate themselves. There is a lot of negativity in the world today.
Women no longer want to stay at home. They want to prove that they are equal to men. So this is an effort to recognise the little things women do.
Related reading: Married Superwomen admin Malavikka Sridharan: 'Whenever you feel small, do something big!'
Can you share some anecdotes of interacting with the members?
Since The Femininity Group is all about celebrating women, I would feature a member's accomplishment for 24 hours as a celebrity in the group and give them the visibility they deserve. It is a small thing but it made them very happy. Some stories I want to share are:
There is this girl who had a very steady job but wanted to learn Zumba. She got the courage to quit her job and so, I celebrated her story for following her passion and chasing her dream.
A woman gave birth to triplets. I celebrated her to give her a platform to share her story with everyone, her thoughts during pregnancy and the entire journey. Today, her 3 children are doing fine. She told me that being celebrated changed the way she looked at herself and she's extremely happy.
One member was living in a small town and she felt her child was not exposed to a lot of extracurricular activities. So she took matters into her own hands and started a school to teach all the children in her town these extracurricular activities.
What kind of a person are you? Have you always been socially active? Tell us about yourself.
I've been very active all through my life. I was the main singer when in school. I won the Nightingale award in school and won lots of prizes for public speaking.
I'm an MBA graduate and have worked in Dubai for the world's largest privately owned insurance broking firm. I had a very successful career with two promotions in a year. Then, I met my now husband, fell in love, quit my job and moved to a small town near Delhi. The ultimate goal in life is happiness and I knew my happiness lay with him. But it was frustrating, as he got busy in life and I was at home. That was when I started blogging and how The Femininity Group was born. Today, lots of women reach out to me for advice, to share their stories and it makes me very happy.
You are so popular and have a big group of friends. Does your husband get jealous of all the attention you get?
My husband has always been very supportive and understanding. Even when we were going out, he was very supportive. He was worried that I quit my successful career, relocated here for him but he has become very busy these days as his work is hectic. So he is very happy and proud about how well Femininity is doing. He and his entire family support me and even give me ideas for group meetings. So he isn't jealous at all and instead is very proud of me.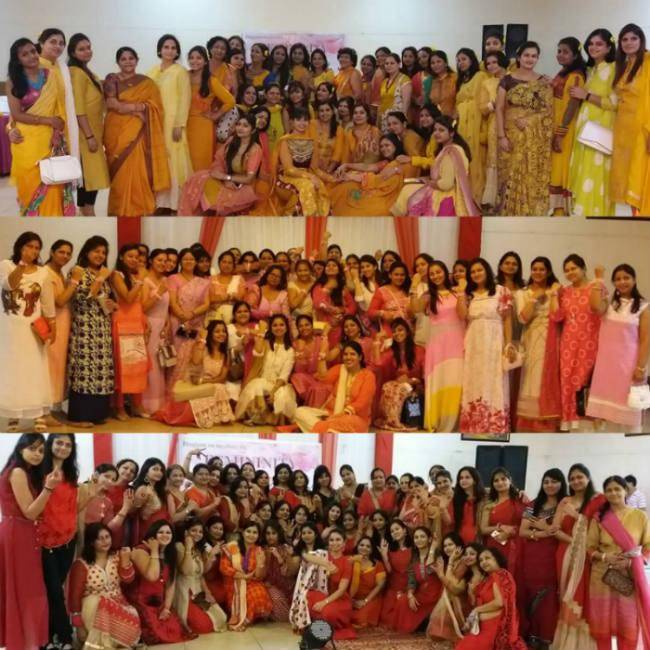 How is it to manage an online group?
I have never liked taking the easy road. I have always challenged myself, tried to outdo what I have previously achieved. Managing an online group was a challenge of its own.
The advantages are that since most people are strangers, there is no expectation from me. I'm doing it purely for the feel good factor, no expectations from the members too. I can think rationally and emotions do not cloud my judgement, as I do not personally know them. I can be fair and impartial and it makes it easy to help people. Also, since it is an online group, there is no location constraint. There are women from all over the world in Femininity who participate actively in the group activities.
The disadvantage is that since it is an online group, interacting with people is not as easy as meeting in person. You cannot be equally fair and give everyone your time. Some conversations take longer and you don't know them so it is tough to call back and talk.
Where do you see the group in the future?
The purpose of the group is to bring a change in the lives of the women around me and celebrate their womanhood. I have not envisioned a growth and have no targets. I'm focusing on the kind of journey I make through Femininity and not about how long or where it takes me. I want to meet more women, acknowledge them and celebrate them.
Rebuilding Life After Divorce: I Got Divorced at 32 and I Am Flying at 49