Dear Ma'am,
I had a love marriage. We now have a 5-month-old son. My husband is having an affair. I came to my parents' place 8 months back when I was pregnant. Everything was fine between me and husband till 2 months after my delivery. But now things have soured and he neither meets nor talks to us. How should I save my married life? My husband now neither wants to stay with me nor is he accepting our son as his child. Please help!
Prachi Vaish says:
Hi,
I can imagine what a difficult situation this must be for you, especially with a new baby to take care of. This happens sometimes when men get disenchanted with their married lives after the birth of the child and the wife gets busy in her new routine and doesn't feel emotionally or physically ready to play a wife's role. Another contributing factor is how close the husband and wife are before the pregnancy came along. There are two things you need to do now.
One, find some time alone with your husband and talk to him patiently (without getting emotionally worked up) about what are the areas where he feels your life is lacking. He may also be under the thrilling influence of the new affair right now and feeling like that's the best thing. But if you keep your cool, you can manage to have a productive conversation. Ask him how he'd like things to be different and work out a collaborative plan to make them happen.
Two, try and remind yourself that you two have two roles now… As a couple and as parents. And both need to be balanced equally. Look within yourself and try to see if you have been missing out on doing things with him as a couple (not just sex) and being his partner. He may have actually ended up feeling lonely and missed having a partner. Try and get some help with your baby and spend quality time together. Believe me, it will be amazing for your own wellbeing too, to step out of the new mom role for a while.
If neither of this works, then maybe you can try talking to him about seeing a couples therapist who help both of you reconnect with each other.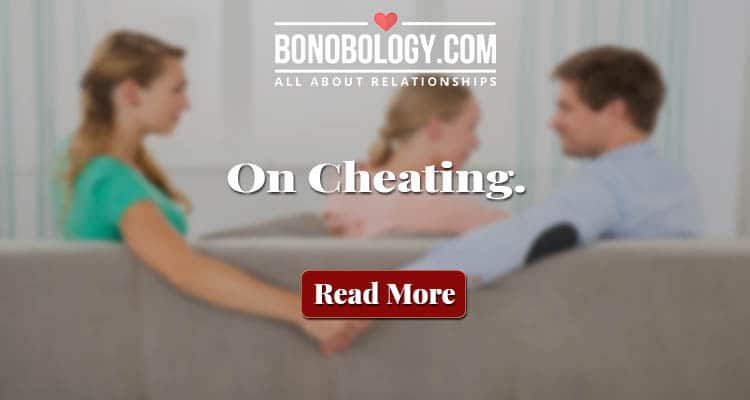 I wish you all the best!
Prachi
It has been a year since I caught my partner cheating and this is where we are now
Want to divorce my husband who borrowed money from people and left me and baby alone to face them
I cheated on my wife just after her delivery but I don't feel guilty