(As told to Riti Kaunteya)
Twenty years ago
The day seemed bleak. The joy and excitement of attending the day's classes died down in my heart, even as I listened to the idle chatter of my friend. I wondered why he was absent after a three-day weekend? Will he be back tomorrow? Or, perhaps he will come later today. Sometimes he skips English lectures. It is not his forte. What is his forte? I wondered; however, the rational part of my brain was not participating in the debate. There must be some truth in the adage love is blind.
I thought dreamily about his blue-grey eyes as I worked on an instrument in the Physics lab. As I looked up, a pair of blue-grey eyes appeared in the field of my vision. I blinked and stood up. No, I was not hallucinating. He stood close by, begging to be in my team, asking for my notes, as he was late to class. Silently, I pushed my record book towards him and savoured the view as a lock of hair fell over his forehead when he bent down to copy my work, clenching my hand to resist the urge to push that lock back.
I felt elated. Among the several pretty girls, he had chosen me.
Dreaming dreams
My rational brain thought it was time to intervene. Relax. He is just copying your work. He has not proposed to you. Besides, why does he need to copy your work? It is not honest. He is fooling himself.
I pushed the rational thoughts to the deep recesses of my subconscious and focused on the view before me. 'I know you will top the class,' he prophesied, bringing his lips close to my ears, just so much that no one in the laboratory would notice the closeness. His warm breath brushed lightly against the stray hair near my temples and my teenage heart thudded. Be still. I admonished the heart, afraid my body would give away my innermost feelings.
That night, as I doodled my first name and his last name and played FLAMES with our names, I vowed I would top the class. I had to prove him right.
Five years ago
I never confessed my feelings to him. However, after all these years, I still thought about the way I felt about him. I wondered where he was and what he worked as. He hadn't done too well in the finals. It had worried me but the brain had yet again refrained from participating in the discussion. I loved him. That was the only thing that mattered.
Sometimes I searched for him online but never found him on social media. Don't mistake me. I love my husband and I couldn't have chosen a better man to marry. He is my best friend, a devoted husband, a loving father and a genuine and good human being. Sometimes I think he's too good to be true. I lucked out, to be honest.
Is social media making you insecure in your relationship?
Take our survey to explore your social media relationships.
However, one small part of me cannot forget my crush. Ah, that rush of love was heady. Yes, at that time, I believed it was genuine love. I never stopped wondering what if. Several times, he had mentioned in passing that I was his favourite friend. In those moments, I would wait anxiously, hoping he would profess his love for me. I still wondered.
And now
I hit pay dirt. He had joined social media. I examined his profile picture. Was it really him? The picture did not do justice to his blue-grey eyes. In fact, I could not discern the colour at all. He had put on weight and his boyish charm had vanished. I certainly didn't like his grown-up look. I thought of my husband, who worked hard to stay fit and felt a wave of genuine pride.
What about his qualifications? Random college, random degree and random organisation. Yet again, I thought of my brilliant husband who topped his class in a premier college and was part of the management in his company. He never took his work lightly. He was committed to whatever he did, be it his career or a trivial promise to take me shopping. My husband had worked his way to the top and into my heart; into many hearts in fact.
Related reading: Her daughter could have been ours…why I couldn't say I love you when the time was right!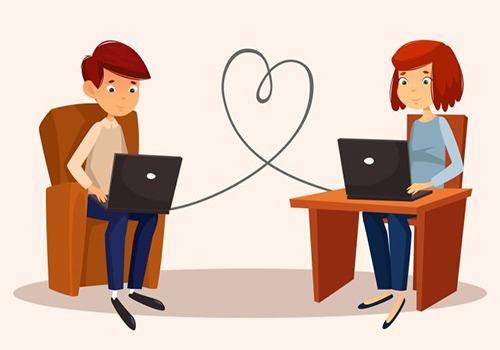 I sensed my rational brain come to the forefront to remind me of my wisdom in marrying my husband. The blind portions of the brain and the heart saw reason as well. That boy was your crush. He wasn't even worthy of you or your love. Look at his education and career. Would you have been happy with him, a non-achiever and a shirker?
The rose-coloured glasses shattered. Finally, I had fallen out of crush – the crush that I had harboured for 20 years. It had taken only a minute or less to get over him. And I didn't even mind it.
She stalked her ex on social media and when asked why she said…