As told to Sujata Rajpal
Having been married for 45 years, Shyam Rao (75) and Chandra Rao (68) tell us how they converted their empty nest into a love nest.
Shyam Rao: After our three children got married and settled overseas, we found ourselves with too much time and too little to do but it was also the time when we started discovering each other.
Call it compulsion or desire but we have started enjoying each other's company.
Chandra Rao: We are together all the time but when I see too much of him, I tell him. "Why don't you go meet your friend Mr Nithyasagar?" He nods. He gets the message, I need my ME time.
Helping hands
Shyam Rao: I'd never done chores before. There was no need when our children were around. One of them would either volunteer or be forced to do it if the maid didn't show up. I never bothered who did it, I just wanted a clean house, which I got. A few years ago, once the maid was off for almost a week. After three days when my wife couldn't manage it alone, she asked me to pitch in. I had to, though reluctantly. For the rest of the week, every day I washed the vessels whereas Chandra swept and mopped the house and cooked. After four days, I was like a dead man. For the first time I wondered how she had been managing the house for so many years. Cleaning, washing, cooking, running errands, managing kids, their tantrums included, she managed it all so perfectly.
He: Now I help her whenever it's needed.
She: I need him more in old age than when we were young.
Chandra Rao: A couple of years ago when I was suffering from severe back pain and was almost bedridden for a few months, he looked after me very well. He took care of everything – the cooking, supervising the servants, loading the washing machine, running errands, taking me to the physiotherapist, helping me sit up, making me take small walks in the house, bringing my food to the bed but the most important was keeping me positive and cheerful. When I was up, I told him, "You took care of me very nicely, I wish I get you as my husband in seven lives." He chuckled, "I hope this is the seventh." I can never have enough of his sense of humour.
Related reading: My relationship with my husband got better after my kids left….
We're making memories
Chandra Rao: Even though we do so many things together we are very different from each other. I like to watch movies in the theatre whereas for him it is a punishment to sit still. Once when I insisted, we went to watch Airlift in the theatre. He sat through the movie, bought us Coke and popcorns. It was like a movie date. When I look at youngsters around us busy on their mobiles chatting with everybody else except the person sitting by their side, I feel we oldies are fortunate that we belong to an era where there were no smart phones, no laptops.
Since we are not used to gadgets, we have no choice but to talk to each other to sort out our issues.
A couple of years ago, we had a major fight, we didn't talk to each other for two days but then he planned a dinner date to sort it out. When we are outside, we are obviously restricted from shouting at each other, we keep the volume low and maintain decorum.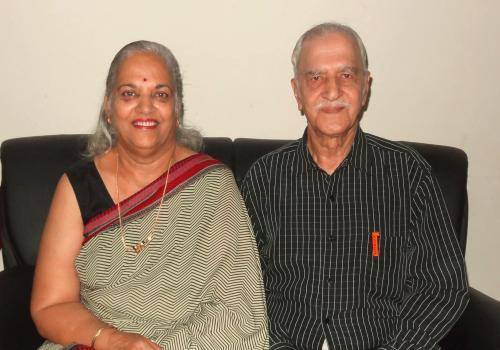 Shyam Rao: One day we weren't in a mood to eat regular food. IPL was being telecast on that day, so going out was out of the question. Just before the match began, I quickly fetched a pizza base from the bakery close by. During the break, Chandra chopped the vegetables – capsicum, tomato and onions in perfect rounds while I spread the grated cheese on the base, then tomato ketchup and vegetables with more cheese. In 20 minutes, nice homemade pizza was ready. The oregano left from the last pizza delivery came in handy. We savoured the pizzas with chilled nimbu paani, our glasses brimming with crushed ice. We had never made pizzas at home before but it tasted better than any Pizza Hut pizza. The flip side is that now she knows that I don't mind dabbling in cooking once in a while, she wants me to cook more often.
The thing I don't understand
Shyam Rao: I have always been a bad listener. When I was working, there were always so many important things on my mind with hardly any time left for casual chitchat. Once we were watching TV, she was talking, as usual I was half listening. She asked, "Did you hear what I said?"
I nodded uncertainly, my eyes on the screen.
"Then tell me. What did I say just now?" she said, taking away the remote.
When I shook my head, she told me about the Tulsi plant in our balcony. This was the third time she had planted the sapling and it had survived, whereas the earlier two had withered. Till then I didn't know that there was a Tulsi plant at home. I went over to the balcony. There was not only a Tulsi plant but also five or six other plants in the pots swaying in the breeze. Now after waking up, the first thing I do is go over to the balcony to see if the plants are thriving.
Chandra Rao: I can't understand his weird habit of distributing small gifts to random people. When I pointed it out a few times, he stopped but I observed that every time there was an opportunity his hands would be itching to hand over a small gift – to the neighbour's child who had come to collect his ball from our balcony, a friend or a relative. I let go. Now I don't bother about it. Come to think of it, gifting is a harmless hobby, it can only spread goodwill so why not if it makes him happy. For you a thousand times over!
Related reading: When your spouse drives you nuts
Shyam Rao: Everything is not hunky dory in our relationship. There are so many things we don't like in each other. Earlier she had a very irritating habit of asking me too many questions, many of them obvious. It was like a police interrogation. Why are you late? Whom were you meeting? Why did it take so long? Why didn't you call me? Her questions were unending. Once after such an interrogation, I was grumpy. When my grumpiness didn't go away for the whole day, she asked me what was bothering me. I decided to take the bull by the horn but with a different strategy. I sat her down, told her how I detested her habit of asking me too many questions, making me feel like a culprit.
"Okay, I will try not to ask," she replied.
The point was brought home. She couldn't totally do away with the old habit but her interrogations have reduced substantially. I wondered why we didn't talk about it earlier.
Of relationship goals, supermoons and a husband who laughs at you