The biggest day of your life is here. But before you take the saat pheras, you need to gear up to look your absolute best. This is the first day of the rest of your life when I becomes we. The prep for the wedding day begins a long time before the actual date.
1. The early bird:
Your skin is the most sensitive organ in your body and for the brides-to-be, that is the part that needs the most care. Do not procrastinate over skincare. It is of utmost importance that you start working on improving your skin at least a month prior. Avoid layering chemicals on that delicate exterior and try more natural alternatives. Learn and know your skin type thoroughly. Do not experiment with new beauty products at the last minute and stay true to the ones that suit your skin type.
Related reading: 7 things a girl should do with her bestie before getting married
2. Hydration and diet:
Hydration is the underlying secret to the healthiest skin. Water not only cools off extra heat and brings out that healthy glow in your skin, but it also helps reduce toxins in your body that would otherwise reflect as patches and spots on your face. Diet is an obvious thing that undergoes serious cross-examination as the big day approaches and what you choose to eat is what reflects on your skin. Try focusing on more vitamins and minimise your oil intake. Switch to more water rich foods like fruits and fresh vegetables. A healthy metabolism will bring out your glow.
3. Exfoliation:
Given the busy schedule in modern times, your skin rarely gets the complete care it truly needs. Exfoliation is integral to shed the dry and dead skin layers that dampen your glow and make you look much older. It also helps with reducing lines and wrinkles on your face, improves skin texture and strengthens facial muscles to bring out the radiance.
4. Moisturiser:
The key to a soft and plush skin is regular moisturising; not just the face, but your entire body. Applying suitable moisturiser twice or thrice a day not only keeps the moisture level of your skin intact, but when teamed up with appropriate lotions, it also prevents sunspots and skin darkening. Certain areas like the edge of your eyes, upper lips, elbows, knuckles, knees, etc. require special attention, as they tend to dry up fast and have the tendency to darken for some people. Use homemade alternatives such as lemon, milk and honey for tan and spot removal. Remember to always moisturise your skin before hitting the sack.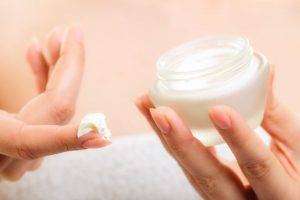 5. Beauty sleep:
Stress is inevitable, but if you want any of your dermatological treatments to work, sufficient sleep is a must. Your circadian rhythm needs to be set and maintained. Losing out on sleep or getting irregular or insufficient sleep can reflect as poor skin health, sagging of skin, dryness and dullness and dark circles. Regulated and undisturbed sleep not only helps improves your blood circulation, but also enhances metabolism, helps break down toxins and improves overall health.
Related reading: All married couples pass through these 5 stages. Which stage of marriage are you in?
6. Go organic:
Avoid using an array of chemicals on your face. Hunt for more organic homemade or natural options for lotions, face packs, facemasks and other beauty products. Revert to the old school techniques of using curd, cucumber, turmeric, lemon, milk, olive oil, gram flour and honey on your skin. Organic products not only have better and long-lasting effects, but they also do not adversely affect different skin types. They brighten your skin, make it healthier and bring out the natural glow.
7. The extra bit:
Of all the things that can be implemented to get the perfect flawless skin for your big day, you can also go that extra mile and opt for healthy vitamin supplements such as vitamin C, multi-vitamin tablets and Omega-3. These will not only help boost immunity and metabolism, but also work wonders for your heart, eyes and skin.
Image 7
Ten sensuous scenes from the Fifty Shades Saga that will awaken your inner sex god