When I heard about the demise of actor Girish Karnad yesterday (June 10, 2019) my mind raced back to a film where he played the protagonist with unforgettable precision. The film is Swami (1977). Those of us who were in our teens in the late 70s might remember its beautiful music and authentic middle-class backdrop, but what remains etched in my mind is Karnad's performance as the simple, mature, understanding and progressive husband in the film.
His lithe frame, a moustache sitting on his handsome face and his expressive eyes doing all the talking, Girish Karnad was brilliant in the film. He probably didn't know that he ended up giving husband goals to an entire generation of Indian women.
What I loved about Girish Karnad in the film Swami
Girish Karnad played a mild-mannered husband who respected his wife's choice.
He wanted her to decide and realise things for herself without imposing anything on her.
He had the guts to stand up against a social malaise like dowry.
He believed that tiffs didn't solve everything and tolerance is important.
The basic storyline…
The heroine of the film is Mini, played by Shabana Azmi. She plays a young, feisty girl brought up by her uncle (Utpal Dutta) and widowed mother. Her uncle encourages her to have a mind of her own. She is in love with her neighbour, Narendra and shares a very romantic kiss with him in the rain a la Bollywood style, but her uncle and mother do not take their relationship too seriously.
Her uncle arranges Mini's marriage to a widower, Ghanshyam, played by Girish Karnad. He is considered a good choice because he is the eldest son and sole owner of a profitable business. Before Mini can protest her uncle is in his deathbed. Before breathing his last he makes her promise that she would honour his wish. Her uncle tells her that Narendra will never make her happy but Ghanshyam will understand her and respect her.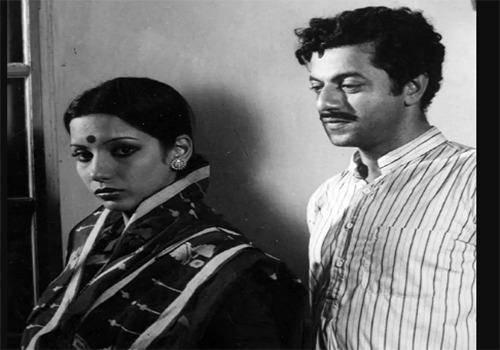 Shabana Azmi and Girish Karnad in Swami
A furious and rebellious Mini does marry Ghanshyam but on the wedding night she makes it clear to him that she has not accepted him as her husband.
She refuses to share the bed with him. Girish Karnad peacefully accepts her decision and says that she has total control over what she desires. I just couldn't help but admire this on-screen character at that point.
Girish Karnad was so fantastic in his portrayal of the accepting husband that I remember him vividly after 42 years of the film's release.
Girish Karnad plays such a genuine man
Mini starts noticing the discrimination in her new home. Though her husband is the breadwinner of the family, it's the younger brother who gets pampered and loved by her mother-in-law. She notices that the mother-in-law never bothers to check if Ghanshyam has eaten or not. Girish Karnad made us believe that such a good man can exist in India. Despite this discrimination he is always respectful to his mother and loving towards his siblings.
Girish Karnad takes a stand
Mini realises how wise her husband is when he refuses to pay dowry for his sister's marriage, even though the family is having difficulty getting her married. He makes all of us understand that there's no future for the sister in a relationship that is so transactional.
Mini surprises herself by backing her own husband, who she is usually angry with. Girish Karnad in the role of Ghanshyam makes her question her own prejudices and behaviour. She starts thinking if she has wronged him for no fault of his.
Mini gets into a tussle
When Mini confronts her mother-in-law he tries to calm her down. I loved the way Girish Karnad tells Shabana Azmi that she is a well educated girl and she does not need to go down to her mother-in-law's level of pettiness. He explains this with so much patience and love that I am sure all the girls in the audience must have wished that they could find a husband like him someday.
The return of the old love
In the final scene, Mini's earlier friend, Narendra, who is the son of a zamindar, drops in to check on her. This provides fodder for the family to make all sorts of allegations. Fed up with the day-to-day disturbances by her mother-in-law and her supposed inability to develop an attachment with her husband, Mini walks out with Narendra.
Director Basu Chatterjee, whose understanding of human relationships I totally admire, has shown Mini walking off in a huff in this particular scene. As she nears the railway station her resolve starts weakening. She is waiting for the train but again she is questioning herself on her hasty actions.
Girish Karnad's patience pays off
In the end, Girish Karnad's dignified demeanor and wisdom wins. She realises that her uncle knew her better than she knew herself and it is her husband who will truly love and value her all her life.
A shining star
After the film Swami, if I love any other Girish Karnad work that has to be the TV series Malgudi Days based on RK Narayan's work. I am aware that he wrote brilliantly in Kannada and received the Sahitya Academy Award, Jnanpith Award, Padma Sri and Padma Bhushan and I have watched him later in films like Dor, Iqbal and the recent Ek Tha Tiger, but I can never forget the mild-mannered Ghanashyam in Swami. He would always be the ideal husband of Indian cinema.
֎
If Ranveer is carrying Deepika's shoes, does it mean they have a great relationship?
Ten things that a partner does that says I love you more than the words themselves