(As told to Abhishek Srivastava)
I come from a small town in Uttar Pradesh. Rajiv and I were BCom classmates, and we both appeared together for a job interview organised by a consultancy in our hometown. We were both selected for a call centre based in the NCR.
I joined the company, so did Rajiv. Rents are high in metro cities, and starter salaries aren't. Rajiv and I were upset that we were unable to save anything and that all our earnings were spent on rent, commuting, and managing our daily expenses. As we were new in the city and did not know anybody else, we began to spend a lot of time with each other. One day, we were chatting when Rajiv said something that shocked me.
Related reading: When I saw my live-in boyfriend having sex with someone else in our bed
Let's move in together, he said
He said "We know each other very well, we're good friends, we have no other acquaintances in the town, so why don't we move in together? We will be available to help each other in times of need and will be able to save some money to invest in professional courses to better our careers and lives."
I took offence at his assumption that I would move in with a man; he apologised, saying that it was not his intention to hurt me, but that it would be dishonest not to say what he had in his heart.
We did not meet for several days after that incident and I decided I would not call him, no matter how bad things got.
We bumped into each other in the cafeteria one day and he said he felt awful after that day and found it difficult to sleep at night. I forgave him.
Over time, we became good friends again. Gradually, we got closer, and finally, we decided to move in together.
Related reading: Love, live-in and lying to parents
The closeness changed to intimacy
For several days, we maintained a distance. Because both of us were young and alone in the room, it was really difficult for us to avoid being intimate for long. One day that distance disappeared and from flatmates we became live-in lovers.
I was very upset at changing the status from merely emotional to physical too. He said he would inform his mother that he lived with a woman whom he loved, and he did. Surprisingly, his mother did not disapprove of our relationship. However, I couldn't muster up the courage to do the same, because I knew my parents would kill me. Rajiv said he would get his parents to talk to mine, once we were both better settled in our careers.
Two years passed, and we both got better jobs and better salaries. We were living a peaceful life when suddenly his mother bombarded us with her decision on our relationship. She said she disapproved of me because a girl who could live with a man without marriage could never be a good wife.
Related reading: They love each other but are not sure of marriage
Thanks for the sex
Rajiv was a momma's boy who could not stand up to his mother. I asked him why he'd got involved with me in the first place, if he didn't have the courage to go against his mother's wishes.
He replied that living together had benefitted both of us. Both of us had made some savings and were investing in our careers. As far as the physical intimacy was concerned, he said, both of us were consenting adults, and he had not forced me to get intimate with him. So there was no reason for him to feel guilty about it. I was shocked.
Then suddenly his mother arrived one day and asked me to vacate the flat because I was not a good woman. The horror of it is that he allowed her to throw me out.
I left immediately.
It was heart-breaking, but I decided to forget him and the time spent with him, writing it off as a learning experience.
Related reading: 8 ways to know if you are in love
I married someone else
My parents had been pressurising me, so I said yes and got married to a very nice guy.
Sometimes I feel like I should tell him the truth because I feel it's a burden, but I don't have the heart to say anything, because it could potentially ruin our relationship. I know that it's really difficult for a man to accept that his wife has had a physical relationship with another man before him. I love him and do not want to lose him at any cost.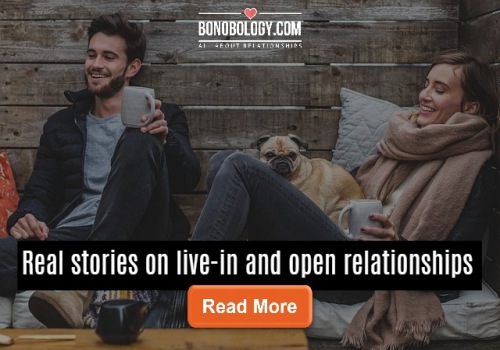 However, whenever the memories of the past come before my eyes, I curse that woman more than her child. Even though it was his stand to take, I find it hard to forgive her for being the obstacle that he couldn't cross.