The movie Ki and Ka has been making waves of late. My wife Madhavi and I have been living our own version for years.
It began with the gendered division of subjects. Although I passed engineering with distinction, the complexities of calculus and the anarchy of algebra terrorised me. When our daughter Ankita reached the algebraic age I surrendered meekly. Madhavi, Chemistry post-grad, working in the same Steel Plant as I, took up teaching Maths and Science. I concentrated on English and Social Studies which are considered more 'feminine' subjects.
Related reading: How our differences make our marriage a success
Being a writer, I helped the kids with compositions, debates and such. mentored Ankita first and then our son Aniket, for inter-house and inter-school competitions.
Madhavi has a great head for finance, reconciling the balance sheet of our house with Chitragupta-esque dexterity. Comfortable with the world of mutual funds and shares, she decides where to invest and how much. The only 'shares' i'm aware of are the ones on Facebook!
With plumber or electrician, carpenter or mason, gardener or mechanic 'madam' always calls the shots.
Additionally, Madhavi is three quarters doctor. Every time there is a medical issue all three of us rush to her for succour.
Now that both the kids have flown the nest, these are the kinds of calls I recieve:
"Papa, give the phone to ma?"
"What happened, Ani?"
"It's about inter-bank transfer, you won't understand."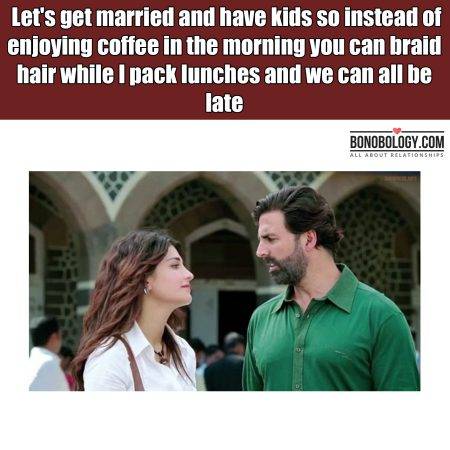 And…

"Papa, is mummy there?"
"She is talking on the landline? Tell me, Ankita…."
"There's no point. My friend is suffering from cramps. Mummy will know what to do."
You're probably thinking I, the Ka of this house, am a complete moron.
Nights, when our kids were young, it was my responsibility to put them to sleep. They insisted I tell them stories, different ones each night, combining the soft-and-wispy as desired by Ankita, and the savage-gutspilling-saga demanded by Aniket. This went on till they were old enough to be ensnared by the virtual world.
Days, occasionally I would take leave and we would celebrate 'Papa's Day Out'. With Madhavi at work we would be ajaad. The entire agenda was set by the kids. On good days we would go to the park, embark on long drives or eat in places Madhavi wouldn't be found dead in. Rainy days would be 'Papa's Day In'. We would watch kitchsy movies on DVD, sing, dance – do anything and everything nutty wacky loony.
Related reading: I Lost my Speech and my Wife found her humour!<
Birthday bashes, our kids' or others', I had to manage the children. While other fathers could sip cocktails and gurgle gossip I would be freaking out with the kids. While many 'gents' had a rather condescending attitude – not man enough, they doubtless thought – the mothers, particularly the hostess, thought me a male version of the Sound of Music lady. For the kids of course I was their favorite uncle.
As Anikta and Aniket grew up I got increasingly involved in their project work and career planning. I helped Aniket with a project on environment for a nationwide competition. He won a trip to Oxford and I ended up much more environemnt-savvy. Anikta performed superbly in class 10 CBSE, particularly in Science. Everyone – extended family, Madhavi – wanted her to take up Engineering or Medical.
Ankita: "Maths makes me want to puke and Science gives me a migraine, I want to take up Arts."
I agreed but my family was livid.
"How can you ruin her future?"
"Arts is for mediocre students!"
"Let her take up Maths and Science for two years, later decide."
With rare courage I burst out "Should I turn 730 days of her life into a living hell, studying something she loathes only because you feel you know what is good for her, or because you are concerned about what people would say? Nothing doing, let her study what she wants!"
Once Ankita and I had taken the decision, Madhavi was totally committed to it. She owned it as much as we did. Two years later the results were declared. Ankita had topped the State of Odisha!
Aniket wanted to pursue Engineering. He scored high in his class 12 exam but couldn't clear the Engineering Entrance. He was shattered and didn't know what to do. I took leave, sat with him for two days and gently advised him to take up Mass Communication like his sister had done. He laughed in my face. "I am not creative, my English is not good enough…"
I counselled him, persuaded him to start a blog, and got my family and friends to comment on it. Gradually his confidence increased and he was convinced that a career in MassComm wasn't such a bad idea. Madhavi was with me right through, chipping in with the right doses of encouragement. Aniket appeared for the entrance exam to a top Mumbai college, got admission, and since then has been topping every semester.
These instances are mentioned not to convince you what a responsible father I am but to highlight the conceptual anachronism of assigning gender-specific roles. It really doesn't matter who does what as long as there is mutual understanding, trust and respect. Whether the woman wears the knotted tie or the man wears the apron it doesn't make a difference as long as they can tango in sync.