An arranged marriage that seemed to be perfect
She was distraught. How could this have happened? Tears rolled down her cheeks as she packed her bags, throwing in whatever she could lay her hands on. While she had all along known that Ramesh, her husband, was a flirt, a harmless flirt at that, his inappropriate liaison with a woman was too much for her to swallow.
Picking up her bags, she had a last look at the house which had been her second home for the past two years, turned around slowly and descended the steps towards the cab in the driveway.
The cab driver came forward, took the bags from her, and placed them in the boot of the sedan. Anita quietly sat in the rear seat lost in thoughts. A query from the driver, "Shall we move, madam?" brought her back to the present time. She nodded and the driver drove away towards the airport.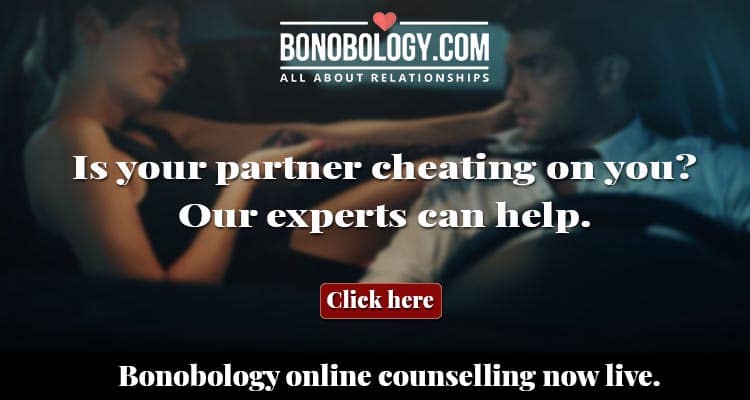 Anita was a beautiful girl belonging to an upper-middle-class family of Punjab. She belonged to a very close-knit family. Her early life was spent mostly in the erstwhile Punjab of undivided India, now in Pakistan. She had four siblings, the youngest being almost ten years her junior. She had barely completed her college studies when tragedy struck the family in the form of her father's death. Her mother was a very proud and upright lady and refused any financial help from any member of her late husband's family. Being the eldest in the family, Anita's young shoulders had to bear the burden of supporting the family. She trained to be a Montessori teacher and got a job in the local school.
He was a great husband
A couple of years in the teaching profession saw her as a very popular teacher in the school. It wasn't long before family members began to talk about getting her married. It was a fashion those days to get married as soon as one turned eighteen. Well, not later than twenty or so. A common relative brought a proposal from a neighbouring village. The "boy" was an army officer, a young handsome Captain. A meeting of the parents was arranged followed by an interaction between the two. Formalities over, the proposal was accepted. After a brief period of courtship Anita and Ramesh were married in true Punjabi style.
After ensuring that her mother and siblings would be looked after and would not be in any kind of financial difficulties, Anita joined her husband at his duty station. The warm welcome that she received endeared the military way of life to her forever. Ramesh was a very loving, kind and understanding husband who catered for all her needs. She was treated like a queen and she loved it.
Related reading: What sort of husband is he according to his zodiac?
But he wanted too much sex
Ramesh had one weakness though. He had strong sex drive and would indulge in strong passionate lovemaking every day.
Initially, Anita too enjoyed the joys of sex. Thinking that this was normal in the early stages of married life, she expected this to change with time. How wrong was she! Even the birth of her first child did not deter Ramesh and he continued to be a charging bull. His endearments now changed to demands. He would demand sex every night. And being the dutiful wife that she was, Anita submitted to these demands even though she was not always in the "mood".
A few years down the line, after the birth of her second child, Anita prayed for some relief. But, Ramesh's sexual drive continued unabated. The military life also took its toll on Anita. Official commitments and social engagements were frequent and she was literally kept busy on all fronts. From the days of being an excited young bride, initiated into the world of marital sex she now became a silent partner satiating the urges of her husband. Now she longed for some respite.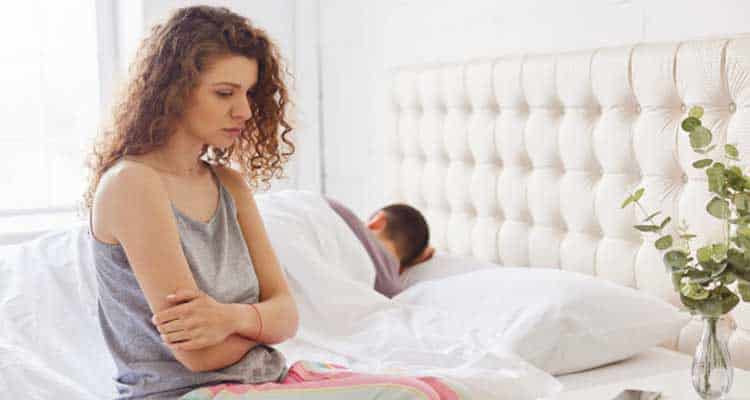 Related reading: When my husband is in the mood
His work move thankfully brought some relief
Due to some altercation with his bosses, Ramesh decided to resign from the Army. After a short stint as a retired officer, he landed a job as the CEO of a multinational company. This took him away to another city. Anita had to stay back to ensure continuity of the children's education. On weekends Ramesh would come over or she and the children would go across to be with him. The sexual encounters of the daily kind were now restricted to the weekends. Anita was quite okay with this arrangement.
During one of her visits to her husband, she noticed some changes in the bedroom.
The changes were subtle, but changes nonetheless. Ramesh's visits to see her and the children also had dwindled to once a month. Increased workload at the office was the regular refrain. Anita accepted the reasoning but a nagging doubt existed. Those subtle changes kept haunting her. Was Ramesh being unfaithful? Was he having an affair? However, in the absence of any proof, she did not want to jeopardise her relationship with Ramesh.
Related reading: Signs that you are married to a sexaholic
The unmistakeable signs of the other woman
It was during a now rare visit to meet Ramesh that she spotted a "bindi" on the bathroom mirror. It was something she never used. Calling out to the housemaid, she chided her for not cleaning the mirror. The housemaid's reply stunned her. The maid in her nonchalant manner said, "I keep cleaning but madam always puts the "bindi" on the mirror". "What… Who – which madam?" Anita stammered as her mind went into an uncontrolled spiral. The housemaid then narrated the entire story of how a madam, who had divorced her husband, was a regular visitor to the house. Bit by bit, Anita tried to piece the threads together. What she had suspicions about was true, after all.
When Ramesh came home that evening, Anita confronted him with what information she had. At first Ramesh tried to laugh it off by saying that the housemaid had an over imaginative mind. On persistent queries by Anita, Ramesh turned around and, with a snarl, said, "So what? In the corporate world all successful men have another woman. Don't make a big deal of it. You are getting enough money to live a healthy lifestyle."
I'm still taking care of you so what's the problem?
Anita was dumbstruck by the reasoning for an affair. "Don't you care for me and the children? How could you do this to me? I have always been a good wife, a good mother and now this?" She broke down and sobbed uncontrollably. "You are being silly. You are a good wife and a good mother. No denying that. But as I said, having another woman in one's life is part of success."
"Having another woman in one's life is part of success."
"I have always ensured that you and the children have the best of everything," Ramesh said as he tried to put an arm around her shoulder. Brushing aside his hand, she said, "I can't stay here. I can't stay with you anymore. You have cheated, you have betrayed the trust I had in you." Ramesh, as though he expected such a response, said, "That's your choice. I would like you to stay but if your mind is made up I won't stop you." He then abruptly left the house, got into the car and drove off.
During the drive to the airport and during the flight Anita was in a daze. On reaching home, she got her children together, told them of what had transpired between their father and mother, and announced her decision. She told them to be brave and that together they will face this storm in their lives. Fortunately, the elder of the two boys had landed a good job in the IT industry hence was in a position to support his mother and brother. They moved into a smaller house and settled down to a life without Ramesh.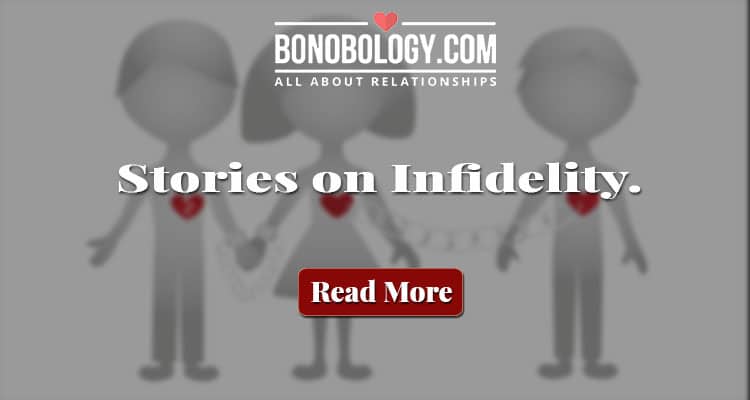 When the phone rang after many years
A few years later, a call on her mobile phone surprised Anita. It was Ramesh. He was pleading with her and apologising for all the hurt that he had caused her and the children. He begged forgiveness and pleaded with Anita to let him come back and be part of the family again. "Give me a chance, give me another chance, please I beg of you. I realise my mistake," he said in a voice full of remorse.
Myriad thoughts flashed in her mind as Ramesh continued to plead: Her early married days, the love and care showered by Ramesh, the intense lovemaking, the children and much more. Then the infidelity, the betrayal, the humiliation inflicted on her made her flinch. Toying with the idea of forgiving and recommencing the fractured life with Ramesh tore her heart. The mixed-up thoughts slowly cleared. She had made up her mind.
"Wrong number," Anita responded in a quiet whisper as she disconnected the call.
Confession of an insecure wife – Every night after he sleeps, I check his messages
My Husband Wears Makeup And I'm Finding It Difficult To Accept This
It's Not The Mother-In-Law But The Father-In-Law Who's The Villain In My Story