How do Moon Moon Sen and her husband Habi (Bharat Dev Varma) manage to find time for each other with all her different interests? What keeps their relationship going?
You are a daughter of a superstar, a successful actor, mother of two actor-daughters, Raima and Riya, and a busy Lok Sabha MP. How do you manage to wear so many hats and yet make your marriage work so beautifully for so long?
A woman's life is varied and rich in experience. When we got married 40 years back, there were very few professions for women to pursue except being teachers, professors, secretaries or flight attendants and even the most talented woman would give priority to being a good homemaker. I worked as a teacher, a graphic designer and in All India Radio before marriage. I just went from my mamma's arms to my hubby's arms. But after my daughters reached a manageable age, I started doing a lot of films and jatra, too, and all this while I had tremendous support from Habi. And then I stopped working for a long time since my mom wasn't well and I followed my children, who started working, just to be around them.
In these 40 years, there have been a lot of adjustments to ensure that the marriage keeps working. There have been love, hate, war and peace, but what's most important is that Habi has been a very dear friend.
Related reading: Three Cheers to a Friendship that Makes their Marriage Rock!
You are also going to don a new avatar soon, that of an interior designer and consultant. Doesn't your husband grumble sometimes for attention? How do you manage to spend time together?
Never ever did Habi grumble for me being busy. He comes from a very glamorous family. His mother, aunt (Rajmata Gayatri Devi) and grandmom all have been very beautiful and socially outgoing personalities, who led a very different life. My mom-in-law was the first lady pilot of our country. So he would never grumble for time.
I used to be out of town frequently for film shootings, and in those days, in absence of cell phones, I trudged for hours to get to the STD booth and ring him up at the end of a tiring day. Now cell phones have taken the place of STD calls.
But these long phases of absence bring an element of newness and when you are in different cities you get to talk a lot about new things, new friends and new happenings.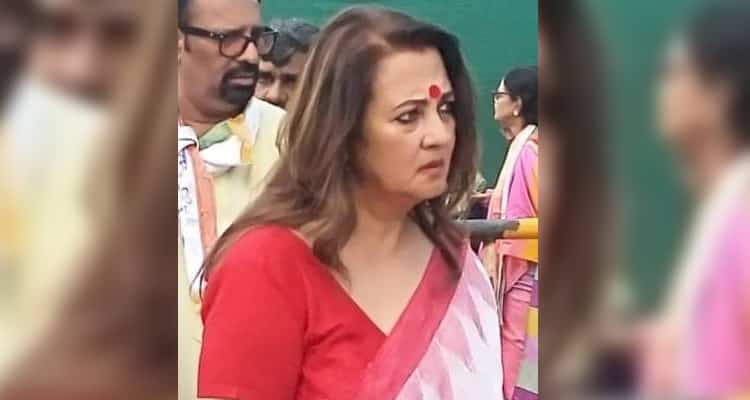 Does Habi advise you on your political ambitions?
He's always been there for any advice and he's been my biggest friend, philosopher and guide. It was, in fact, he who encouraged me to take the plunge into fulltime politics. He has avid interest in history, current affairs and politics and he used to travel to my constituency, Bankura, which is far away from Kolkata, every time with me during the initial days of campaigning. Now due to his failing health, he cannot undertake so much travel. But he makes sure to accompany me to Delhi most times. So, definitely, whenever I am in two minds about something, I call him and ask for his guidance.
What is the best part of your relationship? What is that one thing you would like to change about your husband?
The best part of our relationship is that despite all the differences, we have grown together and we are great friends.
Related reading: How our differences make our marriage a success
There is absolutely nothing I would like to change about him, he is just too good. But if I could, I think I would have changed my bad temper, and when I lose it, it's terrible for others.
How have you both changed in many years together?
(Laughs) I guess we have become older, fatter and less good looking over the years. But apart from that I have become ever more dependent on him.
How does your husband deal with all the male attention you get?
As I said earlier, Habi has grown up seeing so many beautiful and successful women in his life, that there is no question of him getting jealous about me getting male attention. To him, it is quite natural, that the kind of profession I'm in, I will get attention.
Define love.
Love is adjustment and understanding. You grow to love each other and take each other just the way you are.
I'm in a long distance relationship with an older married woman, but is it love?