Awkward dates from the sitcom Friends
During the ten years in which the 90's famous sitcom Friends ruled the screen, we have witnessed the absurd dates that the characters have been on. Remember Rachel dating Russ – Ross's look-alike? Or about Fun Bob who Monica dated only to realise half-way through the date that Fun Bob is only fun when intoxicated. And do we even need to talk about Janice?
Friends has been analysed to be misogynistic, trans-phobic and homophobic many a times after almost two decades since its completion. But that left apart, the characters themselves have faced some awful and sometimes, put-your-head-through-a-wall kind of relationships. Though fiction, empathising with these poor souls often makes us realise how good we have it. Remember the Sean Penn cameo as Ursula's fiancé? Boy! To realise your new beau had mistakenly slept with your twin sister, right after he broke up with her is bizarre and makes anyone go 'Ew, ew ,ew' (that was Phoebe's reaction too, btw).
Still think you got it bad? Here are the seven hilarious people Friends characters have dated (and dumped).
1. The one with Julia Roberts
Julia Roberts starred in this season-ending double episode as Chandler's classmate from school. Chandler had teased her back in school when he pulled her skirt and exposed her underwear in front of the entire school. Reel forward, twenty years later, she has bloomed into a beautiful make-up artist and agrees to go on a date with him. Chandler is awkward and clumsy and he cannot imagine someone as gorgeous as her whispering naughty stuff into his ears during dinner at a restaurant. They go inside the bathroom where she strips him stark naked, asks him to bend over and steals all his clothes. Hell yeah, the date was revenge for what Chandler did to her in school. She leaves him with a snarky "Why don't you call me in 20 years and tell me if you're still upset about this?"
Bad date: Being left naked in the bathroom by your date.
Related reading: Why accepting a date is NOT an invitation to rape
2. Phoebe and her over-enthusiastic date
Alec Baldwin is the guy – Parker. He is a great guy, Phoebe says. Well, she defends him when her friends make fun of how delightful he always is. But so much enthusiasm and positivity was too much even for someone like Phoebe. Irritated by Parker's description of the well-lit hallways, the brake lights and how magical everything is, he just never shuts up. To sum up Parker, Phoebe describes him perfectly "You're like Santa Claus… on Prozac… in Disney Land… getting laid."
Bad date: Too much magic. Way too much.
3. The one with Rachel's new dress
This is hilarious and was embarrassing for Rachel. Rachel's date with Joshua gets cut short by the unseen return of his parents back to the apartment. The worst part is that she is spruced up for a night of love, dressed in a sexy, skimpy lingerie and the parents arrive. Rachel is standing there in that outfit and manages to recover from a shame-trip by saying that the lingerie was the fashion dress in Paris. Of screen, Rachel later re-tells that the worst part was when she was out having dinner with Joshua's parents and the waiter drops water down her back. She jumps and her left boob pops out. Shame, hurt, shame! (It would have been fun to see how she sprung back from that one).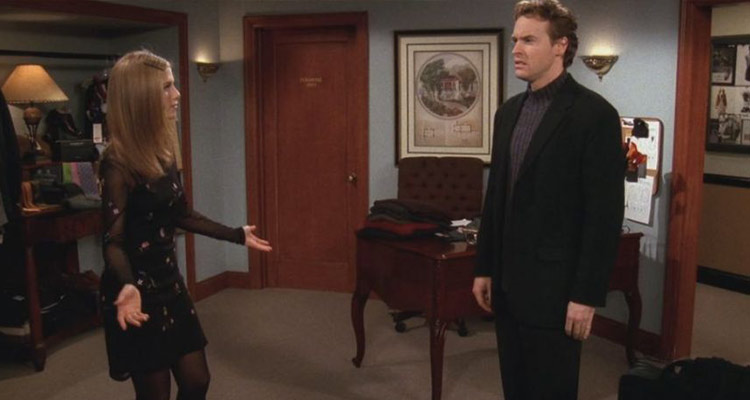 Bad date: Because Rachel had to go for dinner with her boyfriend's parents, in a nightgown. Oh, and her boob made a public appearance.
Related reading: In India, she was a shy girl but once in the USA she preferred one-night stands
4. The one with the leather pants
The fashion faux-pas of Ross' leather pants. Ross' New Year resolution to wear hot, leather pants on a hot date takes a nasty turn. In the middle of the date, after he uses the bathroom to pee, he can't get this pants to fit anymore. To make things even worse, Joey's advice to use powder and then lotion to slide his jeans up leaves Ross with a cake-y substance all over his legs. The date ends terribly with Ross coming out of the bathroom with his pants around his ankles and the liquid-powder smeared all over his legs. Could it get any more embarrassing than that?
Bad date – Cannot decide which is worse: Standing in front of his date naked or having liquid and powder smeared all over the legs.
5. When Joey doesn't share food
Joey cannot have bad dates; well, his speciality in bed is too much for women to handle. But this particular episode where he dates a woman and eats her cake when she goes to the bathroom is a stand-out in a list of bad dates. For Joey's date, I mean.
Bad Date: Well, not hilarious for Joey because he says "I am not even sorry" after the date finds out he has eaten her cake.
6. The one with Janice…again
Janice is such an integral part of the series that it will be a crime not to include her in this list. She was in a relationship with Chandler, slept with Ross and almost connected with Joey in a non-lethal, non-sexual kind of a way when they were having 'Joey and Janice's Day of Fun'. The particularly bad date for Chandler would be the time when Janice appears as his date when Joey and Chandler go on a blind double date. The iconic 'Oh.My.God' moment as Janice enters the restaurant mirrors our thoughts exactly. They get drunk when Joey leaves to have sex with his date. In a drunken haze, and as fate would have it, Chandler sleeps with Janice and wakes up to Janice's voice wishing him "Happy Valentine's Day!"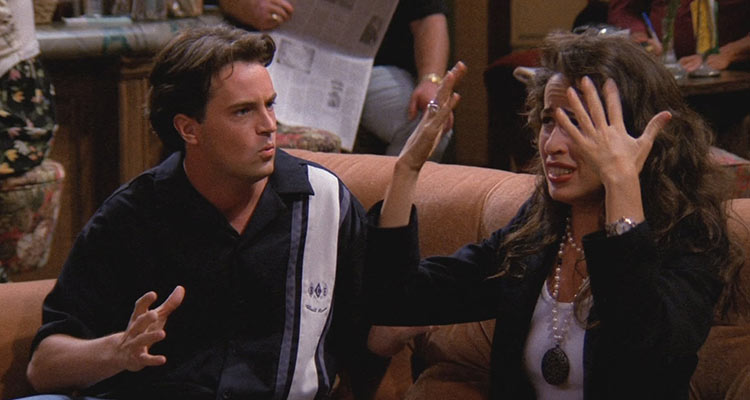 Bad date: Because he spent an entire evening dating a woman he had dumped twice in the last five months.
7. The one with Chip Mathews
Monica wants to go on a date with Chip Mathews from high school. And she does go out with Chip Mathews from high school. Turns out, Chip Mathews still drives the bike he drove in high school, still works at the movie theatre he worked a decade ago, still gives people wedgies and still lives with his parents (and his consolation is that his parents have allowed him to stay out as long as he wanted).
Bad date: Because she eventually learns that he has not matured at all and his life pretty much ended after high school.
Still think your love life is crappy? Who do you think had it worse? My money would be on Ross.