"What ruins relationships and causes most fights is insecurity" – Olivia Wilde, American actress and filmmaker.
Dia would check her phone every few minutes after sending a message to her partner Shaun. She would not be at peace till she received a reply. Asking him where he was going, and with whom, was a habit that caused considerable friction in the relationship. Dia constantly feared that Shaun would cheat on her.
This was because he tended to flirt a little with other women while being his 'charming self'. Whenever they fought her thoughts turned in a catastrophic direction – Were they going to break up? Why did Dia feel this way? She finally acknowledged to a therapist: "My partner makes me feel insecure".
Insecurity in a relationship involves feeling inadequate or threatened. It causes unhealthy behavior like being overly suspicious and snooping that will only drive your partner away.
How can you stop feeling insecure in a relationship? We give you some suggestions along with expert inputs from senior psychologist Dr. Prashant Bhimani (Ph.D., BAMS), who specializes in relationship counseling and hypnotherapy. But first, let's explore the causes for insecurity.
Can Your Partner Make You Feel Insecure?
While you may accept and even tell your friends: "My partner makes me feel insecure", you may wonder why you are feeling this way. Certain behaviors on your partner's part may be a trigger for insecurity in a romantic relationship. Some of the common ones are flirting, body shaming, mocking, being secretive, being unreliable, dodging commitment or simply being insensitive to your needs, whether it is for sex or an empathetic listener.
Lack of self-love and low self-esteem may make one insecure. If you have not had a loving, secure relationship with your parents or have been let down in the past in a romantic relationship, it can make you vulnerable to insecurity. Financial dependence on your partner can also give you a feeling of insecurity. Sometimes, the success of your partner in any sphere, especially the professional one, can also be the underlying cause for insecurities in the relationship.
A 2013 study published in the Journal of Personality and Social Psychology explores how a partner's success can impact a person's self-esteem. A partner's success could lead to an increase in self-esteem (because you are basking in reflected glory). On the other hand, a partner's success could lead to a decrease in self-esteem if we interpret "my partner is successful" as "my partner is more successful than me". The study revealed that men's self-esteem was more likely to be negatively affected by their partner's success.
Related Reading: 9 Reasons You're So Insecure In Your Relationship
5 Signs Your Partner Makes You Insecure
We've already touched upon what makes a woman insecure in a relationship or why men feel insecure with their partners. The root cause of insecurity may either lie within you or may originate from your partner. So then, how do you know if the insecurity you feel in your relationship is caused by your partner? Here are five signs of insecurity that indicate so:
1. You are constantly seeking validation
You constantly seek reassurances from him. For instance, you expect frequent compliments about your qualities (appearance or intelligence) and abilities (driving or cooking skills). Very often, comments about appearance are what makes a woman insecure in a relationship.
Violet was on the plump side. Whenever she wore a sleeveless dress, her boyfriend Rob would go: "Hey, please put on a jacket. Your arms look fat." Such remarks only made her feel unattractive and miserable. She confided in a close friend: "I feel insecure around my boyfriend." Likewise, remarks about professional success, performance in bed or constant comparisons with a former partner can make men insecure in a relationship.
2. You need your partner's attention all the time
You find yourself wanting your partner's attention and feeling uncomfortable when you are left on your own. Being needy and clingy is a clear sign of emotional insecurity. It can have its roots in childhood neglect and abandonment.
It is also possible that this need for attention and consequent insecurity when that need is unmet is stemming from your partner's disregard for your emotional needs.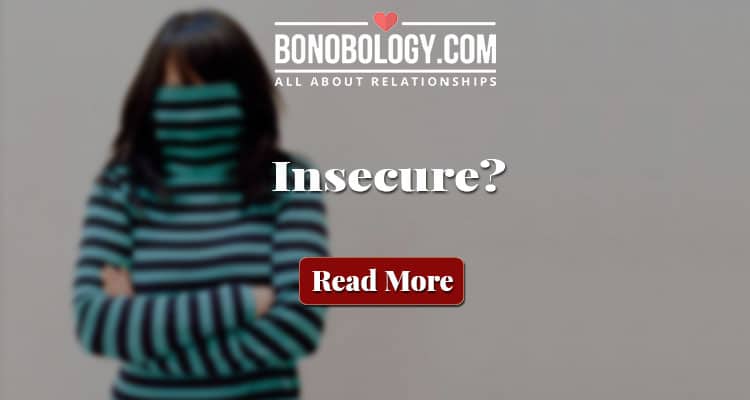 3. You are terrified of losing them
You may feel that you are not satisfying your partner in some way. Perhaps, they haven't introduced you to their family. Even after being together for several years, they have not made a commitment of any kind to indicate that they see a future with you. This can make you keep thinking that the relationship may end anytime, thus making you insecure.
4. You keep asking about their schedule
If you keep asking your partner where she will be during the time she is away from you, and with whom, you are displaying insecurity. This could well be because your partner may have lied to you in the past or at the very least not been completely transparent about the goings-on in their life. In turn, this has affected the trust in the relationship, turning you into an insecure partner.
5. You tend to snoop
If you are in the habit of checking your partner's phone or computer regularly it is a sign of deep insecurity. You may explain your actions by telling yourself: "I am doing this because I feel insecure around my boyfriend." But such behavior is a strict no-no as it violates his privacy.
Again, the underlying reason for this tendency could well be in your relationship dynamics. For instance, if you've found your partner stalking an ex on social media or flirting with a coworker, you may feel insecure that they'd stray.
Related Reading: Dealing With An Insecure Boyfriend? Here Are 15 Coping Tips
How To Deal With A Partner Who Makes You Feel Insecure
It is one thing admitting: "My partner makes me feel insecure". And quite another to deal with it the right way. Here are some suggestions to manage or even overcome insecurity in a relationship:
1. Love and appreciate yourself
If you don't love yourself, you will not believe anyone else can love you. Think about all your positive characteristics – your kindness, sense of fun and reliability. Take heart from thoughts that you make your partner happy – that you give them love and support and that they know and appreciate it.
There may be a critical voice in your head that focuses on your negative traits. Do not let it take over. Be kind and compassionate to yourself. Accept yourself for what you are – warts and all. That's the only way to not let disparaging remarks made by your partner or spouse hurt your feeling of self-worth.
If you're able to achieve such healthy levels of self-love, thoughts like 'my husband makes me feel insecure about my body' or 'my wife makes me feel inadequate' won't take a toll on your peace of mind.
2. Boost your self-esteem
Instead of looking at your partner for appreciation and validation, develop your self-confidence. Your sense of self-esteem and well-being should not depend on them. Focus on advancing yourself professionally, take an online course to develop your skillset, or work toward becoming healthier and fitter (if that is what will make you feel confident).
3. Tell your partner how you are feeling
Imagine if, in front of friends, your partner teased you for being a terrible cook, or mocked your lack of knowledge of current affairs! Whether it is true or not, his perception would hurt and you are bound to complain, "My partner makes me feel insecure."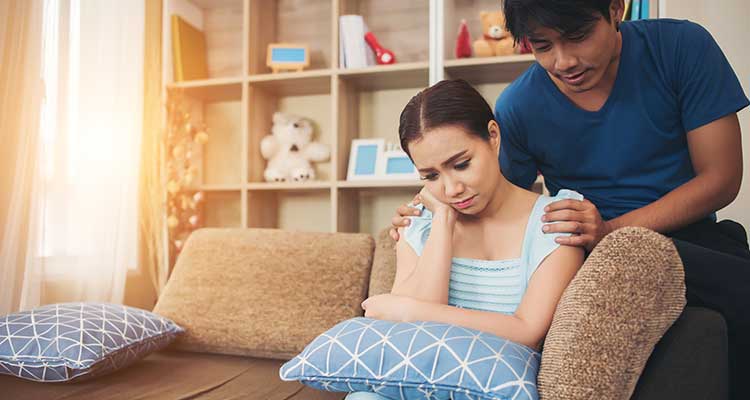 Communicate your insecurities to your partner effectively. Pick a moment when you are both feeling harmonious to discuss the matter. If you are open about the words or actions that make you insecure, and there is love in the relationship, your partner will definitely try to change their behavior. They will stop mocking and teasing you once you overcome the communication barriers and express your feelings honestly.
According to Dr. Bhimani: "You need to communicate in a clear-cut manner. Instead of imagining all sorts of things, talk to your partner upfront. Find out why your partner is behaving in a certain way. Ask them: 'Do I have anything to worry about?' Clear-cut communication will give you definite relief."
4. Express what you want
Also, it is important to express the change you want. If you are disturbed by your partner's negative comments, tell them so. "You don't have to fight. You can just be frank and tell them: 'Can you please change your behavior as I am feeling insecure?'. That should do the trick," Dr. Bhimani explains.
5. Understand your partner's motives
Dr. Bhimani says, "Your partner may be deliberately making you feel insecure because they need more attention. In other words, they may be flirting with others to make you jealous. If that is the case, pay more attention to them, make them feel loved."
Related Reading: 12 Signs Of Insecure Women And How To Avoid Them
6. Reignite the spark in your relationship
After some years of marriage, you may be caught up with taking care of children and home management. Your partner is likely to feel neglected and may act out. This may make you feel insecure. Understand where their behavior is coming from and try to schedule a time when both of you can connect like a carefree couple and keep the spark alive in your relationship. Make an effort to make your partner happy.
7. Create comforting rituals
Consciously develop certain rituals to bond with your partner every single day. Go for a morning walk, cook a meal together, watch a television show regularly, display your affection physically by touching and hugging each other or join a hobby class like art or music together which will give you something to share.
8. Break old patterns
Each one of us has our baggage but trying to change old, negative patterns will go a long way in reducing insecurity. School yourself to think and behave differently from what you did in a previous failed relationship.
9. Stop overthinking
Your thoughts affect your emotions and both these affect your behavior, and ultimately your relationship. If you keep analyzing every word or action of your partner, you will end up perpetually disturbed.
And, you will keep thinking: "She or he makes me feel insecure on purpose." But is it really so? Maybe your partner just needs some alone time. That's why he or she is maintaining a distance from you. Keep a healthy and positive perspective. That will help you to stop feeling insecure in a relationship.
10. Don't compare
It is common to look at other couples and compare your situation with theirs. "Don't compare your relationship with other couples. Just because a friend is dealing with a cheating partner, it may not be the case with you," advises Dr. Bhimani.
11. Give your partner breathing space
Giving your partner freedom in the relationship is vital. Trying to control her actions will only backfire. "Accept that he/she may be different from you, and may have different opinions or experience different emotions. That does not mean they do not care for you," says Dr. Bhimani.
12. Ask yourself certain questions
What do I really like about my partner? Am I getting what I deserve in the relationship? Overall, am I more often happy or miserable in the relationship? Would I be okay if I break up? Do I find it difficult to trust my significant other? Is the problem that my husband makes me feel insecure about my body?
And, finally, is there a real reason for me to feel insecure – has my partner lied to me or have I seen texts on their phone that indicate that they're cheating? The answers to these questions may help you discover why you can't shake off the 'my partner makes me feel insecure' feeling.
Related Reading: 7 Types Of Insecurities In A Relationship, And How They Can Affect You
13. Aim to be independent
Take care of yourself and seek to be independent – physically, mentally and emotionally. Self-love and self-care will banish insecurity. If your life revolves around your partner, you are bound to feel insecure. Trust yourself and tell yourself that you can take care of yourself.
Having few anchors in your life other than your relationship can make you insecure. That's why it is important to think of all the things that make you happy – your work, friends, regular exercise, your hobbies, other self-improvement goals – and focus on them more.
14. Nurture other relationships
The absence of other fulfilling relationships in your life – say, with parents, siblings or friends, may make you overly dependent on your partner. And, you have this voice in your head that keeps telling you 'she or he makes me feel insecure'.
Being insecure in a relationship is a big hurdle to intimacy. It may make you unreasonably jealous. It may make you try to control your partner, which is an unhealthy trait. By getting rid of insecurity you can enjoy a more joyous and fulfilling relationship.
Confession of an insecure wife – Every night after he sleeps, I check his messages
My outgoing girlfriend hates restrictions and I feel insecure. How should I handle this situation?