Opposite personalities in marriages can be a) aggravating and irritating b) mind-numbing or c) all of the above. But, our differences make us stronger as couples, because we learn new perspectives from each other and inculcate new habits into our lives and work that may actually be a blessing in disguise.
Differences in relationships are inevitable, even if you have similar personalities or preferences, and the only way to channel them into something good is by acknowledging and embracing them. It is only when we accept our partners for who they are that the love becomes unconditional and the bond grows stronger.
How Opposite Personalities In A Relationship Makes Marriage Stronger
Believe it or not but our differences make us stronger. Let's take an example: You are a hot-headed, opinionated man who can't ignore any rude or ignorant comments, and on the other hand your wife is a calm and collected soul who always lets things go. These personality differences annoy both of you.
However, instead of keeping these differences in relationships under cover or fighting about them, you should embrace them and understand that this may actually be a good thing for the relationship. Influence each other: the husband can learn to be a little calmer and direct his anger only when and where needed, and the wife can pick up on the fact that nonchalance isn't always good and sometimes standing up for the right thing is important.
However, handling different temperaments in relationships is no easy feat. Small differences in relationships can make or break the marriage. But while there have been stories of failure, we should take inspiration from some of the success stories that are available to us.
The power couple
Madelaine and I are considered the couple whose marriage is a runaway success. Twenty-nine years of laughs, tears, smiles, fights, and love. But above all, twenty-nine years of togetherness. We have encountered several challenges as a couple and braved them all.
But that's the case with every successful marriage – no relationship comes without its own set of hardships and problems. So what sets us apart? Our individual selves. Our differences make us stronger.
Related Reading: The 12 Secrets To Finding True Love
A relationship of opposite personalities
I think the personality differences in relationships, and the few similarities, but mostly the differences. Let's begin with my favourite topic: Sex. Sex to me is an obsession, to Madelaine it is merely a distraction. She is spiritual and meditative, and I couldn't care less about the whole thing.
Madelaine is an out and out extrovert and loves to socialize. She can carry out an animated conversation on any topic under the sun (except of course the birds and the bees) even with absolute strangers. Strangely, though she is great at 'talking the talk', when it comes to speaking on stage, she is all at sea. While I tie myself into reef knots in one-to-one encounters, behind a podium I am quite cool.
Likewise, even though she is very gregarious on most occasions, she can't tell when someone is making a move on her. I, on the other hand, know all about the flirting signs from a woman and come into my own only when I am practicing the art and craft of this harmless, yet so very enjoyable, indulgence.
She has a great voice and sings very well. I croak but dance to her tunes and on stage, I think, with great felicity. As far as reading is concerned, again our tastes are completely divergent. While reading is a passion for me, to her it is merely a sleeping pill. The only time she ever managed to complete a book or two was during her maternity leave. And so the list of personality differences goes on…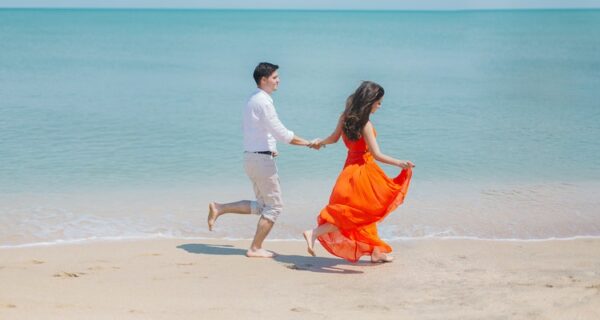 But we complement each other
We do have a few similarities. We both love shopping, traveling and spending time with the kids. We are fond of animals and that naturally makes us fond of each other.
A colleague had once commented, "Ryder, both you and Madelaine complement each other beautifully – while you crack jokes with ease, she cracks up easily." We do have opposite personalities, but we have learnt to coordinate. Astrology does say opposites stay happy together!
Be it a serious decision regarding financial planning or something as small as dressing up for a wedding – we always coordinate and bring out the best in each other. While she handles the expenses, I handle the revenue, and while she wears a peach dress, I would show up in salmon.
Our differences make us better people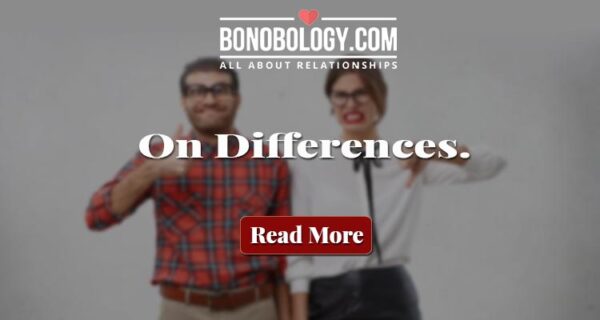 What I have learnt in these two (nearly three) decades of married life is that with most couples the scenario is the same. Every relationship is a potpourri of similarities and differences. If a couple is completely the opposite of each other it would lead to chaos, if it is too much alike it would result in ennui.
So the mantra of an effective relationship according to me is simple: "Celebrate the differences, enjoy the similarities and forget the rest!" The thing with Madelaine and I is that we accepted that our differences make us stronger very early in our relationship. And we never took that for granted.
Related Reading: How To Stop Arguing In A Relationship – 11 Tips That REALLY Work!
Differences in relationships are actually the only constant. Learn to change with change. Be the change. Despite the adjusting and getting used to, be grateful for this new perspective and exposure in your life. Not everybody gets that lucky.
FAQs
1. Is it better to marry someone similar or different?
No matter who you marry, differences in relationships will always spring up. The success of your marriage lies in how you deal with these differences, and how much you let them control your relationship.
2. What personalities work best together?
People who complement each other and work together through the differences rather than people who are always bitter about finding someone 'incompatible'.
Pati, Patni and Politics: How to manage differences in political views
15 Subtle Yet Strong Signs Your Marriage Will End In Divorce