Work, household chores, office meetings, traveling, kids…the list will go on for couples till you make an attempt to squeeze in some fitness commitment and find a way to accomplish it. On holidays, festivals and family gatherings when you are high on social life, you'd refuse to take the safe lane by not indulging in high-calorie food festivities, and hence, the motivation for workout goes for a toss. Sounds familiar? This article talks about how couples can manage to sneak in some time for workout without feeling left out in their fitness journey.
First things first
If you think you don't have time, just revisit your entire day's task list and you'll discover how much time you wasted doing nothing. Working out just five minutes should not be that tough now. Remind yourself that these five precious minutes are your way to self-care, which in turn can be the greatest factor in changing your life. Do some kind of exercises you feel can be helpful for you and help you some way in reaching your fitness goals. Start slow and increase your time gradually and eventually it'll become a part of your lifestyle.
Delegate work and chores
This might sound simply amazing, but doing this is tough, as some of us tend to micro manage almost everything that's happening inside our houses. Delegating the work to others not only allows you some time to relax yourself but also manages some time for your workout too. As a couple, you can help each other finish the chores, prioritise your to-do list even if it means chucking the option of giving unnecessary attention to something less important and focusing more on what's to be done now.
Split your workouts
Don't have time to spend an hour at a stretch for workout? Well, better to split it into a couple of smaller sessions. Sounds good? According to fitness experts, 10-15 minutes of solid workouts a couple of times in a day can be as effective as the longer sessions. Split your workout sessions into two or three with your partner whenever you can squeeze in 10-15 minutes.
Fitness Apps are the saviours
When you plan to upgrade your workout pattern, download fitness apps that can help you learn the proper techniques and different forms of exercises according to your fitness requirements. Having said that, consult your physician before following any workout regimen mentioned in the fitness apps and once you get a go-ahead, feel free to raise your bar. Don't miss some amazing couple workout DVDs that are available too, to make your journey less intimidating.
Go for the basics first
Who says going to the gym is the only option to get fit? Whoever said that, might not have realised the power of bodyweight exercises. No equipment workouts can do wonders if you have the zest to meet the fitter you. Bodyweight exercises such as push-ups, squats, planks, triceps dips, lunges, leg raises, sit-ups, and many more can give you a ripped body too. Want to add more glitz? Go ahead and add the weights and props available at your home; pick up a couple of buckets with water, those heavy encyclopedias, the Oxford Dictionary, or that football and do some crazy workouts.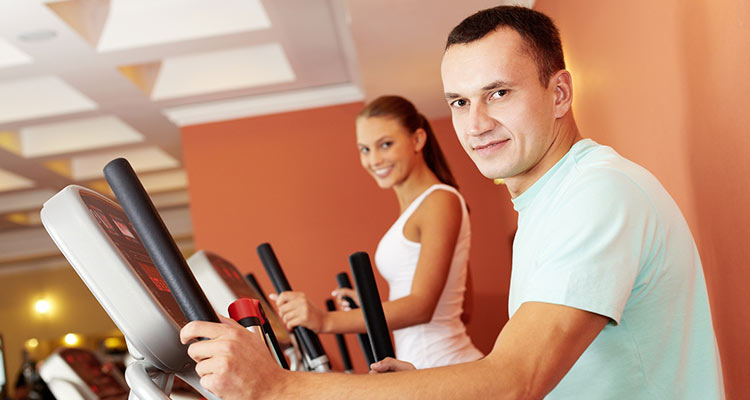 Make health a priority
Last but not the least, make health a lifestyle choice and a top priority, not a liability. Don't skip days, motivate each other to stick to the routine and you should reap the benefits of a healthier and better you. Apart from reaping the benefits of a fitter body, a regular workout can raise the heat in your bedroom and make the activity between the sheets much steamier! The choice is yours!
When life gives us some crazy schedule to follow where we hardly get some time to breathe easily, fitness is the first thing that makes its way to the trash. And then we keep pushing it till it becomes crucial for us not to leave the ground without an hour of sweating. Don't wait till it's too late! Find a fitness partner in your spouse and make it a habit of staying fit by investing only a small amount of time together for regular and consistent workouts, no matter how busy life gets.