Question:
Hello ma'am,
I have been married for 13 years. Before that, we knew each other for nearly 2 years and were sexually involved, too. Most of the time, our sessions used to end with me asking for more sex. There were hard times when I was completely satisfied. But we really loved each other, so we got married. We were eventually blessed with a baby boy and I got busy with my job and my son.
Sex took a back seat. We used to take time out rarely for lovemaking sessions, even then it always left me disappointed. One day I opened up with my hubby about it and he consulted a sexologist. He took a few injections and medicine too. Nothing much was helpful and he started feeling embarrassed to talk about his problem to a doctor. He started feeling disturbed and embarrassed about the doctor's consultation too that he had to put up with because of me.
We both decided to ignore the issue, as we were really busy with our jobs and personal lives. It has been 10 years, since all this. Presently I am a homemaker and a mother of two beautiful kids. I started to ignore my sexual desires and gave up talking to my hubby about it. It was clear he is not interested.
I also lost interest in sex and was really feeling any excitement when he approached me. I generally used to ignore his advances on the pretext of being tired or kids or anything else. But if I ignored him all the time, he would get upset or always disturb me by touching, etc., while I slept and I hated it. So, sometimes I used to give in and just waited for him to finish because anyways he would last for just less than a minute. I got used to bearing with it and foreplay was also a disaster, he never knew what would turn me on. Or maybe I started assuming he cannot give me pleasure.
Of course, there were times when we both together had a good time, though I was completely satisfied, very rarely, I can easily count on my fingers. My husband is not a bad man, and he loves me very much. He is just not mature enough to understand my point and maybe his upbringing was that way. Not only in sex, but it has also always been this way. My hubby's approach towards life is very cool and he takes most things lightly.
I am sick of being his mom and constantly tutoring him in all the aspects of life, his job, his quality time with kids, everything. I am done, completely exhausted, being his mom and teacher!
I am 35 now, married at the age of 22. I am really exhausted and frustrated now. Now that I am nearing 40, the thought of menopause has caught my attention. I have the desire to enjoy my sexual life too, to the fullest. I definitely don't want to work on things between me and my hubby now. I have no more patience left. I just want a man to grab me and give me the pleasure. I have given a lot and a lot of thought about it. But I am seriously not feeling that I am wrong in thinking this way.
I am sure my hubby would not be okay with the idea of an open marriage, nor I want to do it without his knowledge.
I am confused and don't know what to do and how to go about it. I sincerely request you to help me with a practical solution.
Thank you
Dr Avani Tiwari says
Dear Lady,
I am sure it's a very frustrating time for you.
Menopause woes are unfounded
Let me assure you first that sexual life DOES NOT END at menopause. You only stop getting pregnant. That can even be liberating for many, as they don't have to worry about unwanted pregnancies and contraception any more.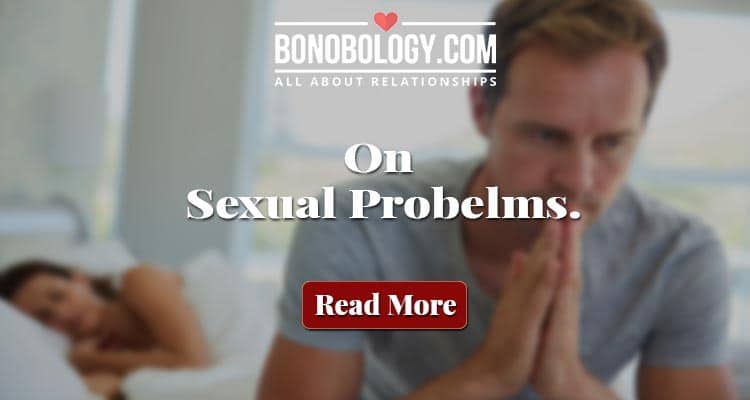 No shortcuts to sexual pleasure
Regarding sexual life, I'm sorry dear, but there are no shortcuts. One has to work on foreplay and on satisfying oneself and partner. There are medicines which definitely help. There are also techniques that a sexologist can teach you. And finally, there's masturbation.
Talk to your husband
But you'll have to talk to your husband and emphasise to him that your pleasure matters. Be supportive. Don't confront or blame. Also, make sure no other medical conditions are hampering his sexual performance. Open marriage may seem a good idea, but it does come with its own set of problems. Finally, it's your decision.
Wishing you all the best!
Confessions by married couples on why they stopped having sex
What is an open marriage and why do people choose to have one?