(Names changed to protect identities)
I eloped with my boyfriend at 18. My parents were dead against him because he belonged to a different caste and was from a village. Naturally, my parents' doors were closed to me.
Click here to read: My girlfriend is beaten up because we want to have an inter-caste marriage. 
The only demand that my dad made to my father-in-law was an assurance that I continued my study. For that, and for my husband's further studies and job, we moved to the city.
Click here to read: Marriage and career, every woman should read this story. 
We had our ups and downs while settling in but the most traumatic part was my husband's suspicious nature. He accused me of having physical relations with a common friend just because he had the 'evidence' that a condom was missing from the packet!
Click here to read about the 10 different types of husbands.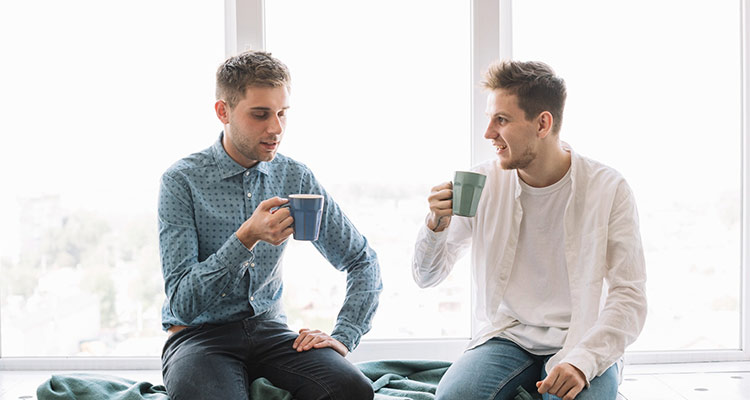 Related reading: My husband was a wonderful man, except when he got drunk
He started giving me the silent treatment and his friend still visited us for meals, etc. The ball was in MY court to prove otherwise. I was at my wit's end. I bought a bottle of insecticide but lacked courage to drink it. I did the only thing I could, I stopped speaking to his friend. I stopped entering the room where he sat with my husband.
Click here to read: 6 reasons why men become jealous. 
Life moved on. I saw another side of my husband. He was extremely short tempered. He'd snap at the smallest pretext. If things didn't go according to his wishes, in any matter or situation, a huge argument ensued, followed by days of silent treatment.
Click here to read about crimes of passion: When anger takes over the mind. 
Twice I tried to simply pack a few clothes and leave, not knowing where to go. Just leave. I threatened to leave him for good and also told him that I wouldn't commit suicide. I would live, but without having to see him.
He would be good for a few weeks and then travel the same path. Meanwhile, further study was my only respite and I gave birth to a lovely daughter. Life moved on, but it was a struggle for me to find peace, space or happiness.
Click here to read: I am abused by my wife and daughters but have nowhere to go. 
I patched up with my parents after my daughter's birth. But I always pretended that all was good in my marital life.
Related reading: The grim truth of marital rape in India
What more could go wrong? My brother-in-law and then my father-in-law passed away leaving heaps of debt only to be repaid by who else…?
The only silver lining in this was my husband supported me well in my studies. I must give him due credit.
Click here to read: My husband stood by me in sickness and in health.
He was attracted to other, younger females. Would you believe I felt a sort of relief? Thinking: "If he is happy, in turn, I will be at peace…fewer fights over trivial matters…."
Click here to read confessions of women who feel guilty about their husband's cheating. 
Then, I found he was interested in men too. To say I was shocked is an understatement. I asked myself, of what value am I in his life? Where do I stand? Why am I still here?
Click here to read: I dated women for years before coming out as gay. 
Meanwhile, I had started to like a person, because I found all the qualities in him that I wanted in my man. He was also attracted to me. He too was unhappy in his marriage. His wife was the replica of my husband. She was extremely suspicious.
Related reading: Here's how to flirt when you're already married
I approached him boldly and confidently one day and asked him if he would mind being my friend and confidante. Our secret soul talks began. We not only cried on each other's shoulders, we supported and helped each other in every way we could, to progress and develop our own individual business. We shared good and bad. We sought positive advice. We never demeaned each other's spouses. But we always heard each other out so that the vent was out and life became livable.
Click here to read: Why we should stop judging people for having extramarital affairs. 
Of course it was noticed by our spouses. To cut a long story short, I declared to my husband that however much I try, I can't and won't forget my friend. I wouldn't ruin anything. I'd perform my duties well. (We sleep in separate bedrooms.) I want my happiness and my peace of mind, but no one will pay for it. We wouldn't interfere in each others' lives, maintaining peace and routine at home and a front in social life.
Click here to read: I am stuck in a loveless marriage for the sake of society.
Finance is not a problem. but now I have my independence in the sense that he can't ask me questions, irrelevant or otherwise. It was very hard to attain this freedom. I even had to face severe depression. I used to fall asleep at 3 pm and get up at 3 am for 3 years straight. My close friends and relatives, my soul mate, supported me throughout.
Related reading: Confessions of a sex call operator
I gave my best to work out this marriage. I begged and took my husband to psychologists and psychotherapists. He did come grudgingly, but after 2 sessions, he left it all. Medicines too. He thought I wanted to prove him mad.
In between, he had a heart attack. I nursed him devotedly, but all I got in return was the accusation that I had caused his illness.
Through thick and thin, my soul mate was the only person who kept me from going mad. He always showed me the brighter side. My spirits would soar even if I saw him for 1 minute or talked to him for 5 minutes.
Click here to read: I forced him to marry me and now I am in a loveless marriage. 
I could be up and about the next morning because I knew someone loved me, someone valued me, someone accepted me as I am. Someone who wanted me to be happy.
We both perform all our duties happily. Just because we both know that we are there for each other, and forever. The best part? Now I know how to breathe without fear. This is the greatest reward I got after suffering for 48 long years. I don't fear being judged.
I love my peace. I love my freedom.